SEAN KELLY ADMITS he never finished Paul Kimmage's Rough Ride book but says he is happy the cyclist-turned-journalist finally exposed Lance Armstrong as a performance-enhancing drug cheat.
"I'm not a book reader at all," he told the Second Captains podcast when he was on to talk about his autobiography, Hunger. "I never read it from cover to cover," confessed Kelly. "People find that amazing. I started the book with great intentions; I read 10 or 15 pages then I put it down for a couple of days and when I come back I say 'Where did I leave off?'"
Hunger features brief mentions of Kelly's positive doping tests in the 1980s and less than a page on the Kimmage book that caused so much controversy upon its release in 1990. He explained:
The [autobiography] is about myself, it's not really about doping. If you go into every situation you could take over half the book with that… I don't know if people are too interested in going into a book about Sean Kelly talking about doping for 50% of the book. They wouldn't be interested in that at all."
The 57-year-old believes cycling supporters are well educated about doping today but declares the problem 'went on for far too long' in the sport. "I went through the problems I had in my career," he added, "and I feel I covered all that. That was all I needed to do."
Kelly was pressed on his three-month suspended ban, at Paris-Brussels, for the surfacing of a stimulant product, in 1984. He responded that he had checked it out with his GP in Belgium and was told it was something students took if they wanted to stay up and study for exams. He also disputed the 'incorrect B sample' that he claimed, at the time, was due to an insufficient amount of urine to test properly.
In 1988, Kelly received a fine when he tested positive for codeine, which he explained came from a GP-prescribed cough bottle remedy. He argued that it was for his general health and not performance-enhancing. The one PED he openly admits to taking was caffeine pills, which were on the banned list during his career.
He also addressed the anecdote from David Walsh, author of Seven Deadly Sins, about racing with a bottle of pills in his back pocket. Kelly said:
It seemed to surface 15 years later, that story, but, certainly, having something in your back pocket wouldn't be out of the ordinary. I certainly went into races with some tablets in my pocket. You would have had caffeine, something for cramps in classic races, where you would have to do 260km."
While he may not have always seen eye-to-eye with Walsh and Kimmage, Kelly proclaimed his satisfaction when the journalist's accusations against disgraced cyclist Lance Armstrong, who was recently stripped of his seven Tour de France wins. "In hindsight," he said, "you have to take your hat off to those guys."
Kelly accepted that some criticism of current UCI president Pat McQuaid was merited but gave the Irishman credit for helping to clean up widespread doping and introducing biological passports for active cyclists. He acknowledges that presidential challenger Brian Cookson is making it "difficult" for McQuaid to stay on in his role.
Exclusive Six
Nations Analysis
Get Murray Kinsella's exclusive analysis of Ireland's Six Nations campaign this spring
Become a Member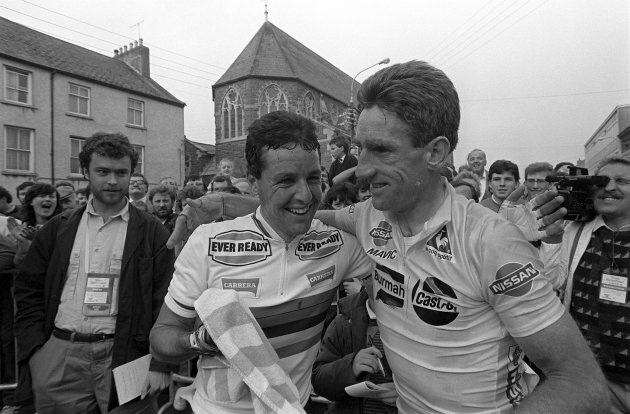 Stephen Roche and Sean Kelly catch up in 1988. (© INPHO/Billy Stickland)
Looking back on his early career, Kelly recalled early advice that stayed with him throughout his successful career — 'If you are talking to the journalists, if you give them three words they'll make 25 out of it so be careful with what you say'.
The Carrick-On-Suir cyclist admitted there were moments of jealousy upon seeing friend and sporting rival Stephen Roche claiming the 1987 Tour de France. Kelly crashed out of the event that the Dubliner went on to claim to great fanfare.
"I had been out there, I had been the top Irish guy, winning smaller events," he said, "and this Irish guy comes along. I think it was a big help in my career and gave me a kick up the backside… I have to get some better performances here."
Click here for the full Second Captains interview with Sean Kelly