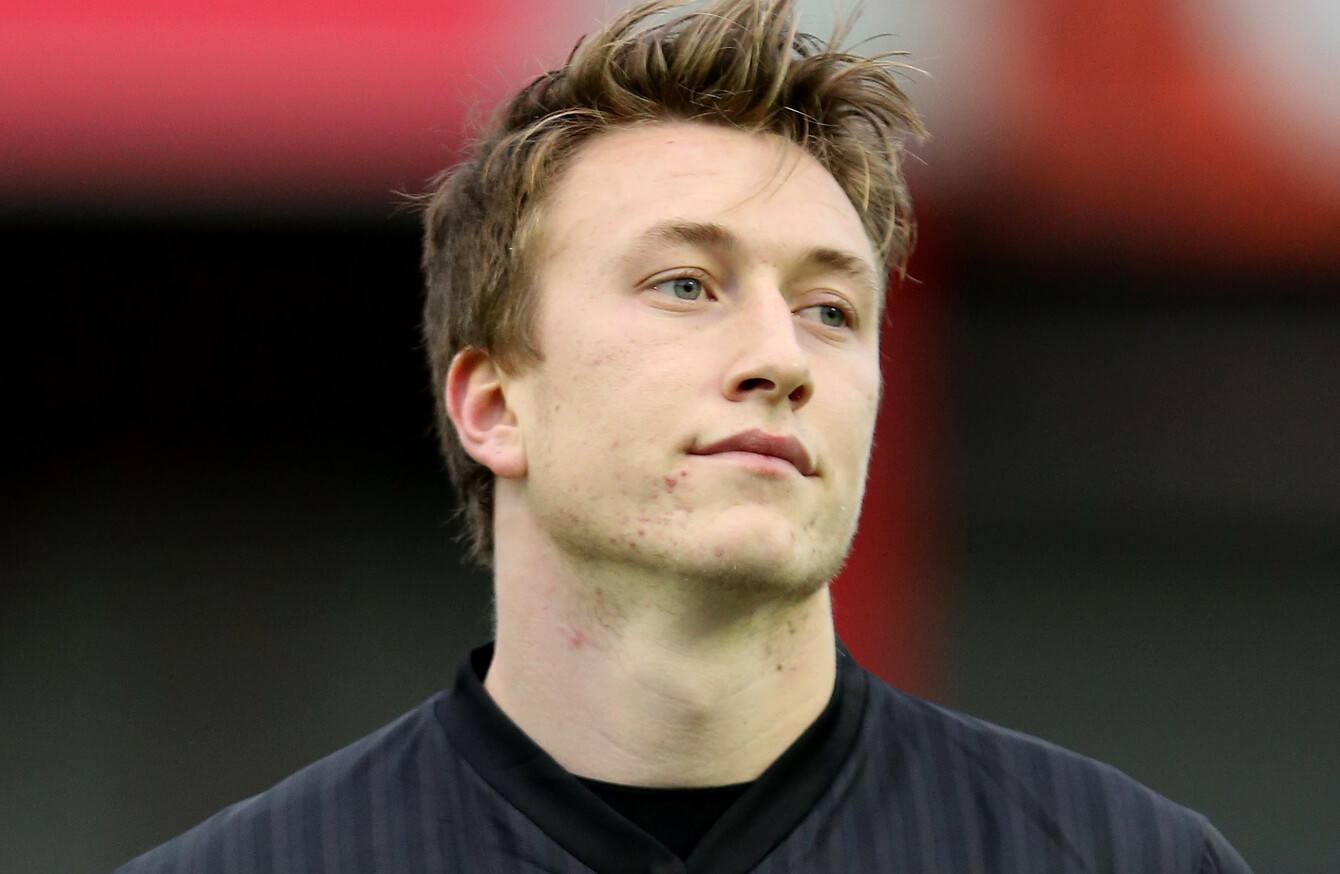 Image: James Crombie/INPHO
Image: James Crombie/INPHO
STOP ME IF you think you've heard this one before.
Irish goalkeeper. Donegal roots.
"Packie Bonner, Shay Given…maybe I can be the next one?" Sean McDermott wonders.
But it's been a while since he was involved with the international setup. Over four years at this stage.
He started an Under-21 Euro qualifier against Montenegro in Tallaght Stadium in March 2014 alongside the likes of Shane Duffy, John Egan, Matt Doherty and Jeff Hendrick. All have since sampled life in the senior ranks.
Even the replacement goalkeeper that night – Aaron McCarey – has been called up by both Giovanni Trapattoni and Martin O'Neill.
But McDermott's situation is a little unusual. He plays his club football in Norway, the country of his birth and where he's grown up.
He's first-choice for Kristiansund, who were promoted to the Eliteserien last year, which means regular top-flight minutes for the 24-year-old.
But, still no call from O'Neill.
Last week, the Irish boss named six goalkeepers in his provisional squad for the upcoming summer friendlies against Celtic, France and United States. Three of them ply their trades in the third tier of English football.
Is McDermott at a disadvantage just because of geography?
"That's a hard question for me to answer," he says.
The coaches might give a better one. I'm happy in this league. I think sometimes that if you go to League One or these places, you can disappear a bit. Here I am in the top league in Norway, there's more media coverage, I feel like I get more attention, there are a lot of scouts from Germany, Belgium, Denmark and England, of course. So, for me, I think it's better to be here. Also, I'd say the top-half of teams in Norway would be Championship-level. The bottom half would be League One. Right now, I'm happy to be in Norway but, of course, to be Ireland's number one, you'd have to be in a better league one day."
With a Norwegian mother, McDermott has options regarding senior international football. But having represented Ireland from Under-15 right through to Under-21, he admits it would be strange to veer from that path.
"I haven't been picked for either Ireland or Norway yet so I just have to wait and see," he says.
But I've always played for Ireland so, therefore, I have more of a bond with them. I've always been with them. It's natural that I'd think more about playing for Ireland. And I've been in contact with them so I know they're watching me. That's important to me, knowing they're keeping tracks."
"Right now, I can't argue and say I should be number one when I play in Norway and you have Darren Randolph, who's been a Premier League goalkeeper and who's doing great for Ireland and who's doing well for Middlesbrough. But I know I'll get there."
McDermott's eyes are firmly on the prize. He could easily grow frustrated at the lack of opportunity with the Irish side so far. Instead, he's got a steely focus.
"Mentally, I think goalkeeper is the toughest position," he says.
But I keep looking forward all the time. I look to take one day at a time, to improve, look to the next goal. If I'm not happy with training or games, I try not to get upset but just try to learn. Because you'll never be perfect. So I try to learn every day. And likewise, when I do well and accomplish my goals, I just try and look to the next big thing. And that's how I try and keep my focus."
McDermott is happy in Kristiansund, and enjoying being back in the top division. Having been at Arsenal for three years as a teenager, he returned to Norway and signed with Sandnes Ulf.
And at 19, he was a first-choice goalkeeper in the country's top-flight.
But, things changed when Icelandic number one Hannes Halldorsson arrived and McDermott began to struggle for game-time. A move to Start didn't work out but he subsequently dropped down a division and rediscovered his form at Ull/Kisa.
It didn't go unnoticed.
Last year, Kristiansund had just been promoted and swiftly made their move for McDermott. The club's first ever season in the top division went well. Relegation was never a concern and they comfortably finished in mid-table.
"It's going very well since I came here," McDermott says.
"I've played a lot of games, I'm learning something and feel I'm at a higher level than last season, when I picked up the fan's Player of the Year award. But I feel even better now and know it will only get better."
I needed to play because I have very big ambitions. I want to be Ireland's number one, develop further and go on to bigger leagues and bigger clubs."
"But I'm very happy at Kristiansund. We've always gone a step up every season. The club don't try to be too ambitious too early and always seem to make the right decisions at the right time. The main thing is to stay in the league and establish ourselves and survive another year because they often say that the second season is the hardest season, once you get promoted. But this group is very talented with a lot of good players."
There's a cerebral quality to the way McDermott talks about learning and development. Like most goalkeepers, he's a different kind of interviewee: reflective, introspective, eloquent and, most of all, interesting.
"When I watch games today, I'm like a computer," he says.
I always think about the small details, like what positions the keepers are in. And then I try to add that to my game. Not that I want to copy anyone but I see what they do right and wrong. And I remind myself, 'Oh, you need to stay there or move here'. The three years at Arsenal were very, very good for me and my education. I'm so happy with the time I had there. With the coaches that were there, I feel I got one of the world's best educations for a goalkeeper. I always go back to there in my mind. I learned so many small details while I was there that I put into my game today."
"I started to break into the Ireland team as well at that time and it helps you grow up a lot quicker."
McDermott progressed to the Arsenal reserves but was never called up to Arsene Wenger's senior side. Still, he has only positive memories of his time in north London.
"Growing up in Norway, you always watch the Premier League," he says.
So, when I first came over, it was a bit like, 'Oh, that's him – I watched him on TV'. It was a bit surreal. But once you're there for a few months and you're part of the system, you see everyone as normal people and you just get used to it. And the more you get used to it, the better off you are. But at the start – when I was 16 and you're seeing these big names – even Thierry Henry when he came back, they're great memories and it was very cool."
"Jens Lehmann was there when I was on trials but left when I came. Then he was back for a second spell later on. But it was Manuel Almunia, Lukasz Fabianski and Wojciech Sczcesny who were the three main senior goalkeepers when I was there."
As our conversation develops, McDermott's slight northern lilt gets more pronounced. His father, Terrence, hails from Mountcharles and the family get back there regularly.
McDermott is well aware of the goalkeeping pedigree in the county and says he idolised Given as a youngster. But, nowadays, he's very much intent on crafting his own on-field persona.
"Once you grow up, you can learn something from everyone," he says.
"So it's not like I have a favourite. I like my own style. I'm my own man. I'm my own goalkeeper. I like to watch the best keepers. You can always learn from all the keepers but I try and have my own style because to go far and be the best you have to be yourself."
Our chat ends the same way it began: talking about Ireland.
"I always remember the first time I ever pulled on that shirt," McDermott says.
"It was a game against Turkey for the Under-15s. It ended 2-2. You feel proud when you represent your country. It's always an honour. And it would be an honour to be back again because those games are always special, representing the national team."
I'm always so happy to see the names I've played with at underage level moving up to the senior team and getting in there. It's so nice to see it. But it's the same for me: just keep being patient. Just keep what I'm doing and I'm sure I'll be there too."
The42 is on Instagram! Tap the button below on your phone to follow us!