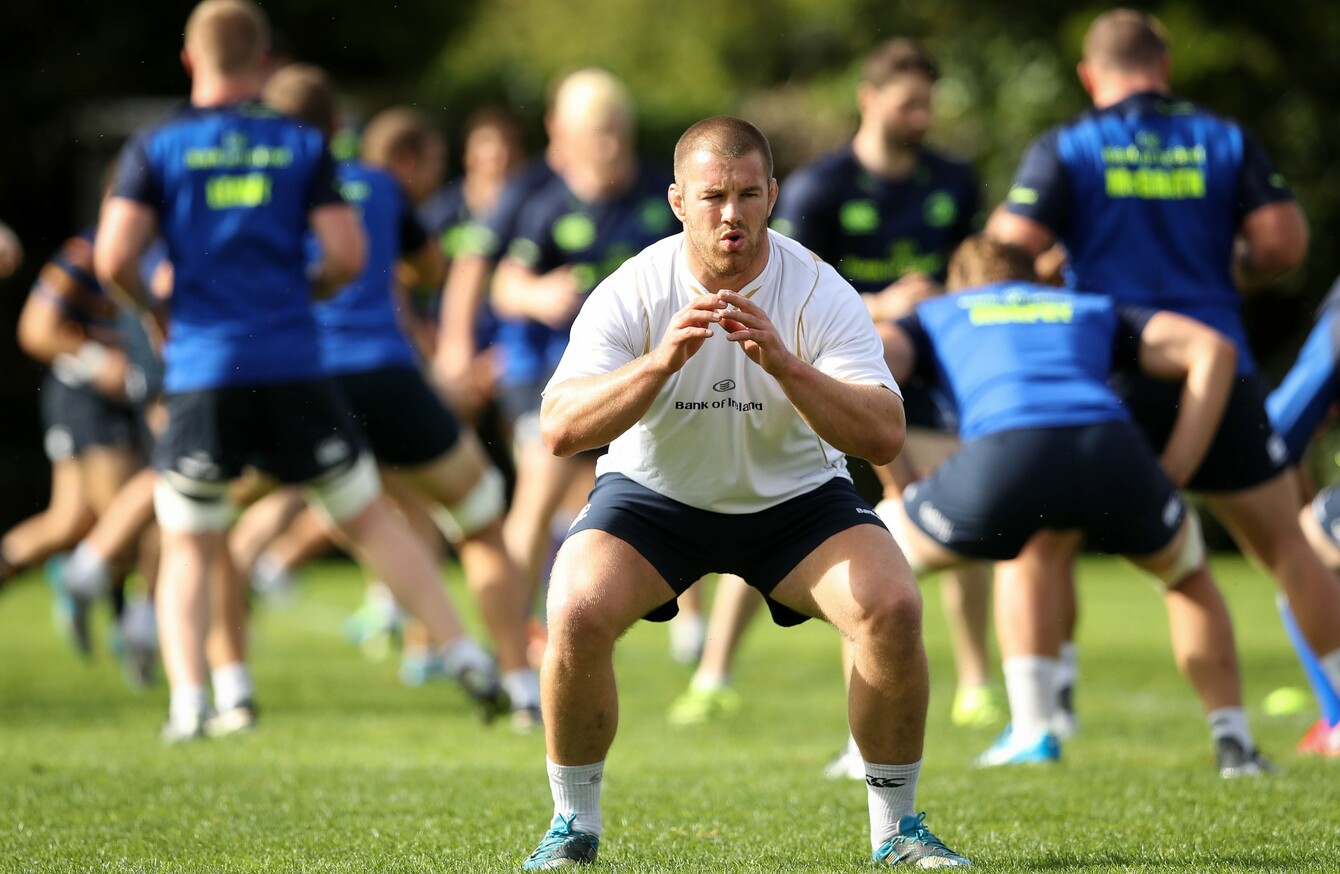 Image: Ryan Byrne/INPHO
Image: Ryan Byrne/INPHO
IRELAND AND LEINSTER openside Sean O'Brien is still making tentative steps on the road to a full recovery from the hamstring injury suffered in February, but he never doubted that he would be back.
There had been one summer report speculating that O'Brien may be forced to retire with the issue. However, speaking at the launch of Leinster's European jersey today, the Tullow man says the thought never crossed his mind.
"I was never worried that I might not get back on the field," O'Brien said after the spectre of similar injury suffered by Paul O'Connell was raised.
"It's a serious enough injury. Once I rehabbed it and it wasn't right, I knew there was only one option left – to have the op done.
"Once I had the op, it was amazing. Even the following week I knew I was way better than I had been before the op. There was no pain in it.
"The operation went well, I minded myself very well and did everything I should have.  Never had a glitch along the way in any of the rehab. Which is unusual too. So I knew I was on the right road back."
O'Brien was back doing on-field training with his Leinster team-mates on Monday and hopes to graduate to high speed running and contact sessions in the coming weeks. Each step is one foot closer to being allowed to play competitive matches. And one step further away from the frustrating month that followed the injury.
Far from being the ideal, docile patient, O'Brien admits his main hobby in those weeks was to "hit YouTube hard – watching all sorts of shite."
First few weeks were very frustrating. because I was lying down for nearly a month. I wasn't putting any weight through it, things like that… whatever  they told me to do, I was doing.
"I'm a pretty active person. So I want to be up, doing stuff and nosying around. I couldn't do any of that and that was frustrating. but once I got back on my feet, got going again I was in doing four, sometimes five rehabs a day.
"It was pretty intense for the first few weeks of rehab, a lot of work has gone into it from S&C staff, masseurs… you're trying to do everything you can to help it.
"Once you have the foundation of rehab in place. You can start looking forward to what's ahead of you and what you want to get to."
With just over five weeks to go until Ireland's first November international, against New Zealand in Chicago, the target ahead is obvious enough for any player of O'Brien's class. At the moment though, he has to rein himself in from thoughts of taking on the All Blacks.
"If I play a few games, then it's something I could look forward to. But I need to get back playing first and foremost. There's no point me even thinking about going over there until I've played a few games."
The42 is on Snapchat! Tap the button below on your phone to add!