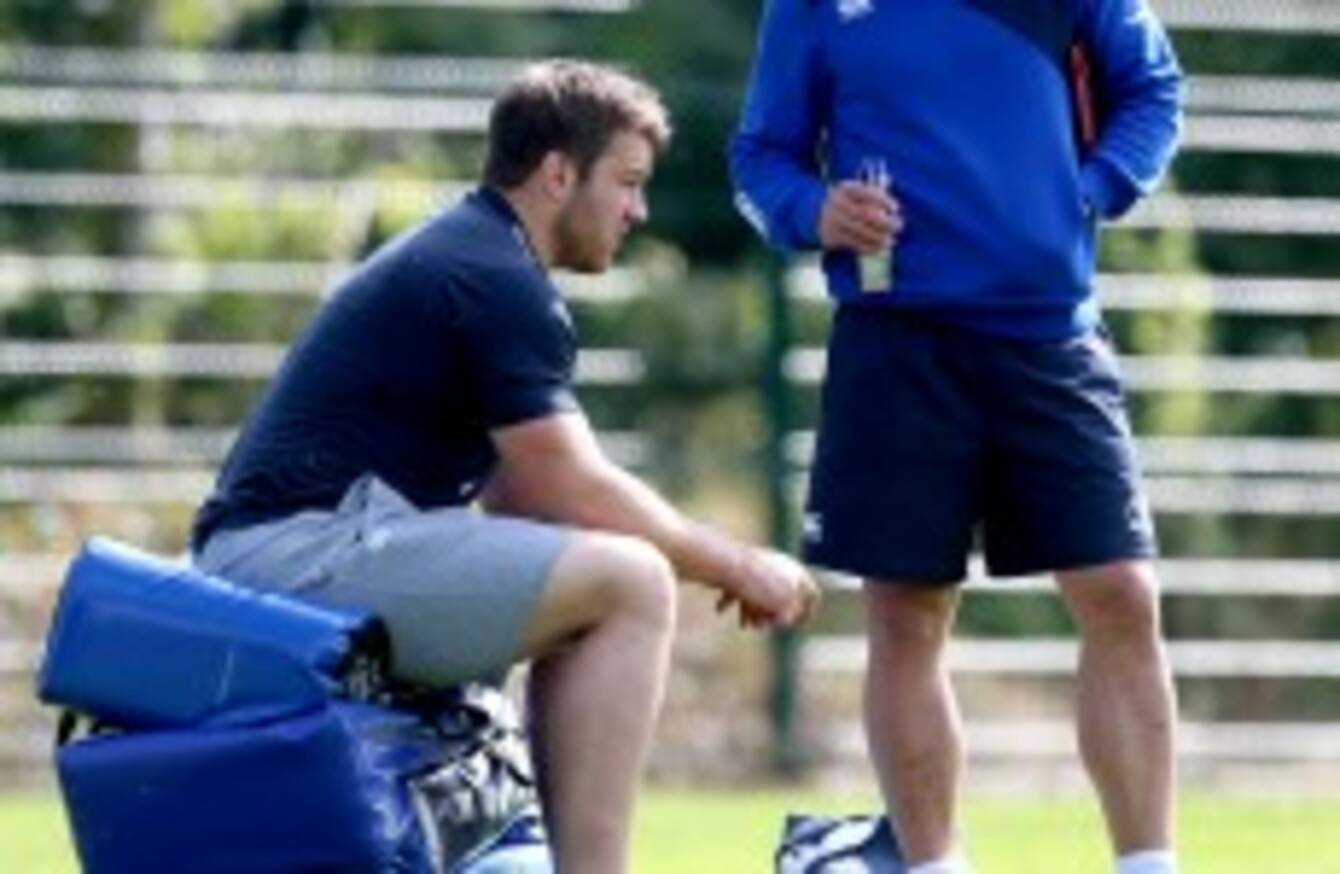 SEAN O'BRIEN IS down on all fours, back pushing the grindstone.
A month after undergoing a second surgical procedure on his shoulder, the Ireland international is relieved to return to something approaching a routine. Even if he is still a long way removed from playing rugby.
The news that his shoulder joint had become infected after his initial surgery to correct a dislocation early this year and would need reconstruction was frustrating to put it mildly.
Now Joe Schmidt's first-choice openside will likely have to look beyond next year's Six Nations too, with the prospect of having a good run at the World Cup his only consolation.
"When I came back last year I was in serious shape," O'Brien told TheScore.ie yesterday.
"I just needed a few games to get that fitness. There's nothing but playing games for that.
"Strength and stuff like that I was very pleased with where I was and was ready to rock, but once I got back into a game or two I knew something wasn't right."
"I struggled," admits the Guinness ambassador looking back to when the specialists broke the news, "I struggled when I knew that something wasn't actually the way I thought it was.
"The difference with now is that we learned a lot from the last time – not that I came back too early – but I came back and probably didn't do enough contact to test the shoulder out before I started playing games, stuff like that. At the end of the day, the infection was what stopped the bone from healing the last time and that was the biggest issue.
"If that's kept at bay this time and there's no tweaks, or little aches or pains – it's in a way better place already."
O'Brien is pencilled in for a March return to playing. Spring still feels a very long way away so you could hardly begrudge the 27-year-old a few weeks to take his head out of rugby and all the good nutritional habits that go with it.
Eating well?
He did his best to avoid separating himself from the playing squad too much, and now that he's back sweating on the gym floor he's his own harshest critic when it comes to his moments of weakness.
"I won't lie. The last couple of weeks now I haven't been very, very disciplined with my food. I was disappointing in that aspect of it. I was picking at different things that I shouldn't have been.
"Last week since I started back at the rehab I've been eating pretty well; a lot of veg and meat. Smoothies in the morning and, I suppose, keeping carbohydrate intake to a minimum at the minute. But that's only the last week, the previous couple of weeks I was picking at different things chocolate and whatever else.
"I won't say I've been eating as clean as I'd like over the last month, but I'm doing okay now."
See Sport
Differently
Get closer to the stories that matter with exclusive analysis, insight and debate in The42 Membership
Become a Member
He's doing okay with his rehab work too. Though by the sound of his voice O'Brien probably wouldn't give himself any higher of a mark than that. The Carlow man is keeping himself busy, returning to study for a business degree after taking a break from the course last year.
While he'll spend plenty of time at a desk, his most important work is done on all fours, with his physio taking him through patterns of movement so that the shoulder can heal – without complications this time.
Aside from that, some static cycling is about as much as O'Brien is allowed to work out. It's just enough to keep his leg muscles ticking over and the weight off until he can put himself into a proper pre-season schedule.
One thing the flanker won't be doing in his injury lay-off this time around is appearing on the sideline (or indeed over it) at GAA grounds in his native Carlow. The Tullow man stood alongside Anthony Rainbow as Carlow faced Athlone IT in an O'Byrne Cup game in January. During the summer, he donned a mandatory pair of ill-fitting GAA shorts for his local club the Fighting Cocks.
O'Brien is a national icon, so there will always be sporting organisations seeking him out to mentor teams and give insights into elite sport. When the requests come from so close to home it's hard to say no.
"I do enjoy it a bit, but it's probably something I won't be majorly focused on. This time round I really want to do as much rehab as I can and get myself in a really good place."
He added: "Now and again – if Carlow wanted a half session or two I'd oblige, but it wouldn't be something I'd be focusing on a lot."
The focus is firmly fixed on the most marginal gains, the hardest yards that can be made in the physio room.
Guinness teamed up with Sean O'Brien to announce an extraordinary experience for rugby fans on the Guinness Plus mobile App to celebrate the upcoming Guinness Series internationals.  
Supporters who check in to their local pub on match day Saturday 8th November will have the chance present the Man of the Match award at the International against Australia. The lucky winner will also receive tickets to the game for themselves and two friends.