SEAN O'BRIEN IS a man who will never turn his back on the Tullow roots he holds so dearly.
The Leinster and Ireland back row has constantly stayed in touch with his family and farm back in County Carlow throughout his rise to international rugby renown, making regular visits to their herd of Belgian Blue cattle or to help out with the baling.
O'Brien captained Ireland last weekend in Dublin.
That won't change, but the visits have become a little less spontaneous over the last three or four years as O'Brien's approach to ensuring he is in peak condition has matured.
While the 28-year-old made a notable impact on the 2011 World Cup, his mindset towards preparation has transformed in the seasons that have followed.
Earlier this year, Ronan O'Gara revealed to 2FM's Game On that O'Brien had been a regular recipient of Ireland's 'Barry Crocker award' at RWC2011, that being the honour handed to the worst trainer.
Today's version of Sean O'Brien is far more diligent in his application on the training pitch and off it. Even if that means the Belgian Blues are that little lonelier.
"I'm way more professional. I was probably far too relaxed about preparing for games in terms of if I wanted to go down home the day before a game I would. Now, I never would.
"I don't want to be in the car driving for an hour and an hour the next day coming back. It was probably a little immature on my part, thinking I could get away with that type of thing. Maybe I did get away with it for a while.
"Eventually, as you get older, you get cuter and you think 'I need to be as fresh as I can be.' You stop doing those things, you may even stop doing something for a charity say. It could be anything like that.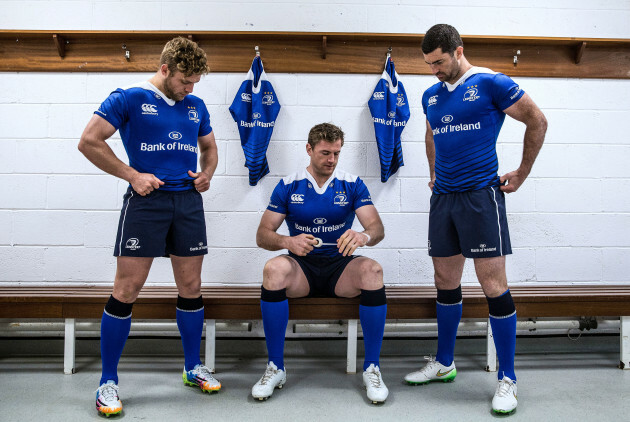 Dan Sheridan / INPHO Leinster's new home and away kits were launched yesterday. Dan Sheridan / INPHO / INPHO
"You just have get your body in the best place possible for the weekend."
O'Brien's horrible experiences with his shoulder injuries in the last two years – he missed 14 months of action due to two bouts of surgery – have fed into his more focused approach to recovery, downtime, training and everything else that goes into producing performances when it counts.
"It does play a part," said O'Brien. "I suppose having had the serious injuries I've had over the last couple of years you do want to look after yourself.
You're always conscious of giving yourself the best chance, rather than leaving something to chance or not preparing as well as you can. You look at all the best players in the world: they all prepare so well for games."
O'Brien looked to be in promising condition last weekend as he captained Ireland to a scrappy win over Scotland in Dublin, though he admits there is more work to do in the next month before the World Cup arrives.
If the best players in the world prepare with excellence, then September and October provide O'Brien with an opportunity to underline his continuing status as part of that elite group.
The signs from the 'Tullow Tank' were encouraging around the breakdown against the Scots, although the likes of Sam Warburton will give Ireland fewer opportunities there when Wales come to visit on 29 August.
O'Brien points to missed tackles and a lack of accuracy as disappointments in the win over the Scots and says that head coach Joe Schmidt hasn't lost his habit of calling out players for those kind of errors.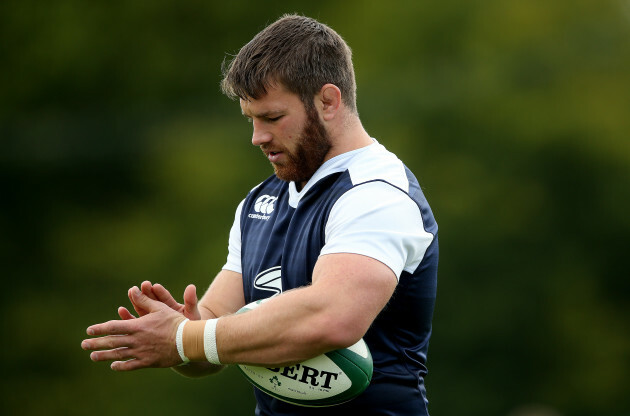 James Crombie / INPHO O'Brien has put in an excellent pre-season. James Crombie / INPHO / INPHO
Ireland are on a break from camp this week and back with their provinces for training, before reconvening on Sunday at Carton House. The video review at that stage is likely to be tough.
"There is a fear there that if you make a mistake you might not get a second chance," said O'Brien of Schmidt's demands.
"That's his philosophy. That's the pressure he has on us to perform and make sure we do our role as best we can. If you don't do that, you know you're going to get some kind of reaction from him."
I think it's good players know what's expected of them. If they don't produce that, they've no excuse if they're not selected or they're on the bench, whatever it may be. If you are performing and if you're doing your job, you're always in with a shout."
Exclusive Six
Nations Analysis
Get Murray Kinsella's exclusive analysis of Ireland's Six Nations campaign this spring
Become a Member
Schmidt wasn't there in 2011, though O'Brien reflects on his World Cup experience in New Zealand with some fondness, particularly the week spent in the thrill-providing Queenstown.
There may not be bungee jumping or luging in Cardiff, Burton-on-Trent or Guildford this time around, but O'Brien is delighted the 2015 version of the World Cup is close to home.
"I think it's more difficult when you're in the Southern Hemisphere," said O'Brien. "It'll be a bit different this time around because we are in England and parts of Wales. Everywhere is drivable, whereas before we were flying everywhere.
"I think it's going to be better this time around for us in terms of support, which is a massive thing, and just being so close to home. You're not flying halfway around the world for starters to get a couple of days training under your belt over there.
"We can hit the ground running once we get over there."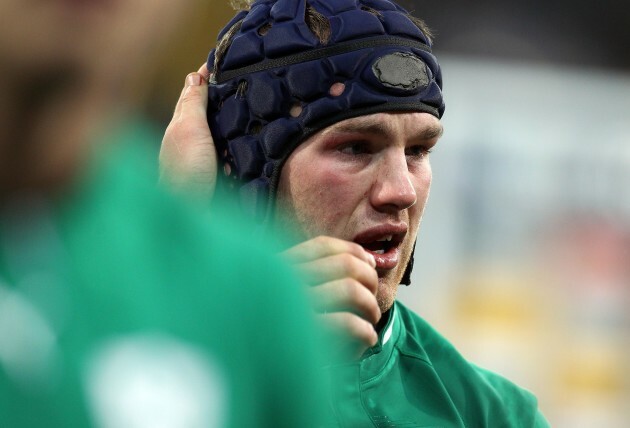 Dan Sheridan / INPHO O'Brien was ultimately left dejected at the 2011 World Cup. Dan Sheridan / INPHO / INPHO
It's nicely set up for O'Brien to make an even bigger World Cup impact for Ireland than he did in 2011. His increased professionalism, ever-growing physical and technical abilities and those (near) home comforts could make it the SOB show.
O'Brien will relish the big occasions of Italy, France and the knock-outs, but he knows that missed tackles, handling errors and a whole lot more need to be improved before then.
It's exciting but there's still a lot of work to be done over the next month to get there, first and foremost, and leave ourselves in the best possible shape in terms of our prep," said O'Brien.
"We're under no illusions that the next couple of weeks are very important to going over and starting well in the tournament. If the next few weeks don't go that way, we'll be struggling when we get over there."
Head down, work hard.
To celebrate the launch of the new 2015/16 season Leinster jersey, Canterbury has announced the biggest collection of money can't buy prizes and experiences in the club's history. Fans are being asked to prove why they are Leinster's most committed fan on Canterbury's Facebook page or by tweeting using #CommittedToLeinster.