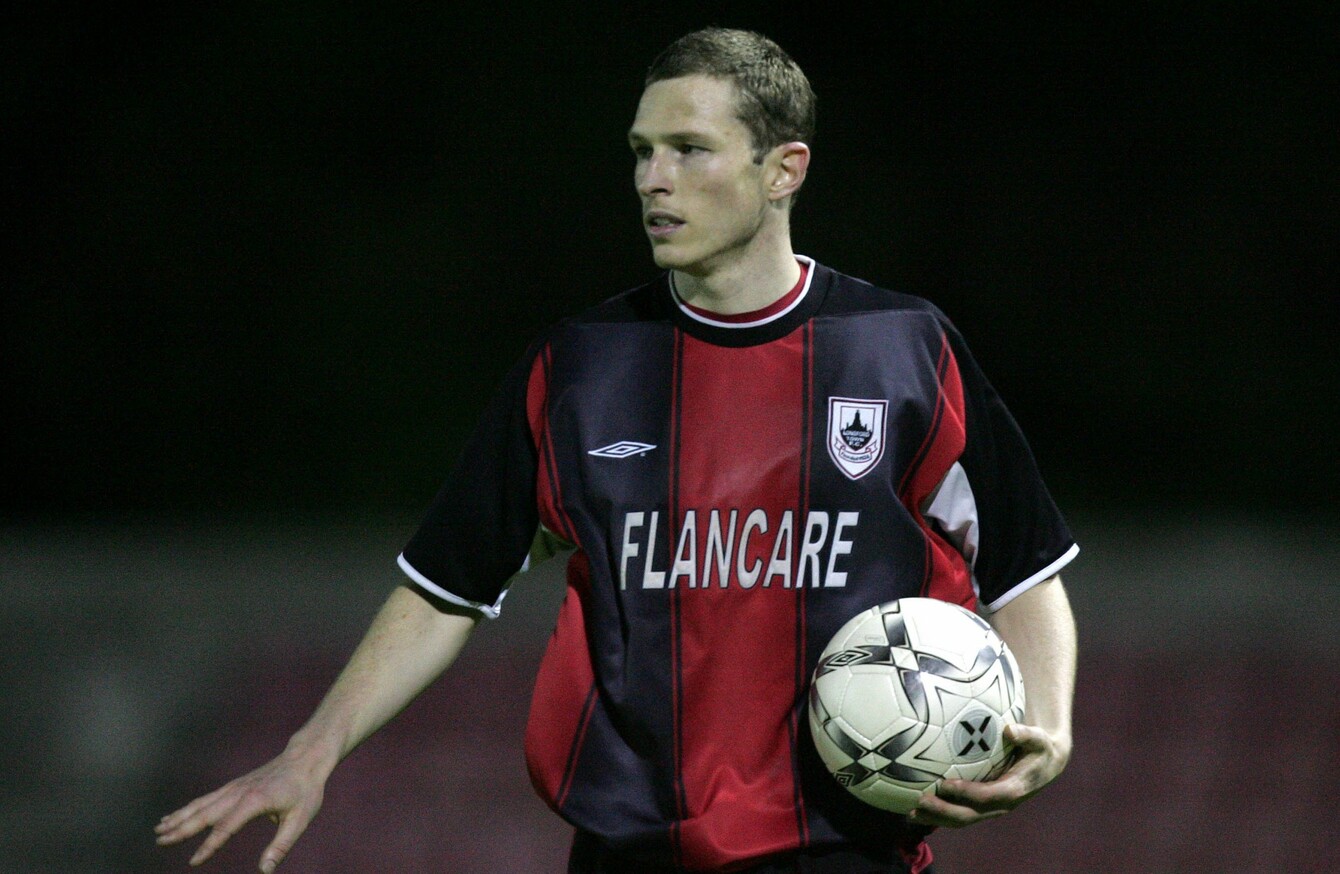 Seán Prunty
Image: James Crombie/INPHO
Seán Prunty
Image: James Crombie/INPHO
LONGFORD TOWN LEGEND Seán Prunty doesn't attend matches anymore. He tried to go and be a spectator, but ended up leaving halfway through.
It's not that he's fallen out of love with the sport, his instincts for the game are still as sharp as ever.
He keeps his eyes clapped for emerging talents in Ireland, and likes to watch their careers progress. The 2017 League Of Ireland season is still in its infancy and he's keeping himself abreast of the action.
He can rhyme off the sequence of passes that led to some crucial goals for Longford Town during his years of service, and he's a long-suffering Liverpool supporter.
But it's not the sport that's the problem, it's the small things on match-days that he can't endure anymore: the seemingly insignificant stuff, like the smell of the chipper van parked in the grounds, and seeing the clumps of grass left behind after the pitch has been trimmed.
They all evoke memories of a time when the sport decided it was finished with him before he could have a say.
Heading into the 2008 season, Prunty was looking towards the next chapter of his football career.
He had just signed a full-time contract with Drogheda United, who were the reigning Premier Division champions of the day, and Prunty was anticipating the 'full-time set-up' he'd always wanted.
Before pre-season began, all players at the club were required to undergo heart-screening tests to identify any underlying defects. Prunty was the last player to go in for what should have been a routine procedure.
"I went in and all the players were in the room, getting called in one by one," he tells The42.
They were coming out saying they were fine and I was the last one to go in and he didn't say anything to me. I wasn't worried, I just thought it was a bit strange.
"Looking back now, that was definitely (the first indicator)."
Prunty carried on as normal, but within a month of the heart-screening, he was instructed to visit a cardiologist, and the severity of his situation started taking shape.
"I was training and we were about to go away to Spain to do a training camp, so there was never any problems. My mam rang me on the way to the cardiologist and she was a little bit worried, but I said there's nothing to be worried about, I was training twice a day.
When I got in there, he said, 'Have you got anything outside of football?' I said, 'What do you mean?' And he said, 'I think your career is over'.
"It's just horrible. I remember sitting back in the chair and the room got smaller. It was like the chair was beginning to swallow me up and it was a horrible, horrible feeling."
Nothing final had been decided about his career, and so Prunty travelled with the rest of the Drogheda squad to Spain.
He came in from a session one day to find a missed call on his phone from a doctor, asking him to phone back. The club physio also received a call, saying that Prunty was on the verge of a heart attack and was requested to come home immediately.
With that, I broke down crying. The physio broke down crying. And then one of the lads there just patted me on the back and didn't know what to say. He went out and then that evening I was on a flight back home to Dublin.
"It was horrible because I arrived into the airport by myself and was trying to comprehend everything in my mind the whole plane journey over — is my career finished? What am I going to do? What are the next steps?
"I remember going straight back down to Longford to my parents. I remember walking into the room and my mam had been cleaning out the room.
My father always kept a scrapbook from when I was a young kid of me as a footballer. It was just left there because she was cleaning and that was the first thing I saw on the bed and sure that was it then. I was just kind of thinking, 'Oh, here we go'.
Prunty was told to stop playing football while the doctors tried to work out the mystery of his heart issue.
This ultimately meant that at just 27 years of age, Prunty's career was over. He would later be diagnosed with cardiomyopathy and a pacemaker was installed.
But acceptance was never going to be instant for the Dublin-born midfielder who moved to Longford in his youth. At 17, he left school to pursue his football dream at Middlesbrough.
With no formal education or qualifications to fall back on, there were no alternate plans in his life up to that point.
He held onto the belief that something would intervene to rescue his football career.
"I didn't know how to react," he continues, "I didn't know how to deal with it. I was still getting up at 6 o'clock in the morning, getting a bite of breakfast before going down to the local GAA pitch for half 7 and doing training myself.
"Then I'd go into the gym and I'd train because I was thinking that they'd made a mistake and I'd go back and be able to play, and I know I'll have kept my fitness up.
"It didn't go down well (at home) and I can understand why, because they would have been worried. But from my point of view, even sort of looking back on it, it was my career and you have to sort of do whatever you can."
Investigations showed that there were some electrical issues with Prunty's heart, and they also discovered that it was producing a few thousand extra beats over an accumulation of time.
As the information about cardiomyopathy was being explained to him, Prunty was starting to recall moments when he experienced some of the symptoms of the condition.
It was only at that time that I realised that there had been issues. I was playing with Longford, we'd a game on a Friday night and I was walking through a shopping centre in Dublin, and all of a sudden I felt really, really weak. I was holding onto a bin and sweating.
"I assumed it was down to diet and thought maybe I hadn't eaten enough. A couple of hours after that, it happened again.
"Over the period of time, there were a few issues I picked up on that were symptoms of what was underlining in the heart."
Prunty didn't become obsessive about the complexities of the condition that was changing his life. In fact, there were times when he just didn't want to know about it.
He read some of the information he received from doctors, but for the most part his mother would ask the questions about cardiomyopathy, while he retreated from hearing the answers.
While the enforced absence from football was still in place, Prunty become disillusioned, reclusive and even irritable. There were times when he found himself arguing with his parents — something he wouldn't normally do but for the extreme circumstances that were forced upon him.
"You haven't got control in certain situations," he explains, "and you're waiting on other people to kind of give you the answers and their answers aren't coming quick enough for you."
It took Prunty almost a year to process the reality that his football career had prematurely ended.
He knew it was time to liberate himself from any resentment towards football and find a new path in life. And with the help of a sports psychologist, he decided to return to college and study a business course in Athlone IT.
He now works with Kinetica and is the father of two children with a new sense of perspective.
Returning to education allowed him to experience a lifestyle he was deprived of during his days of dedication to football. Nights out with friends and the choice to live life on his own terms was now an option for him.
His life had purpose again, a concept that always interested Prunty.
I'd always say, 'What's your purpose?' When you see young guys and sports people, and whatever they might be doing; running a marathon — seeing them collapsing and dying, you kind of think, 'Oh God', and they don't survive it, you kind of think, 'Well, why was I so lucky? What's my purpose?'
"I would be like that as an individual, I'd always be a self-analyser after football. You're always breaking down the game and saying, 'I should have done this better'."
After making his debut for Longford Town in 2001, Prunty went on to enjoy a golden age at the club and played a prominent role along the way. He played in six cup finals in seven years (four FAI Cup finals and two League Cup finals), and won three of them.
Source: brucemox/YouTube
It was a period that seemed to capture the imagination of not just the ardent Longford Town supporters, but the wider population of Longford as well.
Prunty holds on to those memories a bit tighter now.
"I think more so because we were a team outside of Dublin. It was great that we were successful. I was really lucky to play in six cup finals in seven years, and we won three of them.
We were just really enjoying football and to be able to look back and say, 'My career wasn't for nothing'. My medals are sitting at home in the drawer. I still have jerseys from back then. I framed the jersey from when we won the first FAI Cup (2003) for my parents.
"To look back on them is really good. The lads I played with, I had a great time playing with them as well. We had a good squad. And over the years, you get used to wanting to win, and we were so lucky."
Identifying Prunty's heart condition before it was too late was a fortunate discovery. And it can all be traced back to the fact that he just happened to be transferring to a club that was conducting heart-screenings in 2008.
Not all clubs in Ireland had the resources to do so at the time, and it's the primary reason why, at 37 years of age, Prunty can reminisce on that dark period of his life.
Player cardiac screening has advanced since then. The FAI now runs a national campaign, by which players who are over the age of 14 must fill out a questionnaire and seek a consultation with their family doctor, if there are any irregularities with their heart health to report.
Prunty is ultimately grateful that his issue was flagged in time, and is happy to see progression in the area of heart checks.
"They have been promoting it and highlighting and are making a conscious effort. It's something that clubs need to invest in. You look at defibrillators, the cost of a defibrillator is quite significant and the amount of fundraising that is done to get them in clubs.
"I do see more heart-screening in clubs, which is good."
It's only in recent weeks that Prunty was imagining how he would have liked his career to carry on and conclude, had his heart defect never existed.
He reckons he could have continued playing up to 35, with 'something sporty' to veer into in his retirement years.
That's not how his career timeline mapped out in the end, and he's learned to find enjoyment in other forms of exercise.
With his pacemaker protecting him all the time, he was even able to participate in a duathlon.
Football may have finished with him before his time, but Prunty can still live his life on his terms.
"If I had made a decision back then to continue playing football, whether something would have happened or not I don't know, so you have to go on the direction of doctors.
"Now, I've got a girlfriend, I've got two beautiful kids. You look back and think that the decisions you possibly could have made back then would sacrifice what you've got now."
The42 is on Instagram! Tap the button below on your phone to follow us!