THE AFTERMATH HAS seen lots of finger-pointing and little responsibility being taken. Welcome to Eastern European football.
Ever since Tuesday night's remarkable and deeply unpleasant scenes in Belgrade, the recriminations have bounced from one side to the other. But finding out who was really behind the drone stunt will prove difficult. So, attention has turned to how it could've been prevented. The truth is, it couldn't. Many have questioned the wisdom of UEFA to allow both Serbia and Albania in the same group.
But for Jonathan Wilson, football journalist and author of the excellent Behind The Curtain: Travels in Eastern European Football, given the current relationship between the two countries, that was never likely.
"In retrospect, lots of people are saying that they should've been kept apart but did anyone actually say that at the time of the draw? I don't think teams should be kept apart. If you're a football nation and want to enter a tournament, you're effectively saying that you're invested in the process and will be responsible to your country and your people. If you want to ban away fans (like what happened on Tuesday) or play at neutral venues because of a particular past, that seems perfectly okay and understandable."
Since the clashes in Belgrade, UEFA have come forward and outlined exactly why they had little issue in the teams facing each other – mainly that the countries weren't involved in a conflict with each other and that neither side had raised any potential issue. But, there was tension ahead of the fixture owing to it being the first time Albania had played in the city since 1967 and because Kosovo was still such a sensitive topic.
Despite being predominantly ethnic Albanian, the territory had been under Serbian control since 1989 and suffered through massive turmoil when Slobodan Milosevic waged a war against the Kosovans who fought for independence in the late-nineties. NATO estimated that 5,000 locals were executed and Milosevic was later charged with war crimes for his role in the atrocities. Kosovo was finally declared independent in 2008.
Marko Drobnjakovic / AP/Press Association Images Marko Drobnjakovic / AP/Press Association Images / AP/Press Association Images
"The Kosovo situation is complicated. Yes, the territory is 90% ethnic Albanian but it did belong to Serbia at one stage and there's that emotional pull."
In 2010, Serbian fans were embroiled in controversy when another Euro qualifier against Italy in Genoa was abandoned after just seven minutes because of fan trouble. On that occasion, Serb ultras unfurled a banner that said 'Kosovo is Serbia'. But, it seemed a casual aside. That night, it seemed the ultras were simply intent on causing mayhem, with an international audience watching on. Wilson says a number of elements contributed to such a menacing, violent evening.
"There's basic nihilism at the root of it but there were a series of complicated events that all seemed to come along at the same time. Shortly before the game, Hilary Clinton visited the region and commented on the Kosovo situation, saying how she thought it should be independent. You also had the imprisonment of a Serbian drug-dealer and there was the Serbian goalkeeper Vladimir Stojkovic who had recently joined Partizan after previously playing with Red Star – something the ultras felt wasn't appropriate behaviour. So all of those elements ramped up the tensions."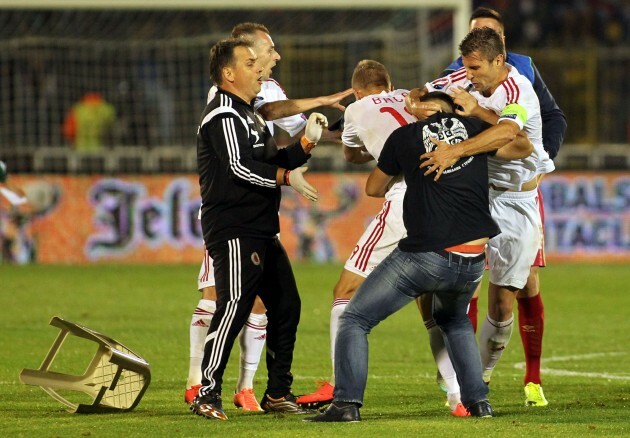 STR-3725 / HaloPix STR-3725 / HaloPix / HaloPix
There were measures taken to prevent possible trouble in Belgrade. Away fans were banned and given the fact that there had been constructive dialogue between Serb and Kosovan administrative authorities last year, there appeared a relative calming of the usual tensions. Also, last year, Serbia faced notorious and bitter rivals Croatia in what was a highly-charged atmosphere in Zagreb. But ultimately, the game passed off relatively peacefully. Sure, there was a dark and menacing undercurrent to proceedings but a lack of violence. Wilson believes the fixture should prove the perfect example for other countries to follow.
If Serbia and Croatia could play out a game with each other given their history then anyone can, in theory. That game featured two managers, in Sinisa Mihajlovic and Igor Stimac, that openly hate each other and that dates back to the 1991 Yugoslavian cup final. Yet, they put on a big show, shaking hands with each other beforehand and being very respectful. And it was a game that was seen to have done some good."
So, what's the truth and who's to blame? Wilson is unsure but feels it's certainly not as simplistic as many are making out.
"In certain media circles, there tends to be the angle that it's all Serbia's fault. And there's long been a feeling amongst Serbian people of being persecuted. The country is widely blamed for the war in the 1990s, etc. You even go back to the draw for the 2006 World Cup. Because they were the lowest-placed European qualifier, they were put in the 'special pot'. And though it was to do with the logistics of the draw, the level of paranoia amongst the Serbian delegation was incredible!
But there are conspiracy theories out there that aren't that wild. The reaction of the Albanian players to the flag being pulled down, for instance. Stefan Mitrovic hardly spat upon it or stamped it into the ground. He was doing something quite natural – pulling the object from the sky and probably heading towards the touchline to get it out of the way. But the Albanian players set upon him quite quickly and everything kicked off from there. The fact that Albania had four points from their first two games heading to a hostile environment in Belgrade…Even a replay on a neutral venue or behind closed doors would be better than in front of Serbian supporters."
As always with something so complex, wide-ranging and divisive, there's little scope for definition. Or responsibility.