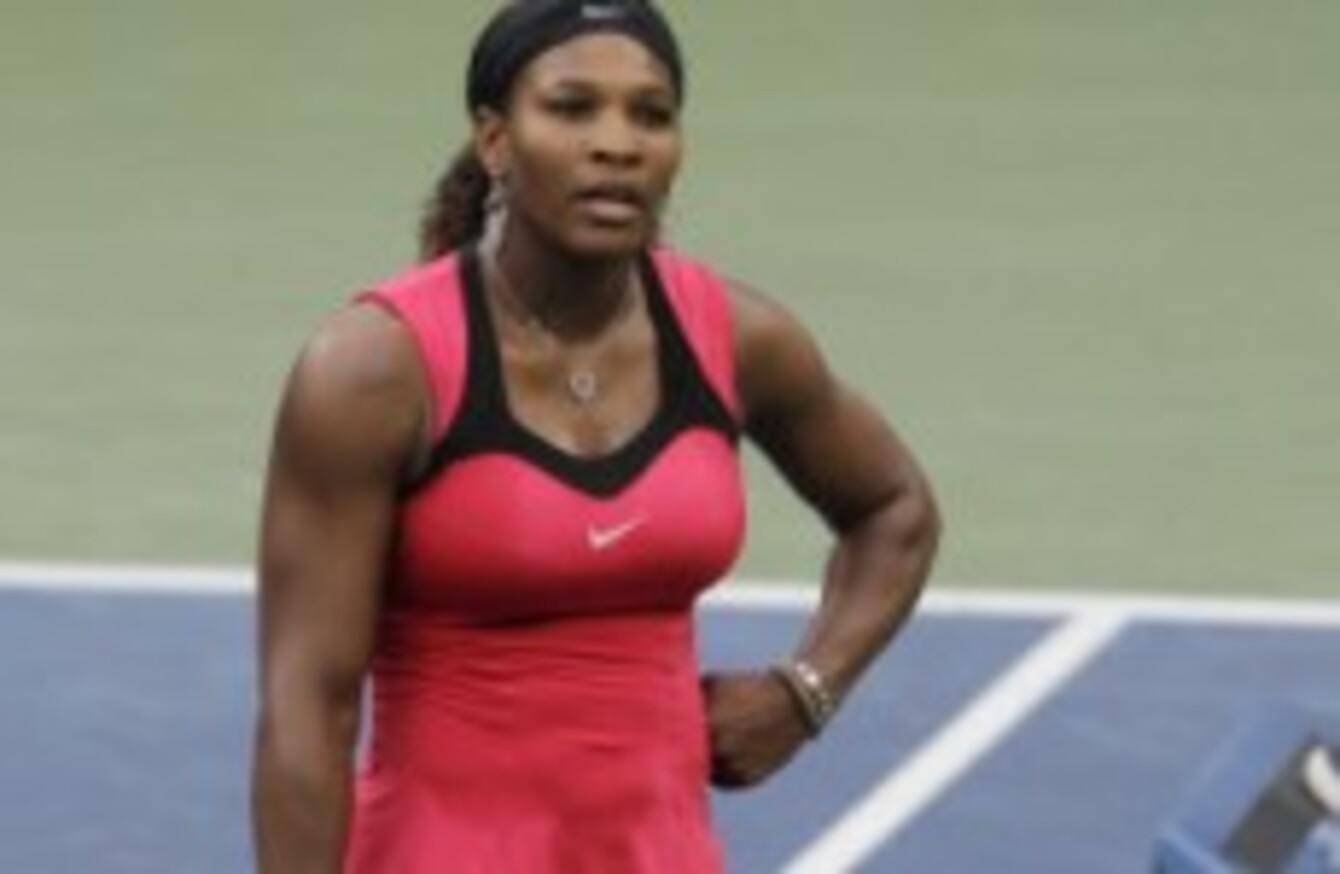 Serena Williams talks to the chair umpire Eva Asderaki.
Image: Mike Groll/AP/Press Association Images
Serena Williams talks to the chair umpire Eva Asderaki.
Image: Mike Groll/AP/Press Association Images
FEELING WRONGED AGAIN at the US Open, Serena Williams couldn't let it go.
"That's totally not cool," she shouted at the umpire. Then, a few minutes later, she told her, "You're a hater, and you're just unattractive inside."
Problem was, the real trouble for Williams was standing on the other side of the court.
Sam Stosur pushed the 13-time Grand Slam champion all over Arthur Ashe Stadium last night and took what she wanted, along with what the umpire gave her, winning the US Open in a result that was as surprising for who won as how lopsided it was.
The ninth-seeded Australian won her first Grand Slam title with a 6-2, 6-3 dismantling of No 28 Williams, the three-time US Open champion who hadn't lost a set en route to the final.
She lost two quick ones to Stosur. And, for the second time in three years, Williams did not leave Flushing Meadows quietly.
This time, the drama began when Williams, down a set and facing break point in the first game of the second, flushed a forehand deep to Stosur's backhand side and screamed out 'C'mon!' — figuring she had hit a shot that Stosur wouldn't reach. But Stosur stretched out and got a racket on the ball and the umpire, Eva Asderaki, called Williams for a hindrance, awarding the point, and thus the game, to Stosur.
What followed was nowhere near as menacing as 2009, when Williams berated and brandished her racket at a referee who called a foot fault in her semifinal against Kim Clijsters.
But memorable nonetheless.

Williams went over to talk to Asderaki, saying, "I'm not giving her that game," then, "I promise you, that's not cool. That's totally not cool."
The fans, sitting on their hands as they watched an unexpected first-set flattening of the American, got riled up and so did Williams, breaking Stosur's serve on the next game, then holding her own serve for a 2-1 lead.
But on the next changeover, Williams took things up again with Asderaki and she made it personal.
"You're out of control," she said. "You're a hater, and you're just unattractive inside."
Then, a few moments later: "You're out of control." And, "Really, don't even look at me."
And as quickly as she had gained the momentum and the support of the crowd, they were gone, leaving Williams to explain and deflect — and wait to hear if there will be further consequences.
Asderaki issued a code violation warning for verbal abuse and the US Tennis Association said officials would decide today whether Williams would be fined.
"I don't even remember what I said," Williams said. "It was just so intense out there. It's the final for me, and I was just … I guess I'll see it on YouTube."
Quiet victory
What she'll also see, if she watches long enough, is a rare example of a player who doesn't feel beaten before she even walks onto the court against Williams.
That's Stosur, a one-time doubles specialist, who has revamped her game over the past several years and moved her way into the top 10 in singles.
She became the first Australian woman to win a major championship since Evonne Goolagong Cawley at Wimbledon in 1980. Stosur received a text from the former player that read: "Twinkletoes, you finally have got what you deserved."
"I knew I had to go out there and play well and actually do it," Stosur said. "But I think having those victories in the past, for sure, made me feel a little bit more comfortable."
Williams, who made this run after missing the better part of a year with injuries stemming from the night last summer when she stepped on broken glass in a restaurant, has had her shining moments at the U.S. Open. She won in 1999, 2002 and 2008.
But she has an equal penchant for memorable losses.
In 2004, a poor call during her quarterfinal loss to Jennifer Capriati was cited as a main reason for the introduction of replay technology in tennis. Then the Clijsters match. Now this.
"It's just always something," said Williams' mother, Oracene Price. "And it seems to happen to us."