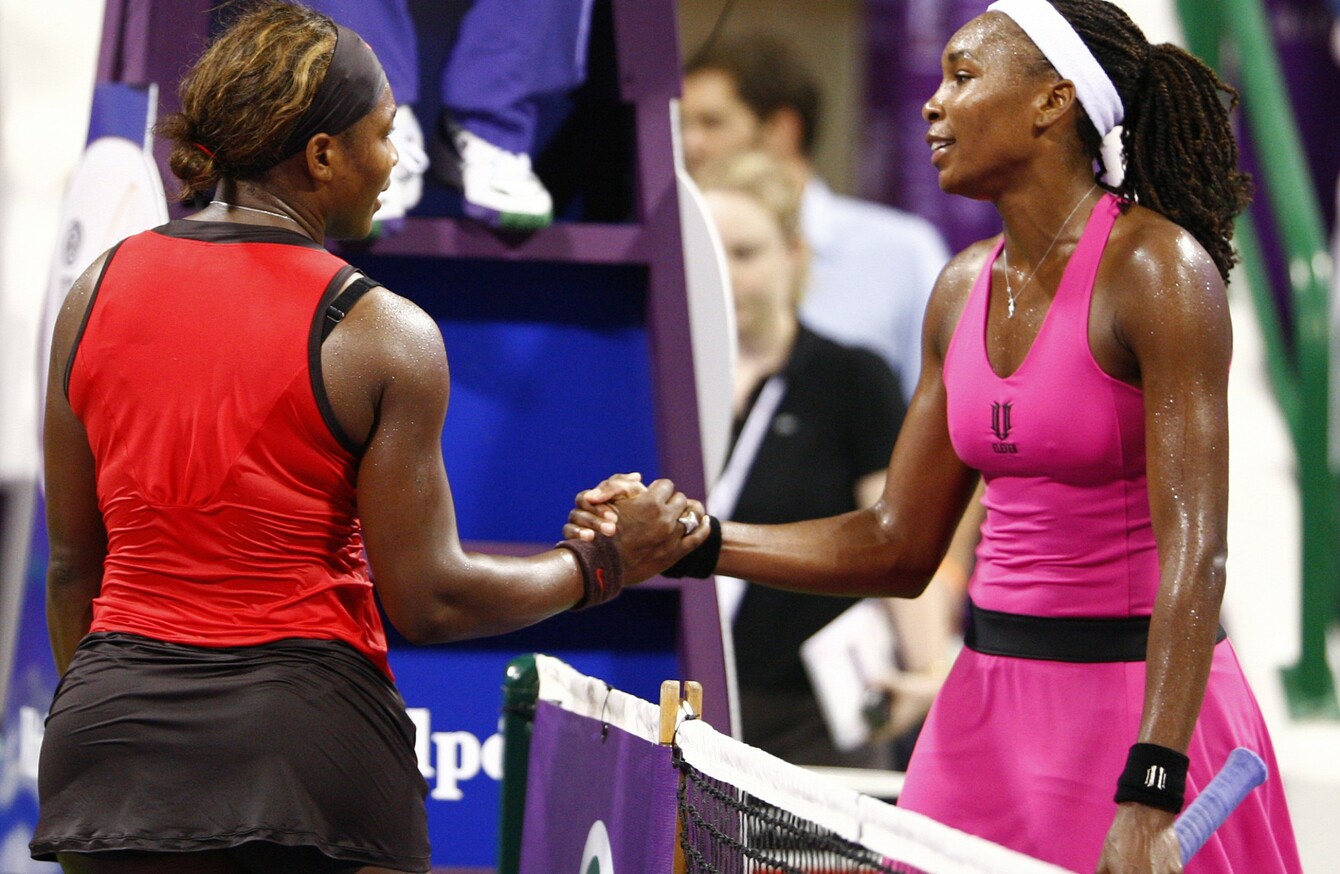 Image: AP/Press Association Images
Image: AP/Press Association Images
WHEN VENUS AND Serena Williams step out onto the court of the Rod Laver Arena on Saturday morning, it will mark the culmination of a fairytale Australian Open that nobody saw coming.
It was a tournament that saw presumed favourites vanquished early on and old greats afforded another moment in the sun. Players like Roger Federer, Rafael Nadal and Mirjana Lučić-Baroni dominated their opponents to the point that people were left scratching their heads and asking, "What year is this again?"
Fitting then that the women's final will feature Venus and Serena going head to head in a Grand Slam final for the first time since 2009. After all, it doesn't get any more vintage than that.
Venus and Serena Williams started playing tennis when they were children under the tutelage of their father, Richard Williams. Before Venus and Serena were even born, Richard had his heart set on turning his children into professional tennis players.
The story goes that he was watching the television one day when he stumbled upon coverage of the French Open. The winner, Virginia Ruzici, won $40,000 for her troubles, a figure that impressed Richard.
He immediately set about immersing himself in the world of tennis and better acquainting himself with the game, so that by the time Venus and Serena were old enough to hold a racket, he was well placed to coach them.
A few years ago, he relayed the conversation he had with his wife Oracene Price to CNN. "I went to my wife and said that we have two kids, and we'll become rich. They're going to be tennis players."
Venus Ebony Star Williams was born in June 1980. Thirteen months later, she was followed by Serena Jameka Williams. The family moved to Compton in 1983  — Richard wanted to toughen the girls up — and both girls soon started playing tennis.
It was clear early on that they had a natural aptitude for the sport, and Richard was soon serving as their full-time coach. They trained in the less-than-salubrious grounds of East Compton Park for many years until they were picked up by Rick Macci, a tennis coach based in Florida.
Early on, the girls were regarded as somewhat of an anomaly in their sport. In a recent interview with ESPN, Macci recalled thinking, "Athletes with their body types went to other sports; they didn't play tennis."
The family moved to Florida when Serena and Venus were aged nine and 10, respectively, to attend Macci's tennis academy in West Palm Beach, where they remained until 1995. Neither Venus nor Serena participated in many junior tournaments with their father opting instead to focus on preparing them for the professional game.
Both girls would turn pro at the age of 14, thus marking the beginning of two of the greatest tennis careers in history.
In 1997, Venus Williams made her Grand Slam debut in the French Open. The 17-year-old lost in the second round. This was soon followed by a first round defeat at Wimbledon. But she came into her own in the US Open and made the final on her first attempt, where she lost to Martina Hingis.
The tournament was notable for an incident in the semi-final in which Williams was deliberately bumped by her opponent, Irina Spirlea, during a changeover.
At the time, many including Richard Williams speculated that the bump was racially motivated. (Spirlea denied this and later suggested that she was merely putting "the f**king Venus Williams" back in her place after Venus refused to turn for her.)
It would not be the last time the issue of race would rear its ugly head, but more on that later.
Source: Sean L/YouTube
In January 1998, Serena Williams made her Grand Slam debut at the Australian Open where she faced none other than Venus Williams in the second round. It was an irresistible match-up.
With their white braids and powerful playing style, they were unlike anyone else on the women's tour. Venus won in straight sets on that occasion, but the match heralded the arrival of a new era of tennis.
Source: SerenaWilliamsFans/YouTube
The first Williams Grand Slam title came in 1999 when Serena defeated the likes of Kim Clijsters, Monica Seles, Lindsay Davenport and finally Martina Hingis to win her first US Open, thus beginning a period of dominance for the Williams sisters.
Between 2000 and 2003, Venus and Serena won a combined nine Grand Slam titles — four for Venus and five for Serena. On many occasions, the sisters faced each other in the finals, leading to an unprecedented sibling rivalry that the sport had never seen before.
In the midst of all this joy and success, however, was an ugly incident at Indian Wells, a high-profile tournament played in California. At the 2001 tournament, Venus was scheduled to play Serena in the semi-final, but withdrew due to injury at short notice, leading to accusations of match-fixing.
Serena progressed to the final by default. During the final, she was booed and jeered by the crowd, who were still peeved at having been denied a Serena-Venus match. It was a disorienting sight considering she should have been the home crowd's favourite.
A match report from the time describes the hostile atmosphere:
The celebration was awkward. As she began a parade queen's wave at the crowd, boos mixed with a smattering of applause.
Richard Williams later claimed that he had been heckled and subjected to racist abuse by members of the crowd. As a result, the sisters would boycott the tournament for 14 years.
Source: BBC/YouTube
Because of the sheer longevity of their careers, it's easy to forget that Serena and Venus have endured many dips in form.
Indeed, in contrast to the highs of the early 2000s, 2004 to 2006 was somewhat of a fallow period for the sisters. There were victories, sure  — Venus won Wimbledon in 2005, while Serena won the Australian Open the same year —  but not at the same rate as in previous years.
They suffered enormous personal trauma like the murder of their sister Yetunde Price in 2003 and their parents' divorce in 2002. They were hampered by injuries. And their commitment to the sport was repeatedly called into question.
At one point, Chris Evert even took it upon herself to write an open letter to Serena Williams in Tennis Magazine, advising her that she was "tarnishing her legacy" by devoting too much time to "distractions" like guest appearances on ER and The Bernie Mac Show.
A return to form soon followed, however, with the sisters climbing up the rankings once more and adding to their trophy cabinet.
Serena defied the odds to win the Australian Open in 2007 as an unseeded player. Venus Williams won her fifth Wimbledon title in 2008, forever solidifying her status as the 'Queen of the Grass'. And the sisters won a doubles title at the Beijing Olympics.
But like clockwork, these highs were soon countered by extreme lows. In 2011, Serena Williams was diagnosed with a pulmonary embolism in her lungs and later had to undergo surgery to remove a hematoma related to the embolism.
That same year, Venus Williams was diagnosed with an autoimmune disorder known as Sjogren's Syndrome. Her ranking and form plummeted that year and she has since struggled to maintain the consistency she enjoyed early on in her career.
But while Venus faltered, Serena thrived. She returned from her bout of illness with a new vigour and sense of purpose. In June 2012, she hired a new coach, Patrick Mouratoglou, who brought out the best in her and has since helped oversee nine Grand Slam titles.
By September 2015, Serena Williams was on the precipice of something historic. She had won the Australian Open, Wimbledon and the French Open, and was looking to complete the calendar slam, as well as her 22nd career Grand Slam, a total that would bring her in line with Steffi Graf's record.
The build-up was intense with the majority of pre-tournament coverage centred on Serena's legacy and her place in history. The New York Times even published a piece by the noted poet Claudia Rankine on The Meaning of Serena Williams.
And why not? It was a sure thing that she'd win, right? She was in the form of her life.
Wrong.
Her dreams of a 22nd title came to a crashing halt when Italian player Roberta Vinci shocked everyone — even herself — and defeated her in the semi-final, spoiling the narrative everyone had been spinning for the previous fortnight.
"Serena Williams's loss to Roberta Vinci was, beyond any reasonable doubt, a gargantuan upset," wrote The New York Times.
But if there's one thing Serena Williams has proved time and time again, it's that she has the ability to pick herself up, dust herself off and go at it again. Number 22 may have eluded her in New York, but it wasn't off the cards just yet.
Meanwhile, Venus Williams was making great strides and enjoying a much-welcomed return to form of sorts. In 2015, she made two Grand Slam quarter-finals, her best performance since 2010.
She built on this success in 2016 and reached the semi-final in Wimbledon at the age of 36, which made her practically a senior citizen in tennis terms. (Her opponent in the third round was a 19-year-old named Daria Kasatkina.)
But Venus maintained that age wasn't a factor.
I don't think anyone feels older. You have this infinity inside of you that feels like you could go forever.
She bowed out in the semi-final, losing to Angelique Kerber.
Kerber's opponent in the final? None other than Serena Williams.
At Wimbledon, Serena Williams was in flying form, winning all but one of her matches in straight sets. But she had suffered a defeat in the Australian Open final to Kerber just six months earlier.
Would the German stand in her way again? In a word, no.
Serena was ferocious and hungry, and won her 22nd title in straight sets, 7-5 6-3. In doing so, Serena cemented her place in history and reminded everyone that you can never count a Williams out.
In that open letter in 2006, Chris Evert cautioned that Serena was in the prime of her health and ought not to squander it. But both Serena and Venus have demonstrated time and time again that age ain't nothing but a number and showed there are no barriers that they can't overcome.
After all, they've endured racist and sexist remarks – most recently in 2014 when the President of the Russian Tennis Federation pejoratively referred to them as the "Williams Brothers". They've fought through injury, illness and immense personal turmoil. They've campaigned for equal prize money for female tennis players.
They've had their bodies scrutinised and analysed to a frankly insane degree. They've failed to land the same lucrative sponsorship deals as peers like Maria Sharapova. And they've more than paid the price on the rare occasions they've lost their temper on the court.
Despite all of that, however, they have never given up or retreated. Thanks to tenacious parents, a tremendous force of will, and unparalleled athleticism and power, Serena and Venus have left an indelible mark on a sport that didn't always welcome them with open arms.
The two little girls that grew up playing on the scrappy courts of Compton have turned the lily-white sport of tennis on its head and made it their own. If anybody embodies the fabled American dream, it's Venus and Serena Williams.
On Saturday, Venus Williams will vie to become the oldest woman to ever win a Grand Slam in the Open era — a record currently held by her sister — while Serena Williams will be bidding to win her 23rd title and become the most successful player in the Open Era.
Either way, tennis fans can expect a fairytale ending. As Serena Williams herself put it, "A Williams is going to win the tournament."