ON THE N4 heading west out of Dublin, there's a stretch of six-lane highway between Palmerstown and Lucan where the speed limit alternates, in short order, and for no discernable reason, between a deathly slow 80, 60 and 80kph. I got clocked there once by a speed camera doing 72 in the 60kph zone. I received a fixed charge notice in the post.
I paid it. But it did not sit well with me. The next time I caught up with a garda friend, I gave her a piece of my mind. This was bullshit, I told her. There were a hundred other vehicles out there all ignoring the letter of the law the same as me. Indeed I'd probably done it myself, without receiving any punishment, on a hundred previous occasions.
So why was I being stuck with an €80 fine this time?
Clearly, my friend had encountered this line of civilian disgruntlement before, because her reply was succinct and well prepared. "When you go fishing", she asked, "do you hope to catch one or two fish? Or do you expect to catch every single fish in the river?"
One fish would be doing well, I had to concede. Two would be a personal best. "Exactly," she responded. "Well, it's the same with speeding. We can't catch everybody. But that doesn't mean we shouldn't catch anybody. You broke the law. You take your punishment. End of story."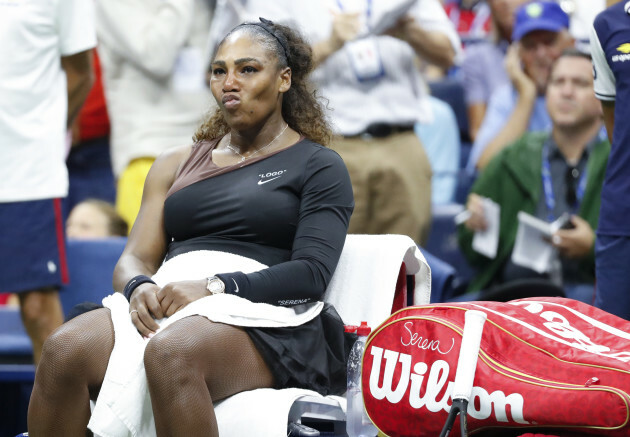 UPI / PA Images UPI / PA Images / PA Images
In the furore over Serena Williams' outburst against umpire Carlos Ramos in the US Open Women's Final on Saturday, I couldn't help but recall that conversation and it's somewhat ambiguous conclusion. As was the case with my speeding fine, the basic facts of what happened in the Arthur Ashe Stadium are not in dispute.
Williams' coach Patrick Mouratoglou freely admits that he was using hand signals to try and coach his player from the stand, even if Williams didn't actually see them. This was in breach of one of the most cherished rules in tennis.
What's equally indisputable, however, is that this same rule is routinely flouted by virtually every coach in the game, actions for which they are sometimes warned, but rarely if ever punished.
So while technically Ramos was within his rights in awarding a code violation against Williams, by the same token, Williams was entitled to feel aggrieved at being singled out for this random punishment in such an important moment in her career.
Imago / PA Images Imago / PA Images / PA Images
Going back to my speeding fine analogy, for a moment: my offence was recorded and the fine enforced by an automated system. In sport, by contrast, umpires and referees are human beings. And that's a double-edged sword. Human beings have human flaws. But if they so choose, they can also have empathy and exercise discretion.
On the former: when I was a teenager, I was once roped into being a linesman at a soccer game. Early in the second half, the ball went out for a throw-in. There was no question about which player had put the ball out of play. But in a momentary lapse, I'd forgotten that the sides had switched ends at half-time.
So I pointed my flag in the wrong direction and, inadvertently, awarded the throw-in to the incorrect team. The wronged players immediately made their displeasure known. Immediately, I knew I'd made a mistake. But I hadn't the humility or the good grace to admit it. So I brazened it out and the wronged team conceded from the resulting throw-in.
That was a stupid, idiotic thing for me to have done. But I was young, immature and completely unqualified for the role into which I had been thrust. Carlos Ramos is a Gold Badge umpire who has presided over finals at all four grand tournaments, as well as an Olympic final.
As Williams growing frustration boiled over in Flushing Meadows, there are a hundred different ways Ramos could have used his discretion to de-escalate the situation. Instead, at every turn, he chose to escalate it.
Williams lashed out, receiving a second violation for smashing her racquet, which resulted in a point penalty. Then she incurred a game penalty for calling the umpire a thief and a liar.
Again, Ramos was within his rights to do this. But again, the indisputable fact is that countless high-profile male tennis players have gotten away with lesser or no penalty at all for doing much worse — at least one of them during a match which Ramos himself was officiating.
Exclusive Six
Nations Analysis
Get Murray Kinsella's exclusive analysis of Ireland's Six Nations campaign this spring
Become a Member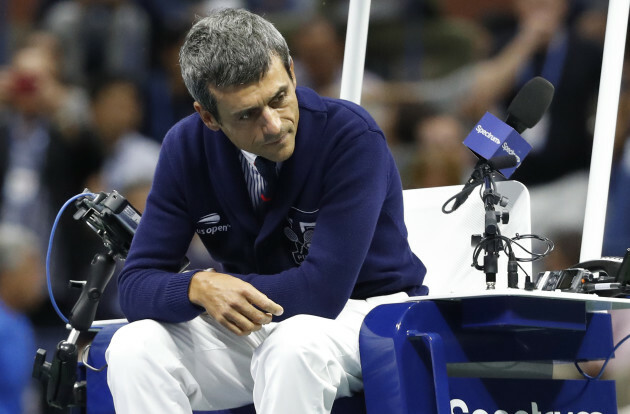 UPI / PA Images UPI / PA Images / PA Images
In my opinion, Serena Williams is perfectly entitled to be upset and aggrieved at the treatment she received. To have her shot at victory, however unlikely, effectively taken away from her because some dipshit's ego couldn't handle being yelled at by a woman is an outrage.
Equally, her opponent, 20-year-old Naomi Osaka, was in all likelihood well on her way to a handsome victory. To have that amazing achievement tarnished and overshadowed by this man's actions is equally an outrage.
A lot of Irish men I've spoken to about the controversy seemed to take the attitude that, well, what happened to Serena Williams might have been unfair, but that's life. She should have just shut up and got on with things. Ha… I remember precisely how sanguine and philosophical these same characters were when Thierry Henry's handball knocked Ireland out of the World Cup playoffs in 2009. Christ, they wanted to refer that incident to the U.N. Security Council.
The same people also tended to regard Williams' outburst as "hysterical" or a "tantrum." Again, these are guys who, for decades, enabled Roy Keane's worst behaviour by praising his "passion" and "commitment" to the cause.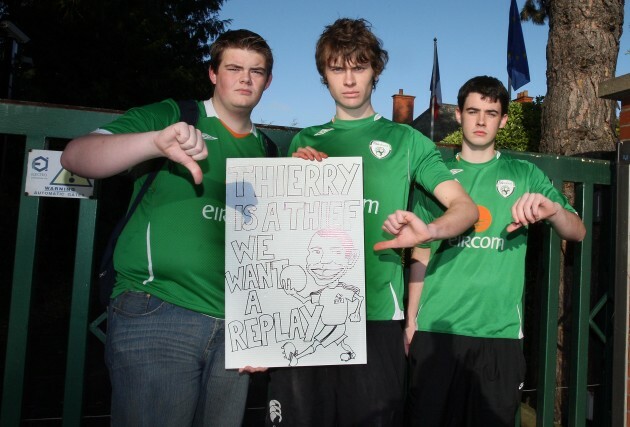 Dan Sheridan / INPHO Irish fans protest outside the French embassy, labelling Thierry Henry a 'thief'. Dan Sheridan / INPHO / INPHO
In a piece published on the New York Times website last night, retired champion Martina Navratilova acknowledged the existence of a double standard in the way women are treated in tennis, but criticised Williams nonetheless, saying that just because men get away with bad behaviour does make such behaviour acceptable.
To me, Navratilova's article completely misses the point. The question isn't whether Williams was entitled to vent her frustration the way she did. (Of course, she wasn't.) The question is whether it's fair that she was punished far more harshly than men who did the same or worse. (It isn't.)
As human beings, we are hardwired to resent anything that smacks of double standards or arbitrary injustice. Seriously, next time you're in charge of two small children, give one of them a sweet but not the other. See how that works out for you.
This is the point that those who take a letter-of-the-law position fail to understand. Just because a decision is technically correct under the rules, that doesn't necessarily make it just.
In 1996, Mayo and Meath played out a hard-fought draw in the All-Ireland football final. Minutes into the replay, the mother of all donnybrooks broke out in front of the Meath goal.
Being honest about it, the referee in charge, Pat McEnaney, would have been well within his rights to send off just about every player on the pitch barring the two goalkeepers. But he didn't do that, because then he'd have had to abandon the game. So he decided, completely arbitrarily, to send off one player from each side: Mayo's Liam McHale and Meath's Colm Coyle.
Based on their respective performances in the drawn game, that was Mayo's best player and Meath's worst. Had both men done enough to merit being sent off? Yes, they probably had. But was it fair to punish these two specific players and let everyone else go unpunished? Of course it wasn't.
Mayo lost that game by a point. As a Mayo supporter, when I think of the impact McEnaney's arbitrary decision had — not just on the outcome of that game, but also on how things might have played out differently in the intervening decades — it still makes my blood boil even now, 22 years later.
Let's hope Serena Williams is a more forgiving character than me…
The42 is on Instagram! Tap the button below on your phone to follow us!