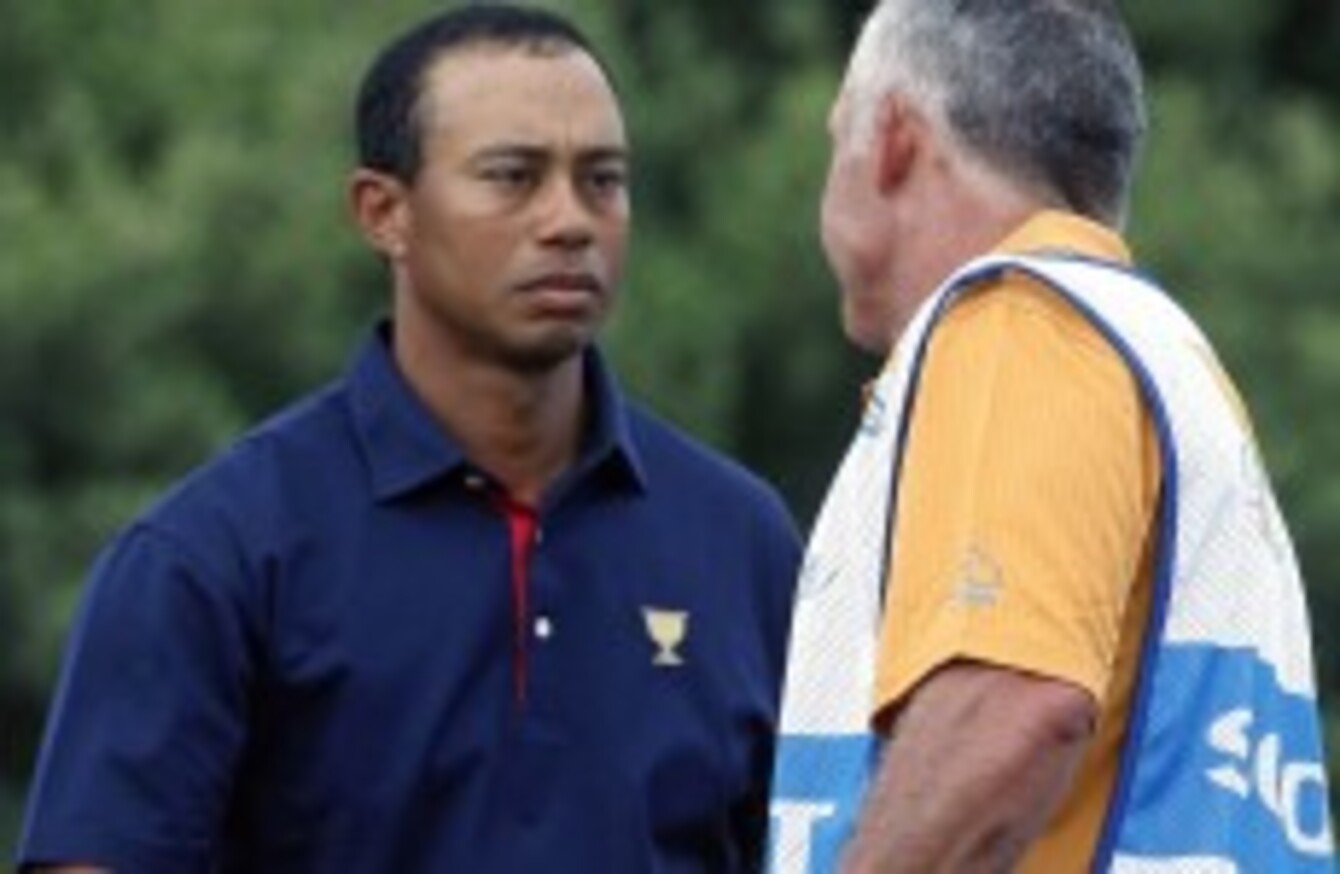 r Tiger Woods, left, shakes hands with his former caddie Steve Williams.
Image: AP Photo/David Callow)
r Tiger Woods, left, shakes hands with his former caddie Steve Williams.
Image: AP Photo/David Callow)
TIGER WOODS MADE the first move, reaching out to shake hands with his ex-caddie, that went a long way toward dousing the endless chatter over their acrimonious breakup.
Twelve holes later, as short a Presidents Cup match that has ever been played, Steve Williams had the last laugh.
In the 112 matches of various formats that Woods has played in his professional career, he never had a loss like this one. Playing again with Steve Stricker, an American tandem that was unbeatable two years ago, they didn't win a hole and didn't make a birdie in tying the Presidents Cup record for the worst loss ever, 7 and 6.
Adam Scott — with Williams on his bag, kept his distance from Woods until they shook hands on the 12th green — and KJ Choi rarely missed a shot in piling up pars and more than enough birdies. The foursomes match ended with Scott rolling in a 25-foot birdie putt on the 11th, and stuffing his approach into 10 feet for Choi's birdie on their final hole.
"We were just slightly off," Woods said. "On a golf course like this, it doesn't take much."
That match was the biggest surprise on an opening day that featured a few unlikely twists at the end, with the Americans making two late rally to halve matches and leaving Royal Melbourne with a 4-2 lead over the International team.
It was the third straight time the Americans have won the opening session.
"We are more excited than we were an hour-and-a-half before the day ended," US captain Fred Couples said. "Our guys fought hard."
Dustin Johnson and Matt Kuchar, three down with seven holes to play, won the last two holes with pars to halve their match against the Aussie duo of Jason Day and Aaron Baddeley. Nick Watney and Bill Haas were two down with four holes to play and managed a halve against Geoff Ogilvy and Charl Schwartzel.
"My guys felt like they let a few matches slip away, no question about it," International captain Greg Norman said. "But they all understand. It's the game of golf. It does happen. Their heads are really held high. They are not worried about the next three days going forward. They all feel like they are playing extremely good golf."
The other matches were never close.
Phil Mickelson and Jim Furyk, partners for the first time since the Ryder Cup in 1999, won five holes in a six-hole stretch for a 6-and-5 win over Retief Goosen; Bubba Watson and Webb Simpson were seven under through 16 holes in a 4-and-2 win over Ernie Els and Ryo Ishikawa; and David Toms and Hunter Mahan took advantage of sloppy play by KT Kim and YE Yang in a 4-and-3 win.
But it was that last match that brought so much scrutiny — first with the handshake, then the way Scott and Choi slapped around an American team that had been 6-1 going into the Presidents Cup.
They were the last to tee off, and the second match to finish. That's how big this blowout was.
"KJ and I didn't get it out of position today, which is a good thing on this golf course," Scott said. "We both played very well. They got out of position a couple of times, and they didn't play their best. Yeah, a good win. Because they were a tough team last time, took a lot of points off us. So it was pleasing to get one up there."
Bygones
The caddie squabble meant nothing to Scott, who has tried to stay out of the fray, even after Williams disparaged Woods with a racial comment while getting roasted at a caddies award dinner two weeks ago in Shanghai.
Woods didn't make too much of it, either.
"I put my hand out there to shake it, and life goes forward," he said. "There's some great things that Steve and I did, and that's how I look at it. I know he probably looks at it differently than I do, but hey — life goes forward, and I'm very happy with what we've done in our career together."