BACK IN AUGUST, sections of Shakhtar Donetsk's home, the Donbass Arena – a proud symbol of Ukraine's recent development when it hosted a Euro 2012 semi-final, were reduced to rubble.
Shortly after, the club's offices were seized by armed men while their training ground was also shelled. In the middle of a war, it wasn't safe for Shakhtar to remain in their new, glistening home – designed as a beacon of new beginnings. For league games, they began to play in Kiev's Bannikov Stadium with its capacity of 1,678. It was a far cry from the Donbass and its imposing scale, intensity and electricity.
UKRAINE TODAY / YouTube
For the Champions League, there was a better alternative for Shakhtar: the Lviv Arena. Still though, it wasn't good enough. It wasn't theirs. It all felt too strange and they didn't fit comfortably in the new surroundings. They struggled, slipping up late against Porto and losing to Athletic on 'home' soil. Almost inevitably, Shakhtar have been much better on their travels throughout Europe this season. They lashed seven past a sorry BATE in Belarus and picked up solid away points in Bilbao and Portugal.
But, there's a longing for normality. Earlier this term, captain Darijo Srna spoke emotionally about a desire to go home.
We want to return to Donetsk as soon as possible. We want there to be peace in Donetsk. We want to play in the Donbass Arena in front of our fans. On the day the war ends, we will return to Donetsk and kiss the streets."
Last month, shortly before Shakhtar held Bayern Munich to a scoreless draw in the first leg of their Champions League quarter-final, a ceasefire was agreed between the Ukraine government and pro-Russia separatists. But, there was scepticism and recently, NATO Secretary General Jens Stoltenberg warned that the situation in the region remained fragile. The sense of caution is echoed by the players. Goalkeeper Andrei Pyatov put everything in perspective before the clash with the Bavarian giants in mid-February: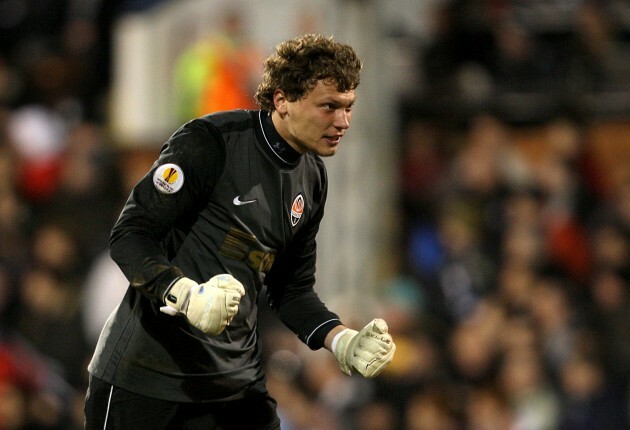 EMPICS Sport Shakhtar goalkeeper Andrei Pyatov. EMPICS Sport
"If people stop dying everyday, we'll be able to focus on the game,", he said.
"Sometimes you go out to play after hearing on the news that some bus came under fire and people died, and you think about that. It influences you, even if you hide it. Internally you're not as concentrated. You try to be professional but those thoughts are there all the same."
And speaking ahead of tonight's return game in Munich, Shakhtar coach Mircea Lucescu spoke in-depth about the daily grind, the pressure and dark shadows that follow the entire club wherever they go:
"This is a very difficult situation for us. It's hard to motivate the players," he told reporters.
We have lost so much, even the sympathy of our fans. Few people come to our games, but that's also because we don't play in our home. People in Lviv see us as a team from the east and that is very difficult for us. We're working under very difficult conditions. Therefore, it is very difficult to motivate the team and deal with the situation. Also, the players can't hide from that."
To still be in the hunt is a testament to the players and their manager. Last summer, a collection of Brazilians refused to return to the club for fear of the escalating conflict. The behaviour of one in particular, Bernard, who was a member of the Seleção at the World Cup, pushed Lucescu to the limits. The self-imposed isolation irritated the 69 year-old Romanian, who didn't hold back in his criticisms:
Efrem Lukatsky / AP/Press Association Images Mircea Lucescu will hope to frustrate Pep Guardiola again this evening. Efrem Lukatsky / AP/Press Association Images / AP/Press Association Images
"In 40 years of a football career, I have never seen such behaviour. We haven't seen Bernard for almost three months and he never really seemed to care about being part of the group. It looks like he's a player for social media."
Bernard returned to the camp but Lucescu hasn't forgotten and the 22 year-old has understandably barely featured this term. Surrounded by such a fractured and difficult situation, the team has needed to rely on togetherness to get through it all. When the entire organisation seemed to be dangling precariously on the precipice, it was a unity and a cliched common goal that was the key. Lucescu had the chance to move to Galatasary in January but
"No one left the team, and the team is as strong as before, even more so," Pyatov has said previously.
Hardships strengthen your soul, morally and psychologically."
Tonight, they should feel the support not just from their fans but from plenty of neutrals too.