CONTROL HAS BEEN the key for Shamrock Rovers' success under Stephen Bradley.
Their dominance of the Premier Division has been borne from an ability to dictate play and suffocate opponents with a relentless adherence to the principles of play established by the manager.
"Trust the process" is the phrase the Hoops players probably hear last thing at night and first in the morning.
When times have been tough or games in the balance over the course of their last three title-winning seasons, the one thing you can expect from a
Bradley side is for their temperament to see them through.
Discipline is paramount on and off the ball.
They keep it better than anybody else, moving the play at their pace to wait for weaknesses to appear.
Then they pounce.
It is methodical, almost thrilling in its belligerent execution.
It is part of the reason why they conceded just 22 times in 36 games in 2022. Already this term the goals against column has reached eight, more than one third of the entire tally previously.
Currently, only the champions and UCD remain winless in the top flight. Bradley can point to a harsh straight red card for Roberto Lopes in the opener away to Sligo Rovers, as well as a case of mistaken identity for the first yellow card shown to Dan Cleary before he was also dismissed at Drogheda United, as mitigating factors but those incidents only serve to highlight a sense of their authority being etched away.
Lee Grace's reckless lunge which also led to his red in Drogheda simply a baffling loss of discipline, the kind that wouldn't happen were things on a more sure footing.
The Rovers boss suggested Lopes was the victim of a new assessment system for officials when he was given his marching orders for a tame raised hand at The Showgrounds.
It is hard to argue.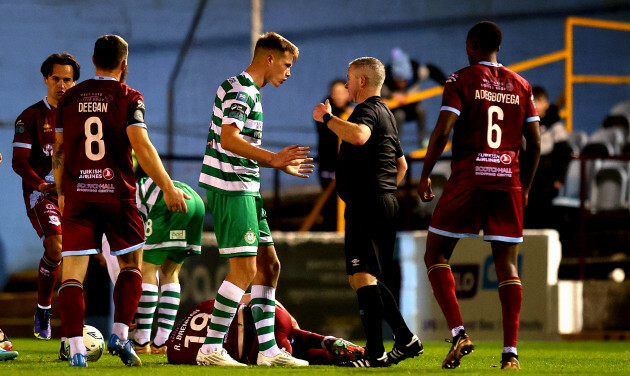 Ryan Byrne / INPHO Dan Cleary (left) is sent off at Drogheda United. Ryan Byrne / INPHO / INPHO
But the nature of the goals Rovers have conceded will be the biggest concern of all, a symptom of a wider issue.
Individual errors have compounded sloppiness in the team structure.
Three of Cork City's four goals highlight that perfectly, even if Darragh Crowley's sublime long-range effort will the strike that is remembered.
Having taken the lead in the 13th minute through last season's player of the year, Rory Gaffney, Rovers conceded an equaliser in the most basic fashion. They lost two second balls in midfield, allowing Aaron Bolger enough time to thread a neat pass which led to a cross into the six-yard box for a simple finish.
The reactions of the Rovers players throughout were second best.
When Cork made it 3-2 just before the hour mark all it took was one floated diagonal free kick to the back post to cause a scramble, while their fourth followed on from Derry showing on Friday how the champions remain susceptible to a quick counter attack – at least when Lopes is not the one marshalling things from the centre.
Ruairi Keating, who pounced for their first, superbly plucked a long clearance out of the air to set up the attack. He fed the equally impressive Cian Bagary down the left who drove towards the box.
By the time he plays his cross Rovers looked to have recovered in numbers, yet the four defenders in the box could not prevent the ball reaching Ethon Varian coming in from the right.
He creates enough confusion for Crowley, who had eventually caught up to support, to prod home.
Rovers, to their credit, did enough to salvage a point in manic finale – late goals also a calling card last season, of course.
However, given that Derry scored their opener on Friday just 12 seconds after first clearing a corner from their own box, perhaps teams might sense weakness on the break.
Again, though, even that fine Ben Doherty goal on the counter comes with a caveat, Trevor Clarke's fresh air attempt at a clearance from Will Patching's pass allowing he move to develop well beyond where it should have.
Regardless, Derry once again find themselves in control at the top.
They led the way until May last season – albeit not by a seven-point margin – before a seven-game stretch without victory saw Rovers reassert control.
Now they are searching for it again.