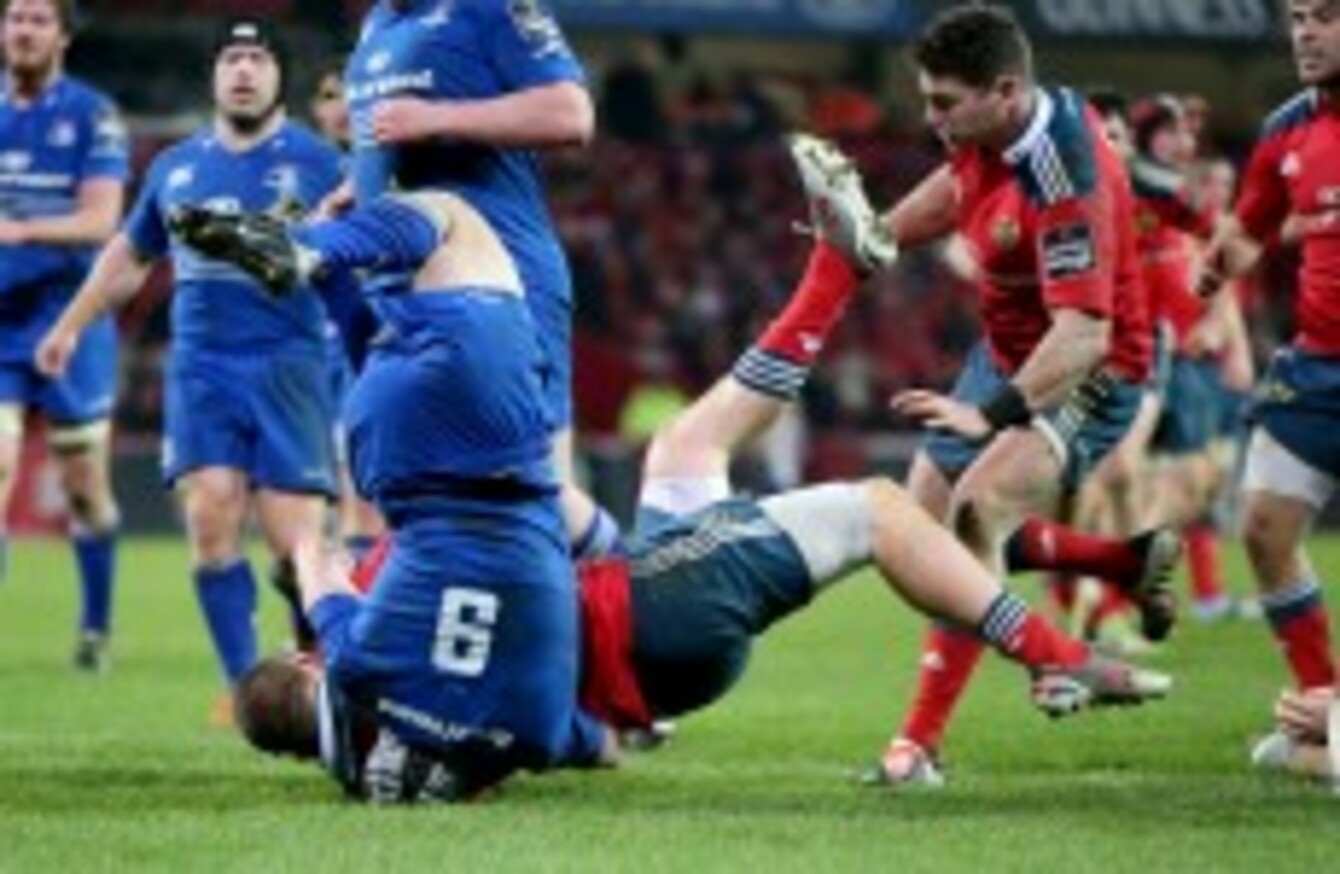 Isaac Boss fails to prevent Andrew Conway from scoring at Thomond Park.
Image: Dan Sheridan/INPHO
Isaac Boss fails to prevent Andrew Conway from scoring at Thomond Park.
Image: Dan Sheridan/INPHO
THERE WAS A little moment at Thomond Park yesterday evening in which we got a glimpse of what Shane Jennings adds to the mix for Leinster.
Making just his fifth apperance of a season that has been disrupted by a hamstring problem, the 33-year-old gave Jordi Murphy an old-fashioned berating after the Ireland international conceded a penalty under the Leinster posts at Thomond Park.
Three easy points for Munster's Ian Keatley ensued after Nigel Owens pinged Murphy for failing to roll away after completing a tackle.
"Gotta work harder, gotta work harder" shouted captain-for-the-day Jennings at the guilty party. This unwillingness to accept substandard contributions is what Leinster need more of as they strive to find form.
Work-rate was clearly no issue for Jennings himself, who completed more than 20 tackles as Leinster were forced to defend for long periods of a 28-13 defeat. Speaking after the game, however, the openside put his hand up for two vital missed tackles in the build-up to two of Munster's three tries.
Indeed, Jennings had no qualms about admitting that it had been an evening of underperformance both on a personal and collective level.
Tommy O'Donnell had a major impact on the game in Munster's seven shirt opposite Jennings, while Leinster as a team were soundly beaten.
It's very disappointing," said Jennings post-match at Thomond Park.
"We certainly don't have any complaints, or I don't have any complaints. We were beaten by a better team and they deserved their win, so full credit to them because we certainly didn't perform the way we should have and they got what they deserved."
Poor starts to both halves certainly didn't help the Leinster cause. They conceded the first three points of the game with less than three minutes on the clock, while Andrew Conway's 45th-minute try was even more damaging.
Having seen off Connacht at the RDS a week previously and with a visit to Ulster to come in the New Year, was there some lack of mental concentration?
"No, it's not down to a mindset," said Jennings. "I think we were very focused during the week.
Be part
of the team
Access exclusive podcasts, interviews and analysis with a monthly or annual membership.
Become a Member
"It's a pretty important part of the game [the start of both halves], that if you get it wrong, concede points or a score, you're playing behind the eight ball and unfortunately that's what happened to us. When they're at home, they get their dander up and they can control the game.
They got control and that's what happened."
In line with his refusal to make excuses, Jennings stated that Darragh Fanning's second-half yellow card was a fair call from Owens, although it certainly looked like an arguable decision from the stands.
Jennings went on to point out that the Welshman had done a fine job in the middle at Thomond Park, particularly around a breakdown that was far from clean.
"I think it was pretty messy for both sides. At times we did alright, but it was a dogfight, you know? It was scrappy enough and to be fair to Nigel, I thought he reffed it pretty well. His instructions were pretty clear.
"At times we did alright and at times we didn't; at times they did alright and at times they didn't," continued Jennings. "At times they disrupted our ball but I don't think that was the making or breaking of the game."
More essential to the outcome was the manner in which Munster repeatedly made big inroads around the fringes of the rucks when they attacked. The pick and jam appeared to be the primary focus for Anthony Foley's side with ball in hand at times, as Leinster struggled to slow their progress.
Jennings underlined the fact that Leinster's lack of success in defending those narrow drives stemmed back to losing the first-phase collisions too often.
"Initial contact, the initial tackle," stressed Jennings.
Whether it was Denis Hurley coming up the middle or whoever, we needed to stop them on the gainline, get set early and we needed to take a bit more space off the side of the ruck, not getting taken out, and we needed to come off the line.
"If you don't do that on the first phase, it's hard to get back in on second phase. When we don't do it well, that's when they can get into the game and that's when they built their momentum, built their scores.
"When you play against Munster and you play against the way they were playing, you've got to do it every time. If you don't do it every time you're going to concede points or give away a penalty, like what happened with Darragh.
"Obviously that just puts us under more pressure. Like I said, credit to Munster. They played well, we certainly don't have any objections or complaints or anything like that. They played better than us."