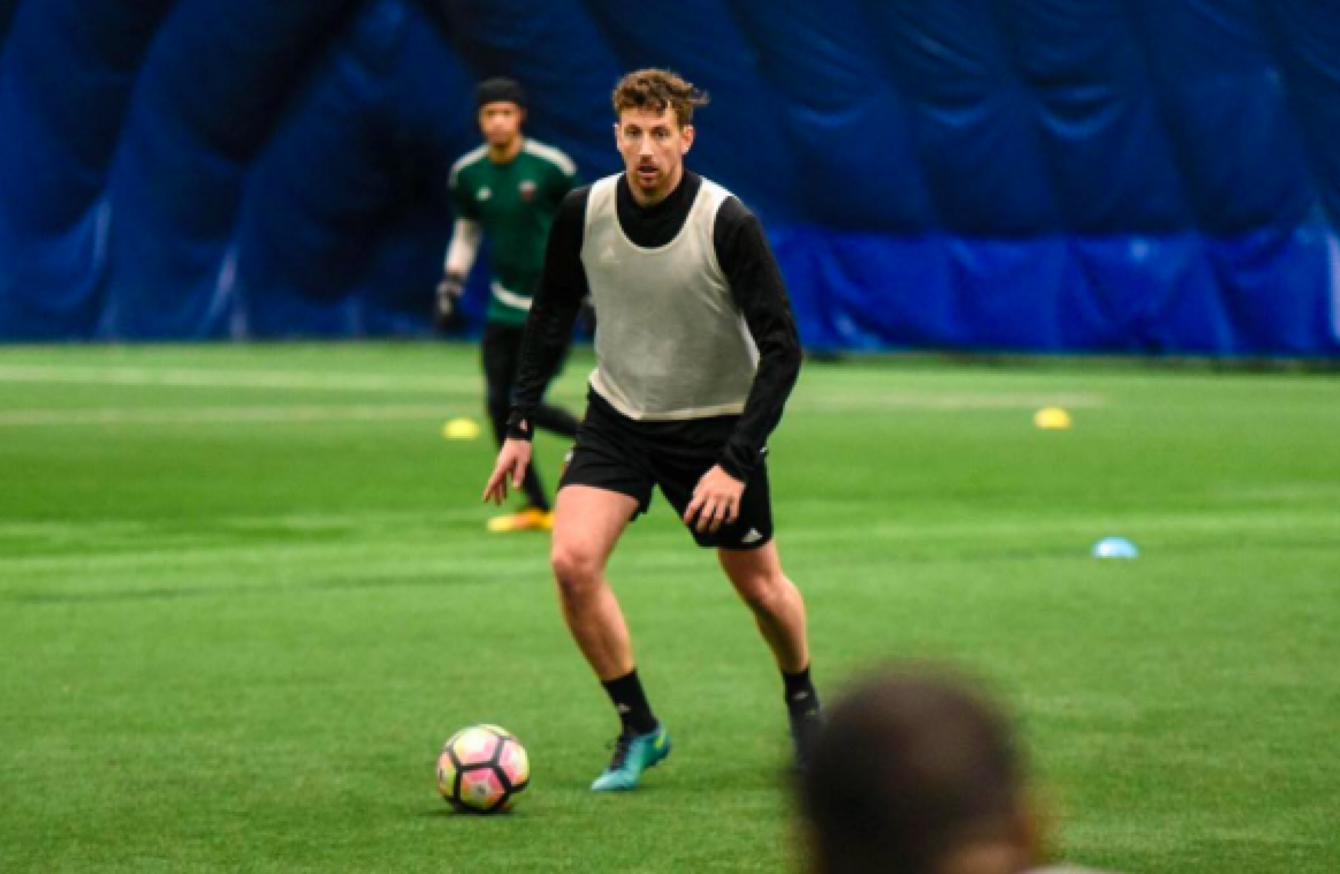 ON A BALMY Friday afternoon in the cute, downtown Ottawa neighbourhood of The Glebe, Shane McEleney was checking his phone quite a bit.
He was preparing for a USL (United Soccer League) home clash with Rochester the following day but he couldn't help a quick glance every so often.
Thousands of miles away, his two former teams were battling it out at Inchicore and he needed updates. Despite the geographical inconvenience, he remains tied to the League of Ireland – for a few reasons.
"I'm checking the scores every weekend to see who beat who. If I get time, I tune into a game and stream it," he says.
The 2-1 victory for St. Pat's over his native Derry City probably irritated him slightly.
He left Liam Buckley's side prematurely and angrily last October. A fall-out with the manager saw him exiled for five months. It was acrimonious. There were just three weeks left before his contract expired but McEleney felt he just had to get out and walked away early. At the time, he said it was 'for his own sanity'.
It was the seven year itch. At Derry since 2009 before the switch to Richmond Park, the centre-back was pondering his next move. Dublin just hadn't worked out. So, what else was on the cards? Back home? There was talk of a move to Shamrock Rovers but then Pat Fenlon was sacked and everything went quiet. And it was then that McEleney began to wonder about a bigger move. One that could be a life experience as well as a football one.
"The Pat's thing – for one reason or another – just didn't work out for me", he says.
"Difference of opinions. But that's the past. Because of that I just wanted a change of scenery. I wanted out of Ireland. Maybe a team in Europe, something in Scandinavia. I was just weighing up my options. Then, out of the blue, Paul called me. I was sold straight away.
He said, 'Look, come out and give it a try – if you don't like it, you can always head home after a year.' I spoke to past players like Richie Ryan and Tommy Stewart – guys who were out here before me. They had nothing but good things to say about the place. It was a change for me, personally – to get away from Ireland and I've come out, done really well and it's worked out perfectly for me. Thank God I made the move."
'Paul' is Paul Dalglish, son of Kenny, an ex-Liverpool and Newcastle player himself and the current manager of the Ottawa Fury.
The side from the Canadian capital had been part of the NASL – the second tier of soccer in North America – and, with a pair of Irishmen – captain Richie Ryan and centre-back Colin Falvey – reached the championship final in 2015, only to suffer a narrow defeat to the New York Cosmos.
The future looked bright until their impressive coach Marc dos Santos left, was followed quickly by both Ryan and Falvey and lots more players too. Dalglish was appointed boss but the transition proved difficult and the 2016 campaign was turbulent.
However, things were about to get even more concerning.
Almost overnight, the future of the NASL suddenly became unclear as Minnesota – the league's best-supported and most-successful team – made the jump into MLS while other teams had financial issues, including – quite incredibly – the Cosmos. For weeks it looked like the entire thing was set to collapse.
The Fury acted swiftly and made the decision to drop to the USL, the third tier. It made business sense. Costs were lower, there were more clubs so less risk and the league was growing – as evidenced by the average attendances in cities like Cincinnati (17,000) and Sacramento (11,500).
Ultimately, the NASL did survive but not only lost Ottawa to the USL but Tampa Bay Rowdies too. Teams in Fort Lauderdale and Oklahoma didn't return and, given there was so much turmoil and so much confusion, the USL made a power-play.
They lobbied the country's governing body – the USSF – for second-tier status. What they got was a victory, of sorts. Right now, the USL share second-tier status with the NASL.
Thousands of miles away, after agreeing to sign with the Fury, McEleney was now trying to wrap his head around it all, though his new employers were transparent and reassuring from the very start.
"Paul briefed me on everything and was honest with me from the get-go. And I just wanted a change," he says.
"For about a week or 10 days it was chaos. Learning about the Fury, the league, the city itself. That's why I was on the phone to past players and I did a bit of digging myself too."
For McEleney and his partner, Orlaith, it was a baptism of fire. Touching down in their new home in January, the city was draped in white. Temperatures dropped to minus-12 degrees celsius and while there was some brief respite for McEleney during a pre-season camp in Florida in February, it was still snowing in Ottawa in March as the new campaign got underway.
"We were met with a winter that I actually wouldn't wish on anyone," he says.
But apparently it was pretty mild compared to what it can be. It took a while to get used to. But it's like anything else – you acclimatise and get on with it. But it was weird arriving here and seeing three feet of snow and having it be absolutely freezing."
McEleney has enjoyed a solid debut season with the Fury. He's started all but one of their 16 league games so far and though the team has endured a mixed start, they should make the post-season.
With 30 sides spread across two conferences (the top-eight in each make the play-offs), it's a hectic and congested schedule compared to the smaller, more compact NASL.
It means there's a lot more travel and massive distances to cover. Last weekend, Ottawa had a short trip to face Toronto's USL side but that's a rare exception. Everything has to be done by plane. Basic journeys – to New York and the surrounding area – can still take up to three hours before players are settled in a hotel. There are no direct flights from Ottawa to Louisville, for example, so you're looking at six hours, at least. The same rule applies for Charleston, Tampa, Cincinnati and Charlotte. It's an exhaustive aspect to playing in North America and McEleney admits it took its toll initially.
"When I first got here and we were travelling every other week on a flight, it takes a little while for your body to get used to it," he says.
"It's not like a three-hour trip down to Dublin or a two-hour trip to Sligo. It's a lot different on a flight. You have to keep hydrated to keep the body going so it took about four or five weeks to get used to it. Thankfully, it's like clockwork now and everything keeps ticking.
But, it's great to go see these places. At times you don't see much – you're in the hotel and then you're playing and then you're away. But, places like Louisville – I'm a big Muhammad Ali fan – you get to see stuff like that. It's a good life experience to see these places and take it all in. I've got lots of photos on my phone now because it's one of those things: you may not get the chance to do it again."
The USL also has a sprinkling of stardust.
At Tampa Bay, Joe Cole is the marquee name but they also have former Wolfsburg defender Marcel Schafer. Meanwhile, Didier Drogba is a player-owner with Phoenix Rising, who also boast Shaun Wright-Phillips.
For McEleney, there are also some familiar faces from his League of Ireland days, most notably James Chambers, who's captain of Philadelphia-based Bethlehem Steel.
"Joe Cole, Marcel Schafer – the likes of those guys wouldn't be out here if there wasn't a good standard of football," he says.
"It's different in some ways. There are guys here that are very fast. Guys from Jamaica and elsewhere who are very quick. And then you have guys who are very technical. I knew myself that it was going to be a change but I think it suits me because it's a slower build-up and then, all of sudden, it gets quicker. So the pace suits me down to the ground.
I'm a Fury player for this year so we'll see what the end of the year brings. I'm enjoying my football here. Ottawa is a great town, it's a great club and it's well-run. We have great facilities and I love it here."
It's not the first time he mentions the facilities. With the Fury's owners also in charge of the local Canadian Football League (CFL) side the RedBlacks, McEleney is keen to stress the level of professionalism that the franchise exudes. It's not something he's had the chance to experience before.
"The professionalism over here compared to Ireland is like night and day – with the exception of Cork and Dundalk," he says.
"You come out here and you don't have to worry about anything. Everything is taken care of. As soon as you put your foot down here you don't have to lift a hand. It's the way your players should be treated and it's a credit to the Fury and the USL that there is that security the players have.
I could never turn around and say to a player, 'Don't come to North America – it's not worth your time'. For any player coming out of Ireland and looking for a change, they should come over. The lifestyle, you're treated very well, the league is good, it's well-run, it's very professional. The facilities. It's been a real eye-opener. Coming from Ireland and facing Finn Harps at Ballybofey or heading down to Bray…you come over here and it's like, 'Wow'. It's a different culture. I'd recommend it to anyone, to come and take the plunge."
Bray and their recent issues is a natural and inevitable next step in the conversation.
"In this day and age, it's just a bit sad," McEleney says.
"For the players and the League of Ireland and a few of the clubs, you just feel sorry for them. Some teams run for six days a week. They put in that graft and hard work. And to not get paid? That's not on. There's bills to pay and kids to look after. But it happened me at Derry in 2009. The club folded and I was like, 'What's going on?' It was my first year in football. I don't think it should be happening. We should be past all of that."
Wrapping up, I ask if it's even a little bit grating for him to log on for the latest League of Ireland news only to see his younger brother's latest 30-yard gem for Dundalk going viral.
He laughs.
"The kid's flying. It's great to see," McEleney says.
"I'm keeping close tabs on him. Long may it continue. Hopefully he gets that wee break he deserves and gets across the water because I think he deserves it and he's more than capable of playing over there.
He's matured. He's 24 and he's got bigger and stronger and quicker. He was doing that stuff before – we all saw it. It was just about getting that consistency and starting to do it on a regular basis. I hope he gets across and makes a name for himself because he's just a great player.
Everything has just fallen into place for him."
Something, it seems, his older sibling can also relate to right now.
The42 is on Instagram! Tap the button below on your phone to follow us!