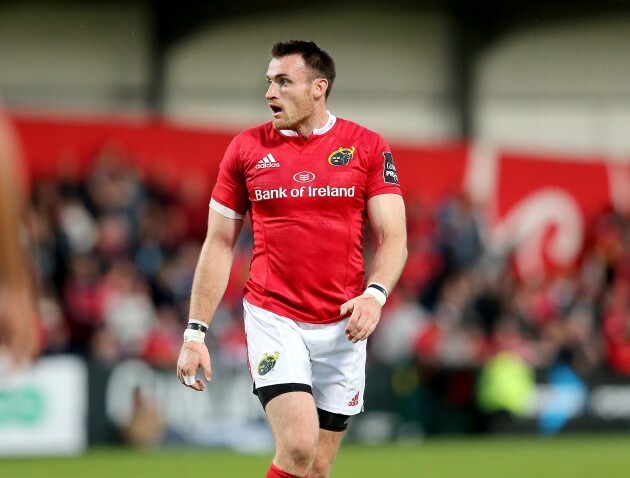 Ryan Byrne / INPHO Shane Monahan playing for Munster against Treviso back in September. Ryan Byrne / INPHO / INPHO
WHEN HE WAS released by Munster last November, Shane Monahan came to a crossroads in his career.
There were offers on the table from teams elsewhere but none of them particularly appealed to him. The 28-year-old had only lived a few days as professional rugby player without a club when his father pointed to an article he had read about mixed martial arts.
The piece was an advertisement which sought candidates for a challenge that involved turning people with no previous experience of martial arts into MMA fighters. As an MMA fan, it immediately had Monahan's attention.
"I was on a short-term deal with Munster during the World Cup and there was a 50/50 chance of staying on but unfortunately it didn't work out," Monahan explained to The42.
"It was a shame because I enjoyed it there. The options I had with other clubs weren't really right for me and, a few days after I finished with Munster, my dad told me he had heard about this MMA thing called 'Wimp 2 Warrior'. That same day, a friend of mine contacted me about it as well.
"When I looked into it, it looked brilliant. It was a chance to train in MMA and learn a new skill — and with John Kavanagh too at SBG. It sounded like a fantastic opportunity. I thought there'd be no harm in taking a punt on it because there was no guarantee that I'd get it anyway."
'Wimp 2 Warrior' originated as a reality television series in Australia but the concept is expanding to Ireland for the first time in 2016. John Kavanagh, the head coach of UFC stars such as Conor McGregor, was enlisted to lead the show's first batch of Irish contestants, with tryouts held at Kavanagh's Straight Blast Gym in Dublin last month.
There were just under 200 applicants, 78 of whom — including Shane Monahan — were invited to SBG to prove they were up to the task. Only 40 were able to make the final cut, and they'll head into a full-time 22-week training camp from 14 March.
The end goal for the 'Wimps' is to compete in the cage against a fellow contestant on a fight card, which is scheduled to take place at the National Boxing Stadium on 13 August. It's not yet known if the show will be picked up by an Irish broadcaster but previous series' have aired online.
"When I went to the tryouts, I was expecting it to be a tough day and it certainly was. It was all MMA-based warm-ups, mixed in with strength and conditioning — high-intensity stuff and different exercises that I'm not used to doing. It was very hard but enjoyable too. Something completely new," Monahan said.
"The physical training was extremely challenging — I actually ended up getting sick at one point — but just as important is going to be the mental preparation, because going in to fight against someone at the end is going to be a big new challenge. There's no guarantee that everyone will make it that far, because it's obviously easier said than done to make it through a 22-week fight camp.
"It's a strange one because a lot of it does actually fit in with rugby, which I know certain lads and teams have done in the past — bringing in grapplers, wrestlers and stuff like that for pre-season training. But it's very different when you're doing it this way. I was delighted that I made it through and I'm really looking forward to it now."
Alongside the likes of Keith Earls and Cian Healy, Monahan was a member of the Ireland U20 team that won a Six Nations Grand Slam in 2007. He had spells with both Leinster and Connacht before moving to England to join Rotherham Titans in 2011.
After impressing for the Championship club, Monahan was signed by Gloucester, where he spent three seasons. Among the versatile back's highlights at Kingsholm was a December 2012 win against London Irish, to which he contributed four tries.
He's unaware of what kind of sporting backgrounds most of his fellow 'Wimp 2 Warrior' contestants have come from, but Monahan's professional rugby experience is likely to give him an edge. However, that's not to say it's going to be easy.
"I might have an advantage in terms of the training but Simon McEvoy, who's the strength and conditioning coach, has alluded to me that they're going to be hitting me harder on that side of things.
"But that's what I want. You always need to be pushing yourself as hard as you can in whatever sport you're doing," said Monahan, who has also been occupying himself recently by pursuing his passion for painting, which has seen him produce impressive portraits of Paul O'Connell and Conor McGregor.
Monahan's involvement in 'Wimp 2 Warrior' means he won't play professional rugby again this season. He's not entirely sure what the future holds either, but the Meath native will wait to see what unfolds before making any big decisions.
"I still see myself as a rugby player but it doesn't do you any harm to take a bit of a break from it as well. Again, the mental side of professional rugby can be very tough, as well as the physical side, so it's actually nice to have a break from that," he said.
"When you're playing rugby it's very structured. You're told what to do and when you can do it. It's nice to have the freedom to do what I want to do and in my own time.
"I'm in a position now where it's the perfect time to do something like this because I'm not contracted to any club. I've been curious about the martial arts side of things for a while but I couldn't do it because of rugby and the risk of injuries.
"I'm not going to play rugby again this season because I've obviously committed to 'Wimp 2 Warrior'. Who knows about next year? To be able to do something like this and then possibly go back to rugby again is a fantastic position to be in."
At 28, Monahan knows that he's a latecomer to MMA. He's pragmatic enough to accept that there's a lot of catching-up to do but his goal over the coming months is to prove to the coaches at SBG that he could potentially resume his career as a professional sportsman — not just on the rugby field, but in the cage.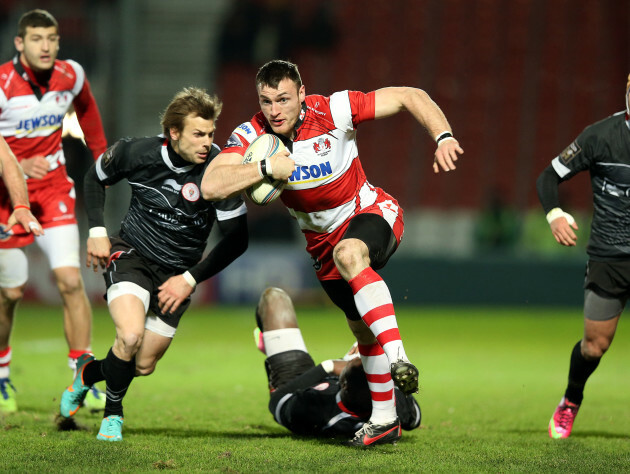 Dan Sheridan / INPHO Shane Monahan on the charge for Gloucester against Biarritz. Dan Sheridan / INPHO / INPHO
"What I'd want is for them to turn around to me at the end of it and say, 'If you wanted to continue training you could become a professional'. Now, I'm very realistic and I know that anyone who's a professional fighter has been doing it for probably eight-to-ten years.
"You need to be training for a long time to turn pro but it would be great if the coaches felt that I had the potential to become a professional at the end of this. I'm a very competitive person and I don't do things just for the experience."
Monahan added: "My goal is to make it to the very end of 'Wimp 2 Warrior' and win my fight. That's what I'm concentrating on now. After that, I'll weigh up what's next."
The42 is on Snapchat! Tap the button below on your phone to add!