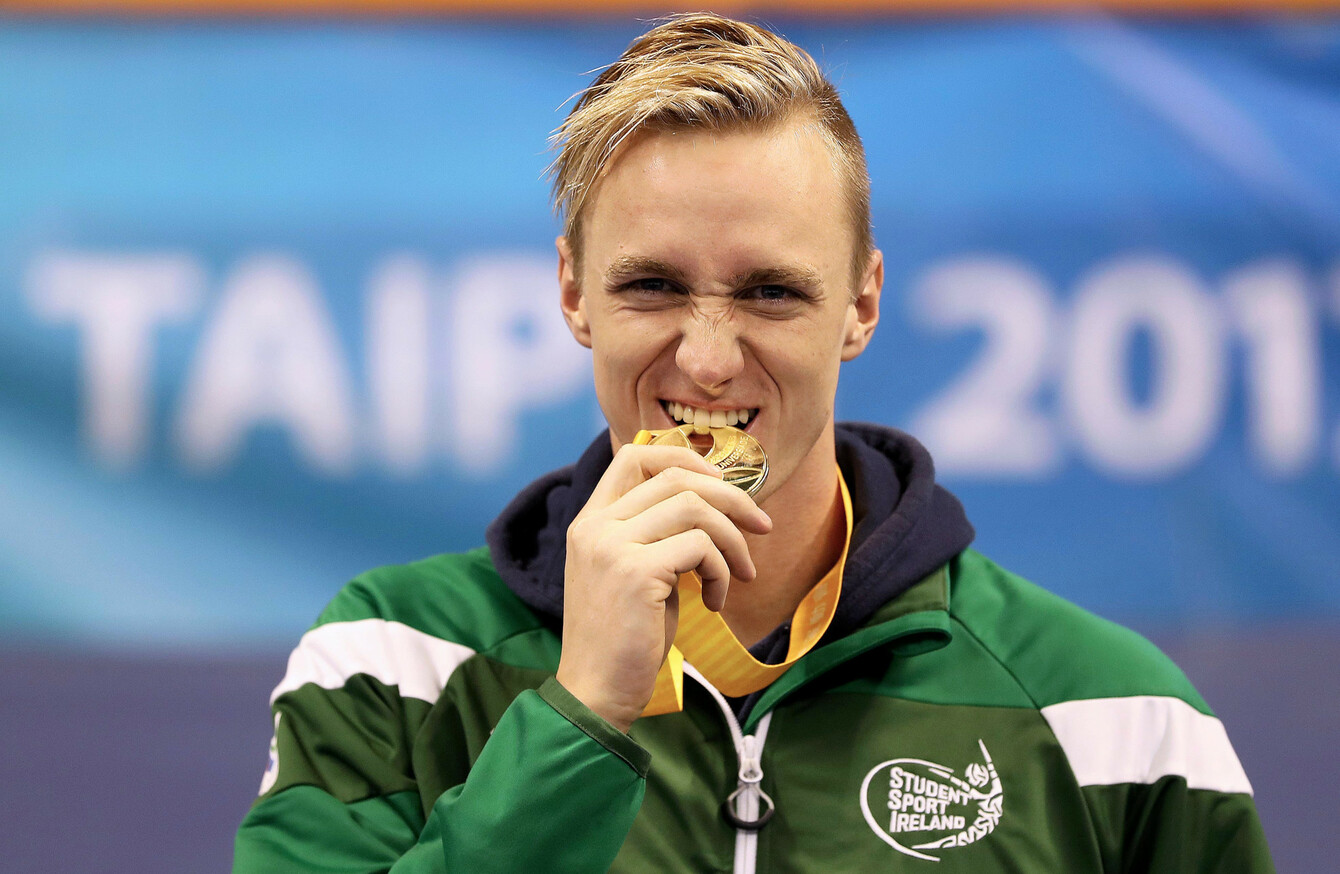 Shane Ryan picked up gold in the 50m backstroke.
Image: Tommy Dickson/INPHO
Shane Ryan picked up gold in the 50m backstroke.
Image: Tommy Dickson/INPHO
THERE WAS NEVER any doubt in Shane Ryan's mind that he was going to take home the gold medal in Taipei.
The swimmer has gone from strength to strength following impressive displays at last summer's Olympic Games and is exuding self-confidence following his latest success, which has been built on a bedrock of stellar and consistent performances.
The 23-year-old secured a new national record (53.85) in qualifying for the 100m backstroke at the semi-final stage in Rio, becoming the first Irish swimmer to make an Olympic semi since 2008.
He also recorded his fastest time of the year, touching home after 49.82 seconds in the 100m freestyle heat in a summer of success at his first ever Games in Brazil.
Now back at Penn State where he will complete his studies in Sports Management, the swimmer returns to his native US with a gold medal in his back pocket having earned Ireland's first at this summer's University Games in Taiwan.
Relive the magical moment as @shaneryanpsu wins gold for Ireland #SUTaipei2017 #WUG17IRL pic.twitter.com/8Ssl2zJ2Td

— StudentSport Ireland (@StudentSportIrl) August 23, 2017
He not only set a new Irish record, but in winning the 50m backstroke final ended a 26-year wait for a swimming gold medal at the Games for Ireland.
"I knew I could do it, I really did," he said speaking to The42 this week.
"I had to make up some ground because my 50m backstroke at Worlds wasn't the greatest. I knew all I needed to do was have a clean swim, because I knew I could do it, because I worked hard for it.
It was a very, very long finish and I think I could have been quicker at it too. It was nice to be someone from the US who won it because Andrew Rees, who finished second, is an American and was top in the world at one point.
"In the 50m backstroke it was my expectation to go over and take the gold. I knew it was going to be a tough ask, but I also knew I could do a lot of damage because I think the 50m back is my best event."
Ryan's father was born in Portarlington, Co Laois and first came to the United States playing gaelic games, making it his home soon afterwards.
Thomas Ryan passed on his Irish heritage to his children and his son was determined and subsequently honoured to have represented the country at last summer's Olympics, qualifying for Irish citizenship through his dad.
He's been over here in the States 25 years but still has one of the thickest Laois accents I've ever heard. Even my friends from Dublin can't understand him," he laughs.
Ryan relishes visits back home and spent the year prior to last summer's Olympics living in Abbotstown, Dublin, so that he could qualify to represent Ireland — sharing a house with fellow Olympian Oliver Dingley.
His mother is a former Miss Mayo winner, having lived in the county for a year, insisting that he is an avid watcher of gaelic games and will be keenly watching this year's final between Mayo and Dublin on 17 September, himself playing GAA growing up as an adolescent.
The athlete declared for Ireland in 2015, switching allegiances from the US, and has relished the opportunity, despite some initial backlash. Winning medals at the highest level is one honour, but doing so as an Irishman makes it even sweeter, he admits.
I've always considered myself an Irish-American, so Ireland always came first and America came second.
"It really didn't bother me at all," he said of the criticism for his decision. "Ireland welcomed me with open arms."
He concedes that it did take time for certain quarters to accept his Irish nationality, but that it was all part of the experience. Especially with his accent, he jokes.
"Once I showed my team-mates that I'm actually Irish — not like my great, great grandparents are just from Mayo, or Cork or something like that… they've met my dad and ended up meeting my whole family and were like 'oh sh*t you're actually legit Irish'.
"And I say to them 'well yeah, it's just the American accent.' I love representing Ireland and I honestly feel there's a lot more I can give to Ireland as well."
Ryan says last summer's Olympic Games was an incredible experience, but states with intent that with Tokyo fast approaching on the horizon he will be aiming to beat his semi-final finish and land a place on the podium in 2020.
"That's the goal," he says, "and I'm going to do everything in my power to achieve it too. I'm definitely only going to be getting stronger.
This is only the start of something that's going to be great, and I believe that," he says of his University Games gold.
"Swim Ireland has a team with such incredible ability. There is a solid senior group and some of it is inexperienced, so we know that there's so much more that we can achieve with both the senior and junior groups coming through.
"We're definitely going in the right direction and are going to have a lot of competitors going to Tokyo. I have goals and I will reach them, it's just going to take time. My time will come."
Subscribe to The42 podcasts here: