FAMILIARITY BREEDS… WELL, contempt for some, but for Shane Williams it has bred respect for Tommy Bowe.
The Welsh wing legend was in Dublin yesterday as part of build-up for Saturday's mouth-watering Six Nations clash between the land of his fathers and Ireland.
Asked if any player had inspired pre-match fear in him during his illustrious career, he dwelt briefly on a memory of hoping Brian O'Driscoll would not be passed fit before settling on an imposing direct opponent and one-time team-mate.
Dan Sheridan / INPHO Dan Sheridan / INPHO / INPHO
"Probably someone like Tommy Bowe," admitted the Guinness ambassador, "having played against him at Ulster, and then played with him at the Ospreys, I knew what kind of player he was.
"Immense work-rate as a player and that's why he has scored so many tries. He always turned up on shoulders, scored tries out wide. Defensively, one of the best tactical defenders I've played against and with. As a player against him you knew you had to work equally as hard as him. Otherwise you would come off second best.
The man with 58 international tries to his name added: "He very rarely had a poor game for the Ospreys, always scored tries. He was there to score interception tries in the last minute or put two over and win games against big clubs. It was the same for Ireland; I've played many times against Tommy for Ireland and come off second best against him."
Billy Stickland / INPHO Billy Stickland / INPHO / INPHO
The feeling is mutual, even before Williams helped to dump Ireland out of the World Cup at the quarter-final stage in Wellington, Bowe spoke of how tall wingers of his own ilk "hate coming up against". That sense of dread served to fuel the wide men and drive them to surpass previous standards.
"He'd always say he hated playing against me and I'd say the same. Because we're professional rugby players, very proud men and we both hated coming second. So when it's one on one – you against Tommy – there are only two positions you can come.
"We'd discuss it in training, even discuss it in games sometimes — but he's a great player. I found it really tough against him. When I was playing with him with the Lions, I always knew Tommy would be a starter in one of the Tests and I'd have to fight with someone else for another position."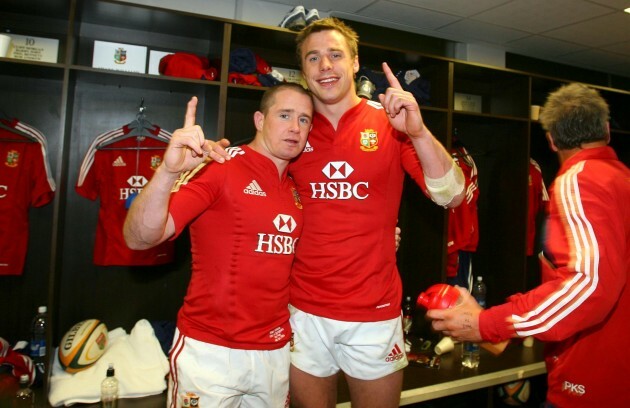 Dan Sheridan / INPHO Dan Sheridan / INPHO / INPHO
Avoiding that direct match-up was a key component of Wales' 2011 success in in New Zealand. Warren Gatland chose to line out his players conventionally, but switched the wingers so that Williams matched up with Keith Earls and Tommy Bowe's physicality was met by George North.
"We just felt, defensively it suited me with the Irish kicking game. It seemed to work but I don't think we won the game because I played on the right wing," says Williams.
"The whole conversation of that game was to win the breakdown. It's an area where Ireland have been the best in the Six Nations for some time now with the likes of O'Brien and Heaslip being very effective there.
"On the day our back row of Toby Faletau, Dan Lydiate, Sam Warburton really dominated that area.
"It's going to have to be really similar on Saturday. It's an area where Wales haven't been effective yet whereas Ireland are; especially on the counter ruck and turnover."
Billy Stickland / INPHO Rugby fans who check in to their local pub on the Guinness Plus app this Saturday 14th March as Ireland take on Wales will be in with the opportunity of winning a VIP trip to Ireland's final RBS Six Nations game against Scotland next weekend. Billy Stickland / INPHO / INPHO
"Sometimes games are won and lost in the war-room. Warren Gatland certainly knows Joe Schmidt is a good tactician and Warren has got his work cut out, he really has.
"Man for man and physicality, they're very evenly matched. The strengths of both teams are very evenly managed. Sometimes it's just a tactical arm wrestle and I think that's going to be the case on Saturday.
"Ireland have been the better team at tactically working teams out, choking teams, not only in the choke tackle, but they seem to be choking teams into submission at the moment and playing the style of rugby that suits Ireland. If Ireland manipulate Wales into playing the way Ireland want to play on Saturday, it's going to be an easy Irish victory.
"When you put the two teams together you have no idea who is going to win that game. There's a lot of pressure on the likes of Sexton and Biggar and obviously Rhys Webb and Conor Murray which I think is going to be a great match-up on Saturday. Whichever combination works the best will win the game."