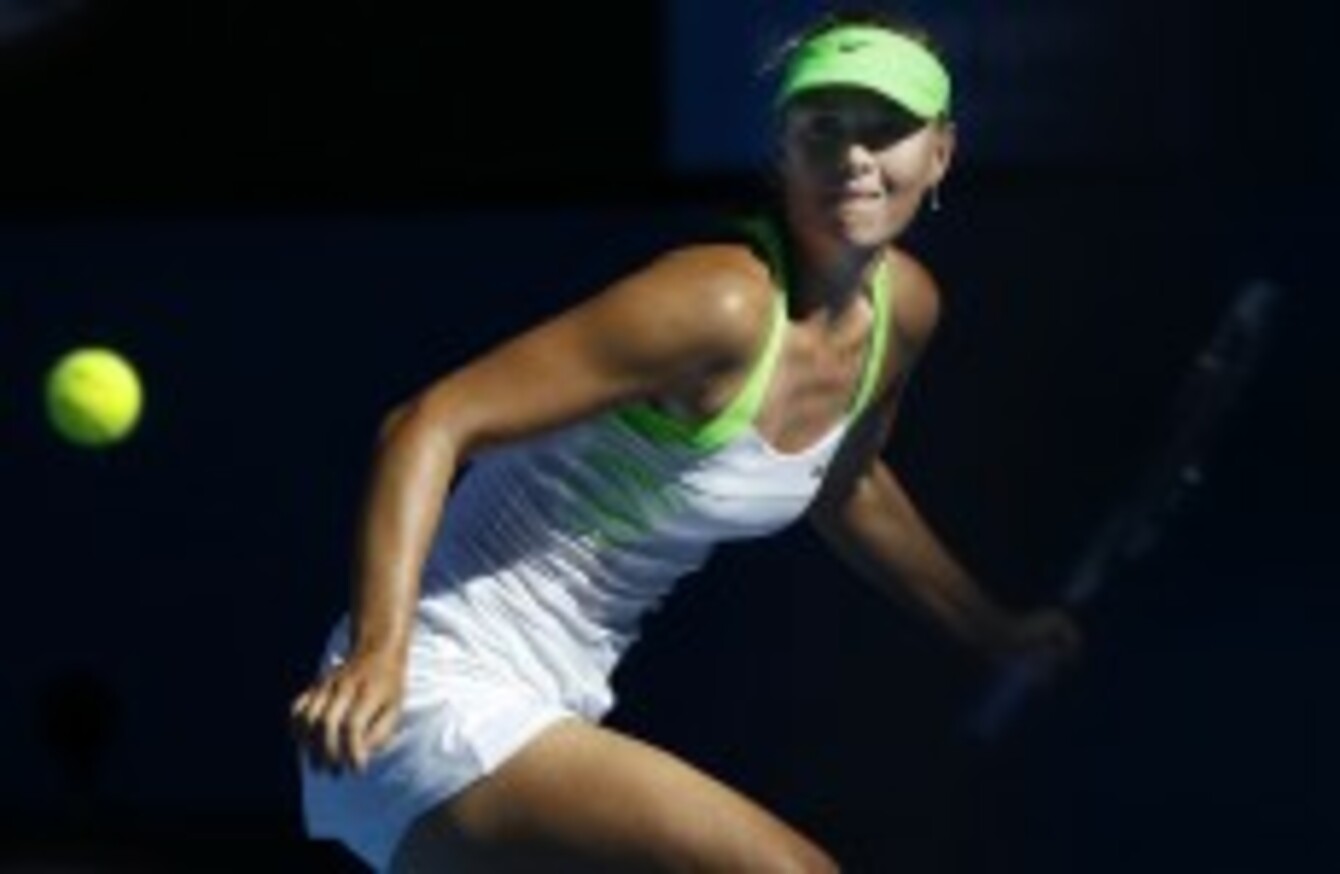 Maria Sharapova eyes on the ball for a return shot to Petra Kvitova.
Maria Sharapova eyes on the ball for a return shot to Petra Kvitova.
John Pye
MARIA SHARAPOVA AVENGED her Wimbledon loss to Petra Kvitova and returned to the Australian Open final for the first time since winning the last of her three major titles here in 2008.
Sharapova broke Kvitova's serve in the last game to finish off a 6-2, 3-6, 6-4 victory and set up a championship match against Victoria Azarenka. The third-seeded Belarusian ousted defending champion Kim Clijsters in a semifinal earlier Thursday to reach her first Grand Slam final.
Whoever wins Saturday's final also will gain the No 1 ranking.
Sharapova lost to second-ranked Kvitova in the Wimbledon final last year and was struggling to hold her serve against the 21-year-old Czech left-hander in the third set, when she served five double-faults.
"In the third set, I felt she always had the advantage because I was always down on my serve," said Sharapova, who won her first major at Wimbledon in 2004. "I just told myself, 'You just gotta go for it, don't let her finish off the points like she likes to.'"
Kvitova had won their previous two matches but let herself down with 41 unforced errors as she tried to unsettle Sharapova with her powerful groundstrokes.
Azarenka won the early semifinal 6-4, 1-6, 6-3, twice recovering from periods when a resurgent Clijsters seemed to have the upper hand. She broke the veteran Belgian's serve three times in the third set to secure victory in only her second appearance in a major semifinal.
After a strong start, Azarenka's serve deserted her in the second set and Clijsters dictated play with solid groundstrokes and some amazing defense.
But after getting the momentum back, it was Clijsters who blinked first in the third set, dropping serve in the second game and again in the fourth. She got two of those service games back, including one when she rallied from 40-0 down to win a game to get the score back to 4-3.
But Azarenka rallied immediately, breaking serve. She got triple match point trying to serve out the match and, after a double-fault on her first, she clinched it on a Clijsters' error.
The 22-year-old Azarenka threw her racket on the court and sank to her knees, bent over with her hands covering her face. Clijsters came around the net to congratulate her.
"I felt like my hand is about 200 kilograms and my body is about 1,000 and everything is shaking, but that feeling when you finally win is such a relief. My God I cannot believe it's over. I just want to cry," Azarenka said as she choked back tears, then buried her face in a towel.
"It was just trying to stay in the moment. Kim really took over the second set and I felt there was nothing I could do. I just tried to regroup."
Clijsters is popular in Australia, where she's widely known as "Aussie Kim." She had most of the backing from the crowd on the national holiday in what is likely to be her last Australian Open.
Azarenka held her nerve despite the crowd and the fact she was up against a proven big-match player. Clijsters has won four majors and has defended a Grand Slam title — winning the US Open in 2009 and '10. To reach the semifinals, she saved four match points despite a sprained ankle to beat French Open champion Li Na in the fourth round and then ousted top-ranked Caroline Wozniacki in the quarterfinals.
"I guess before you all thought I was a mental case. I was just young and emotional," Azarenka said in a courtside interview. "I'm really glad the way I fight, that's the most thing I'm really proud of. I fight for every ball."
Clijsters credited Azarenka with increasing maturity.
Small margins
"The match was very close. There were a few deciding moments where I think I maybe had a little bit of an advantage, in the third set, especially that first game where I had break point," Clijsters said. "But, you know, she definitely played really well. She was playing very aggressive tennis, moving really well. So she deserved to win at the end."
On Wednesday night, top-ranked Novak Djokovic held off No. 5 David Ferrer in a second-set tiebreaker and then raced through the third set for a 6-4, 7-6 (4), 6-1 win, setting up a rematch of last year's final against fourth-ranked Andy Murray and ensuring the "Big 4″ reached the semifinals for the third time in the last four majors.
With Nos. 2-4 already in the semis, Djokovic looked to be in trouble in the second set when he clutched at his left hamstring and had trouble breathing.
"No, I don't have any physical issues," Djokovic later said, playing down any health concerns. "I feel very fit and I feel mentally, as well, very fresh."
Rafa Nadal and Roger Federer are playing around now.