HE SPENT WEEKS waiting for the call after the season had come to an end.
While his 2017 campaign concluded with an injury setback, Shaun Patton had cause for optimism regarding his hopes of being retained by Sligo Rovers for another year. Although he spent the majority of the season deputising for Micheál Schlingermann, Patton played an important role for Gerard Lyttle's team when the stakes were at their highest.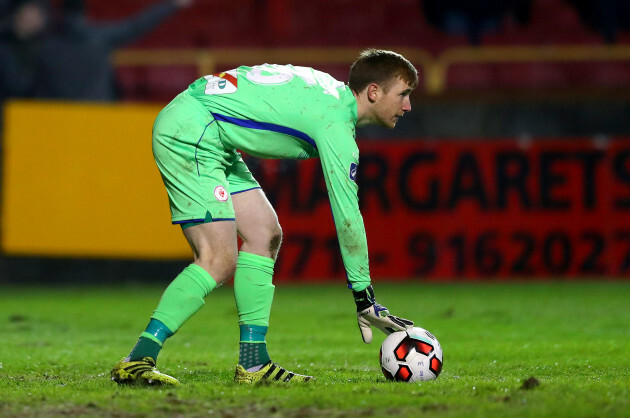 James Crombie / INPHO Shaun Patton in goal for Sligo Rovers. James Crombie / INPHO / INPHO
With Schlingermann absent due to injury, Patton conceded just once in Sligo's final four games. At the end of a season during which they often appeared destined to be relegated from the top tier of Irish football, the contribution of the former Finn Harps and Derry City goalkeeper helped Rovers to maintain their top-flight status.
But Patton won't be at the Showgrounds to reap the benefits of their successful bid for survival when the new season kicks off next month. When he did eventually receive a phonecall with an offer for 2018, it wasn't from Sligo Rovers.
Despite not playing a game of Gaelic football since starting in goal for his club St Eunan's in a three-point defeat to Omagh St Enda's in an Ulster club semi-final in November 2014, Patton has been drafted into the Donegal senior panel by new manager Declan Bonner.
Given that Donegal have been enquiring about his availability for the last three years, it's perhaps not surprising Bonner recently suggested that Patton is capable of overtaking Mark Anthony McGinley and Peter Boyle in the battle to start between the posts for the county.
I've committed to the Donegal panel for the foreseeable future," Patton explains. "I had offers from two [League of Ireland] clubs and I was chatting with some others, but I've decided that the GAA is the best option for me at the moment. Eventually the chance to play for Donegal was going to stop presenting itself. Now is the right time."
Patton, who trained with Donegal for the first time last week, is almost back to full fitness after fracturing his ankle back in October. He sustained the injury in the second half of Sligo Rovers' final game of the season — a goalless draw with Drogheda United.
It may also transpire to be the last game of football Patton ever plays. It's far too early to predict what his career as a senior inter-county GAA player will bring, and the 22-year-old from Letterkenny is unlikely to rule out a reversal. But for the time being at least, his sole focus is on making an impact with Donegal. There'll be no dual mandate.
"It was a massive decision," he admits. "It had to be one or the other. You can't really do both these days. Football is on the backburner now for me. I chatted to Declan and I liked the way he spoke. His attitude is very professional. That helped me to make the decision. It took me a long time to make that decision but hopefully for me it's the right one."
Patton is content with his decision, but the transition is simultaneously bittersweet. His chances of carving out a good career in professional football looked promising back in March 2012 when he made his first-team debut for Finn Harps at the age of just 16.
"There's definitely disappointment," Patton says. "I've played football all my life and it's always been my first sport. But I was always very fond of the Gaelic [football] when I was growing up. It was just hard to throw away that dream of going across to England and playing football over there.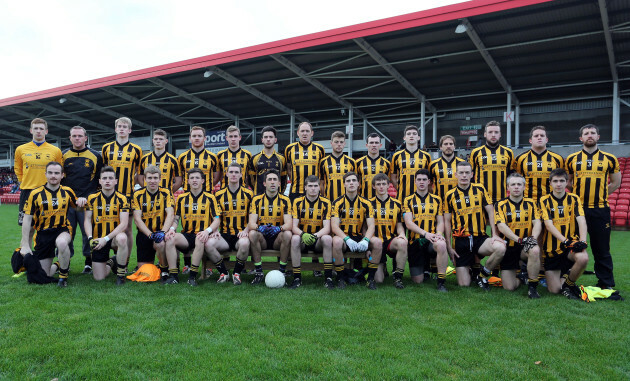 Presseye / Lorcan Doherty/INPHO The St Eunan's panel that lost to Omagh St Enda's in 2014, with Patton far left in the back row. Presseye / Lorcan Doherty/INPHO / Lorcan Doherty/INPHO
"The League of Ireland is good — it's intense, it's enjoyable, it's a high level — but the way things have ended there is disappointing. I didn't really get a chance to show what I could do. Having said that, I'm not really looking at it that way. I'm seeing this as a fresh start which can hopefully bring me down a good path. I just hope it takes off and I can thrive with Donegal and my club.
"I'll never close the door on anything. I always like to keep the door open. But my only focus now is Gaelic. The hope is that I do well enough this year for next year to be even bigger for me. That's all I care about now. Football is completely gone for me at the minute."
Perhaps the most significant factor that prompted Patton to make a change is the uncertainty that faces League of Ireland players at the end of each season. Clubs like Cork City, Dundalk and Shamrock Rovers are beginning to return to a policy of offering year-round contracts, but the vast majority of players are still faced with the prospect of standing in a dole queue or picking up a temporary job during the off-season.
"It's the same for most players unfortunately," Patton says. "It's up in the air and you don't know where you stand when the contract expires. I was hoping to get another contract with Sligo. If they had offered one I would have signed it in a heartbeat. I loved it down there — the people, the place, the club, everything. It's lovely.
"But it didn't work out. For whatever reason, I don't know. I wasn't phoned or anything to be made aware that I wasn't wanted. I was in limbo, waiting for the phone to ring, but it got to a stage where I knew it wasn't going to. I had to give myself a reality check and make a decision.
"I suppose it showed me how fickle the League of Ireland can be. You have Cork, Dundalk and Shams in a position where they're able to pay the 52-week contracts now, which is nice, but if you're at a club that doesn't want you back then it leaves you in a tough position.
"I have my Leaving Cert but I didn't go to college because I was playing football full-time. At the moment I'm thinking of going back to college or applying for the guards and getting myself a stable job. I'm just hoping and praying that I thrive in the Gaelic, like I expect myself to."
Regarding the scarcity of contact nor contract from Sligo Rovers, Patton says: "I'm not a bitter kind of person. There's obviously a lot of disappointment. I loved the year in Sligo and I really like the manager. I'm disappointed, absolutely, but not bitter.
"Football is a cut-throat game. I would have appreciated a call to say 'thanks for your contribution but we don't have room for you this season', or whatever. That would have made things a lot easier for me, rather than having me waiting for something that didn't come. But I'm not bitter at all. I wish Sligo Rovers all the best. With the squad that they've put together, I can only see them doing much better than last season."
As for the moratorium on wages that exists during the winter, Patton doesn't claim to have the solution to the problem. He does, however, feel that more could be done by the Football Association of Ireland to improve the lot of players in its national league.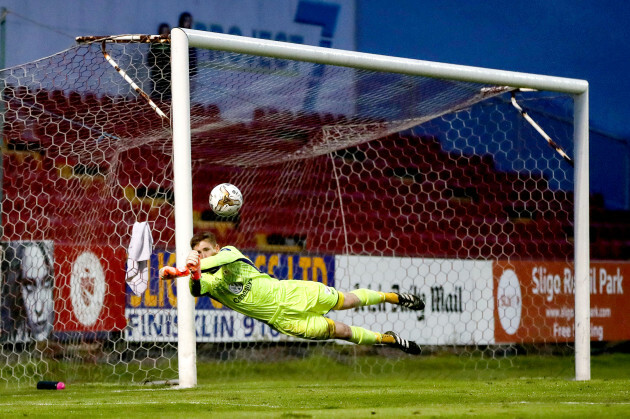 Bryan Keane / INPHO Patton made 12 starts for Sligo Rovers in 2017. Bryan Keane / INPHO / INPHO
"It's a bit ridiculous in this day and age. Come the end of the season, 90% of League of Ireland players have to go and find a job or sign on the dole. It's not down to the clubs. It's impossible for the vast majority of clubs to pay 52-week contracts with the gates that they get.
"I've been around the whole country with football for the past six years. You're at games where there might be only 500 or 600 spectators. For that club to then pay players at the end of the week is not easy.
"It's obviously a difficult one to solve. The only way I can see it happening is if money is pumped from the headquarters into the league, rather than investing it in other ways. I think the money should be invested in our own league like that, especially with the potential we've seen over the past five or ten years with so many players going across the water and playing for Ireland.
"There's so much potential here but unfortunately a lot of players are turned off the League of Ireland when you have to put in so much commitment for a season but you're then unemployed at the end of it. It's not easy when you're only getting paid for 10 months of the year.
"Even in the future if you're looking to get a mortgage, those breaks in payment don't look good to your bank. But that's the reality of our league at the minute. You play for the love of the game, which is what I've been doing, but eventually it comes to a point where it's difficult to go on without income for two months of the year.
"I just think more could come from the headquarters but that's just my opinion on it. I don't think I know what's best for everybody. I'm not the man who's going to solve it."
After leaving the League of Ireland behind, Patton is now waiting for his first chance to make an impression with Donegal. With a fortnight to go until they travel to Kerry for the start of the Allianz League, they resume their McKenna Cup campaign today against Monaghan in Clones.
"A lot of people never really got to see what I could do with the Gaelic, so this is a chance for me to change that," Patton insists. "This is a fresh start for me. It's refreshing to see the attitude of the players and the drive within a group of guys that want to do well for their county, not just for themselves. They're doing it for the county and that's a nice thing to be a part of.
"I'm just looking to get myself back to 100% now and, once I do that, I'll be able to push myself and hopefully become number one for Donegal. It's obviously not going to be easy because the keepers there at the minute are very good. It will take a lot to push them out but that's the aim over the next year or two."
He hasn't taken his first step yet and it's a long road from here to the second weekend in May. However, if Patton is keen to leave his League of Ireland disappointment behind him, a start in the Ulster Championship opener against Cavan might be just the tonic.