WE THOUGHT WE'D give it one last try, but Henry was never going to fall at the final hurdle.
The Ballyhale Shamrocks and Kilkenny star has emerged victorious from many tough battles over the years, and he comfortably saw off the challenge of a bunch of hopeful journalists in Dublin yesterday.
A new answer was unlikely, but the same question for Henry Shefflin is on everyone's lips at the moment — when will he make a decision on his inter-county future?
Shefflin was at the Aviva Stadium on Wednesday for the launch of Topaz 'Cash for Clubs'. Nobody really wanted to broach the subject, but we couldn't ignore the elephant in the room.
The 36-year-old has been issuing the same response since last September. A decision will come when his season with Ballyhale Shamrocks ends. That season has gone down to the very final day, so the saga rumbles on until 17 March.
A group of nine journalists gathered around Shefflin in box 441 at the Aviva, and we managed to get through a good ten minutes or so before the topic was dropped in to the discussion.
Shefflin could have been forgiven had he made a beeline for the door, but to give credit to the ten-time All-Ireland winner, he was patient and gave us the update.
Sorry lads, but there's no update.
"You know the answer to this," Shefflin said. "I've said it since September that I was going to focus on the club campaign. To be honest, I didn't think I would still be here in February saying the same thing, but I think it's brilliant that I am in this position."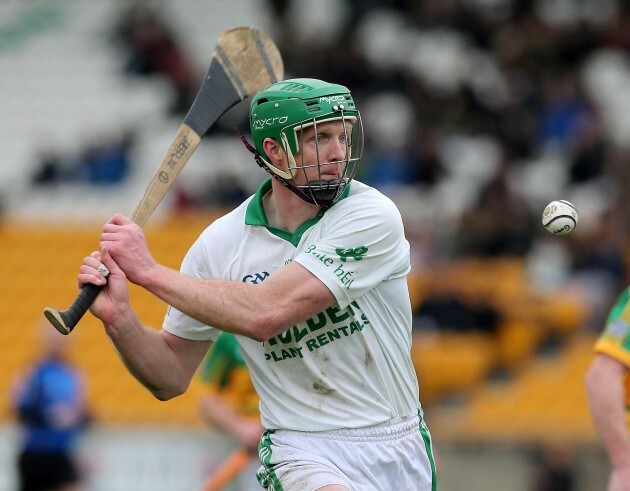 Lorraine O'Sullivan / INPHO Shefflin in action for Ballyhale in their All-Ireland semi-final win over Gort. Lorraine O'Sullivan / INPHO / INPHO
It's not just journalists who have been plaguing Henry about the 'R' word. Fans have been at it too. But does he get tired of it?
"No, I don't. People on the street will mention, 'ah, stay on' or 'leave now, it's the right time to go'. That's people's opinion. I'm used to it at this stage. In one ear and out the other. You take everyone's opinion but it's your own decision."
The assumption is that Shefflin already has his mind made up and that he's keeping it private to prevent it from becoming a distraction from Ballyhale's quest for All-Ireland success. But he says that's not the case. He still doesn't know.
"I don't to be honest. If I was very much struggling with the club and not at the pace of the game, everyone would know then what the answer is going to be. It's different when you're enjoying it. I'm injury-free, so I don't know.
"I've got a great buzz out of the club campaign. That might be because I didn't play much last year. It's a different environment being a sub. I don't think any of us like being a sub. If you get a feel for playing, you want to stay playing."
But why wait this long to make the decision?
"You're really trying to put me to the pin of my collar. Why wait? The answer to the question would have been last September. Because I wanted to see when my club campaign was over.
"It's a whole decision: family, work, my own circumstances as well as Kilkenny's circumstances and the manager's circumstances — all of these things come in to play. You're not going to make a rash decision on one game."
Exclusive Six
Nations Analysis
Get Murray Kinsella's exclusive analysis of Ireland's Six Nations campaign this spring
Become a Member
Shefflin will be aiming to win his third All-Ireland Club Senior Hurling Championship medal when Ballyhale play Limerick champions Kilmallock at Croke Park on St Patrick's Day. The game's outcome won't have an impact on the decision he'll make afterwards.
"It won't matter either way. People might think if you win, it will be a nice way to go, but it won't. All my previous teammates who left said the same thing, it was their own circumstances. So it will be the same thing."
The conversation eventually meandered off in to a different direction, but as it was drawing to a close, one reporter decided to have a final crack at King Henry.
How soon after Paddy's Day will you make the call?
"Oh my God, come on! Look, I won't be ringing ya the following day. I don't know. To be honest, I would imagine within a couple of weeks I'll definitely have a decision made. 
"And I'll have to, because obviously at that stage it's the end of March so it's getting fairly serious then. Look, we won't delay you too long."
In spite of a courageous performance from the plucky journalists, there was only ever going to be one winner. There usually is when Henry Shefflin is involved. 
And with that, we gathered up our dictaphones and went off in search of Paul O'Connell.
Henry Shefflin was at the Aviva Stadium to launch Topaz 'Cash for Clubs', which will give local clubs throughout Ireland the chance to bag cash prizes worth up to €200,000.
First published at 06.00