A COFFIN STOOD stiff and isolated in the bowels of the Nou Camp as 11 Irishmen shuffled past in quiet disbelief.
On their way through the famous corridors on a mild October evening en route to the away dressing room, the cohort of Shelbourne players passed by a museum, a dentist, a morgue and, puzzlingly, the most idyllic of chapels inside of which sat a wooden box.
They were 1,300 miles away from Tolka Park, situated snug in-between endless rows of brick houses on Richmond Road in Drumcondra, but it felt so much more. This was a different planet altogether.
Gerry Doyle's side had stormed to the 1963 FAI Cup 2-0 against Cork Hibernians, meaning they qualified for the first round of the European Cup Winners' Cup the same year — a competition which, naturally, pitted all of Europe's domestic cup winners against one another.
The hat pulled out Barcelona meaning 'Doyle's Ducklings', as the young side still fresh-faced and raw were affectionately known, were heading to Catalonia.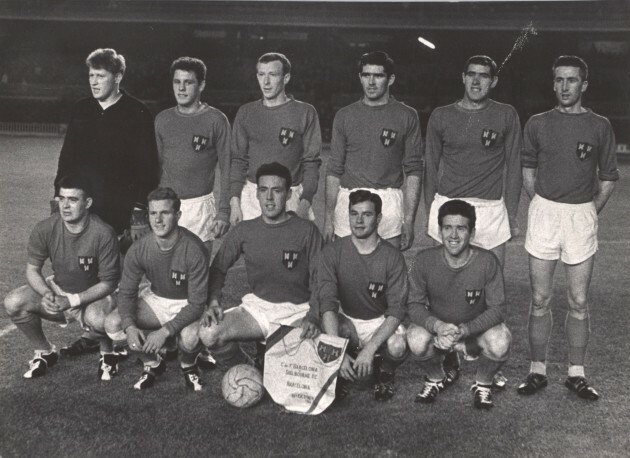 Marc Gómez Shelbourne pose for a photo before kick-off at the Nou Camp in October 1963. Marc Gómez
This was a golden generation at Shelbourne Football Club and, until matched by the early 2000′s era of Wes Hoolahan, Owen Heary, Stuart Byrne, Joey N'do and Jason Byrne which took in five league titles, an FAI Cup and were one game away from qualifying for the group stages of the Champions League — they were undoubtedly the club's brightest jewel.
The first sprouts of success came in winning the 1959 FAI Youth Cup with players like Eric Barber and future European Cup winner with Manchester United Tony Dunne. Youth was subsequently promoted and there followed two FAI Cups in 1960 and 1963, and a league title in 1961/62. Doyle's magic touch was in full flow.
Domestic success felt almost routine and with it came the prospect of playing across the continent to face Europe's elite. The club's very first game in European competition saw them travel to Portugal, where they faced Sporting Lisbon in the old 50,000 seater Estádio de Alvalade in 1962, taking the lead in the away leg but ultimately succumbing 7-1 on aggregate.
The following year brought Barcelona. This time it wasn't the European Cup, but the Cup Winners' Cup.
Sitting arms stretched apart relaxing inside a swimming pool on top of their city centre hotel on a radiant October evening in the Catalonia capital, Shels defender Freddie Strahan couldn't believe his luck.
Strahan was a tough-tackling centre half who helped the side to a litany of success and represented Ireland on numerous occasions, scoring against Bobby Moore's England. A leader at the back "you would genuinely die for", friend and former team-mate at Shelbourne Jackie Hennessy explains today.
Shelbourne pictured at Lisbon airport ahead of their European Cup meeting with Sporting in 1962.
The pair cannot stress how far away a European game in the Nou Camp was from the realities of League of Ireland football in the mid 1960s. Warm water in the showers after games was never a guarantee — in fact you were lucky if there was even a shower at all.
"They treated us great, they really did," Hennessy, now 77, explains of their trip abroad. "The one thing that stood out to me was the fact they had that little chapel with an oratory and a confession box, I couldn't get over it! It was unbelievable.
We were coming from a world where we'd be playing a game in Limerick down in the Market's Field. After the match we'd hop onto the team bus and drive back to the nearest hotel so we could get a shower. There was no such thing as washing facilities at the stadium for us players in those days.
"Then you go to Barcelona and you see all these huge, immaculate changing rooms and lockers where you could hang up your gear, while we're used to playing in Tolka Park where there's 16 of us jammed into a tiny room 12 metre x 10 metre getting ready before and after matches.
"If you were lucky enough to get a shower the water was cold by the time you got to it, whereas in Barcelona we had these beautiful, elegant baths instead!"
It's approaching the 55th anniversary since the famous set of games in the autumn of 1963. Only it's not that well-known in these parts at all.
Barcelona visited Dublin for the first time in five decades to face Celtic at the Aviva Stadium in 2016, with little to no mention of when Shelbourne faced the five-times Champions League winners — firstly in Dalymount Park and then away in the Nou Camp — in the build-up to the pre-season friendly.
An evening in Dublin's Sugar Club discussing the modern history of Spanish football saw the event come to light in recent weeks.
Great memories from Gerry Doyle Jr (son of manager), Freddie Strahan, Joe Wilson, Jackie Hennessy from the @shelsfc '63 team that played against @FCBarcelona. #tsfp pic.twitter.com/aQAag1EzLl

— Con Artist (@Con_Artistes) January 16, 2018
Strahan, Hennessy and teammate Joe Wilson sat on stage and waxed lyrical about their travels to an intrigued audience, the majority of whom were completely ignorant of the tie even taking place.
Wilson, who celebrated his 79th birthday last week, attests that to him and many of his team-mates these exotic European ties Shelbourne were getting used to in the 1960s were often an excuse to enjoy a holiday — they wouldn't have gotten the chance to travel abroad otherwise.
In total Shels played 13 games in Europe between 1962 and 1965, taking on teams such as Belenenses, Barcelona and Atletico Madrid in the European Cup, the Cup Winners' Cup and the Inter-Cities Fairs Cup.
"Freddie summed it up by saying it was a holiday", he laughs."We were realistic guys. We knew there was no way we were going to go over to Barcelona and beat them.
"Given the caliber of football at the time, we knew what our strengths and our weaknesses were. We knew what we could and couldn't do. Now there was great camaraderie and friendship among the lads, so we knew we could put up a good show alright.
The whole idea when the draw in Europe took place was to keep in mind not to be beaten so bad that you were ashamed or embarrassed. From our point of view, when we were drawn against Barcelona it was a holiday for us in Spain.
"It was the same the year previous when we were drawn against Sporting Lisbon", Wilson continues. "We knew we were getting a week in the sun in Portugal… brilliant, absolutely brilliant.
"So after that game in 1962 when we were on the plane home from Lisbon we all said 'listen guys, we're going to put it all in in the league this year, we'll get back into European competition again and get another trip like this!'
Getting to see different parts of the world and getting to travel across Europe, that's what was motivating us to win the League of Ireland and the FAI Cup. That Shelbourne team were in three FAI Cup finals, won two, won the league title as well and played in Europe — that wasn't bad for a young side; Doyle's Ducklings."
Freddie Strahan (defender), Joe Wilson (inside forward), and Jackie Hennessy (inside left) all still socialise together today and recall with great fondness their European odyssey with precise detail and warm nostalgia.
A holiday it might have been for players who played football part-time and maintained full-time jobs all the while, but Hennessy maintains he saw it for what it was — two sides of equal respect facing off against one another.
Shelbourne were the FAI Cup holders and Barcelona the Copa del Rey winners, therefore they were on equal footing, he says. Both deserved their place in the European Cup Winners' Cup and no level of history or reverence about the Nou Camp or the club that played inside it would allow Shelbourne to lift the pedal off the gas or doubt their ability to cause an upset.
"It was never a holiday", Hennessy, who was a team-mate of John Giles at Manchester United, says firmly. "To me it was always a match. I loved my football from the time I was 9 years of age playing U15 with lads twice the size of me. I never lost that appetite for winning games."
Shelbourne goalkeeper John Heavey saves a shot at the Nou Camp.
The 2-0 defeat in the first leg in Dalymount Park is still a bone of contention for him, as he still sees it as a game they could and perhaps should have won in Dublin if luck had gone their way in front of goal.
"I thought we were a bit unfortunate because we didn't deserve to be beaten 2-0," he says. "It wasn't long gone in the first half when we should have scored and that would have put the cat among the pigeons.
It was just one of those days where we were unfortunate not to score. In Dalymount I thought we didn't deserve to be beaten. I remember we defended well for long periods and we were always dangerous on the attack."
Goals from Zaldúa and Pereda either side of half-time saw Barcelona come away with a two goal win under the floodlights in Phibsborough.
Caught in a period where rivals Real Madrid enjoyed historic success winning six European Cups in ten years between 1956 and 1966, the decade saw Barcelona resigned to second-best in Spain.
This despite claiming the 1960 La Liga title and 1963 Copa del Rey — the title which saw them fail to qualify for the European Cup and instead fall into the Cup Winners' Cup to face Shelbourne.
Only it wasn't even known as the Copa del Rey 55 years ago. When Barcelona beat Real Zaragoza 3-1 in front of 90,000 supporters at the Nou Camp it was known as the Copa del Generalísimo, after General Francisco Franco.
"Remember who this is named after," the dictator notorious for anti-Catalan policy was said to have told Barcelona captain Joan Segarra as he handed over the cup.
Despite living in the shadow of their rivals, this Barcelona side maintained a high level of pedigree.
Spanish midfielder Luis Suarez won the Ballon d'Or in 1960 under the stewardship of manager Helenio Herrera, while the side also became the first to beat Madrid in a European knockout game in 1961, later going on to bitterly lose the final to Benfica.
Many of the players that featured against Shelbourne enjoyed success throughout their careers in Europe and South America, however the most iconic name from those 1963 team-sheets belonged to the manager sat in the opposite dugout to Reds boss Gerry Doyle.
César Rodríguez enjoyed a short tenure in charge of the Catalan giants but remains to be one of the club's greatest ever players.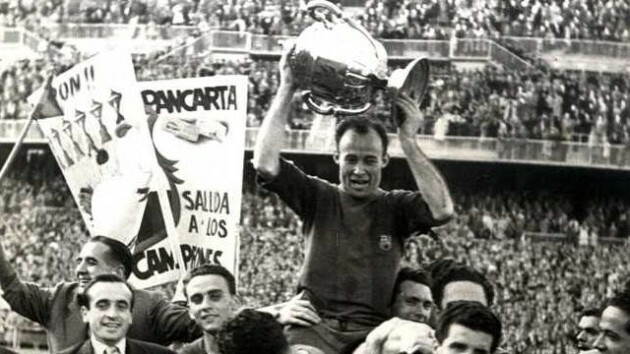 César Rodríguez scored 232 goals for Barcelona and was manager against Shelbourne.
That title often seems arbitrary when used in the context of titans such as Madrid, Barcelona, Manchester United and Bayern Munich, who have each featured hundreds of some of the greatest players in the history of football.
However before the arrival of Lionel Messi, César (as he was known), was Barcelona's record scorer with a remarkable 232 goals.
Messi's hat-trick against Granada in March 2012 saw the Argentine overtake the player, in the process breaking his record which had stood for 60 years.
While one of the club's greatest ever players, César enjoyed little success on the touchline, being sacked from the Nou Camp just five games into his second season, as the club would later be transformed following the arrival of Johan Cruyff and iconic Dutch manager Rinus Michels shortly after.
Did Shelbourne have a game-plan for such lofty players under César in '63?
"Of course we didn't," laughs Hennessy earnestly.
All three men attest that manager Doyle, "Mr Doyle", as they called him, kept it simple. "Off-the-cuff… off-the-cuff… it was always, always off-the-cuff", they explain.
Wilson: "Gerry… you wouldn't put Gerry in the context of 'coaching'. The bottom line is we didn't really get any at Shels in those days. Mr Doyle was able to go after players that he thought in his mind would blend in with one another. That's how we were successful; we were all the same age and we all got on very well with one another.
We blended in with each other into a team, and if one person was having a bad day there was always someone behind you who would be there to give you a boost and a dig-out and say 'come on!'
"We never got coaching like you have now. These days you have a coach for the goalkeeper, for the fullback, for the midfield… we didn't have that."
"We only had one ball in those days too," adds Strahan. "We'd do all the physical work throughout the week and barely touch it, the manager's philosophy being you'd be hungry like a greyhound out of the traps chasing for it on the Sunday during the game."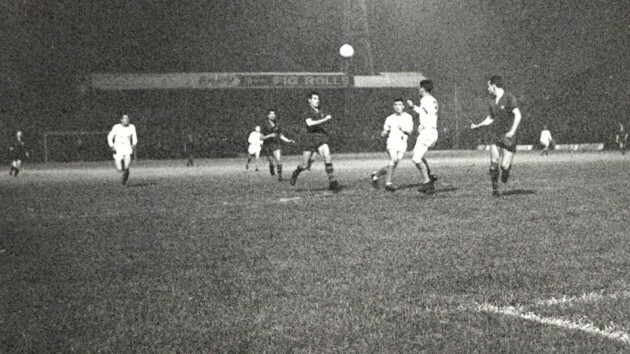 Shelbourne take on Barcelona at Dalymount Park on 24 September 1963.
'SHELBOURNE FIGHT HARD IN GOING DOWN TO VISITORS', read a headline in the Irish Times dated 25 September 1963, the morning after their 2-0 first leg defeat in Dublin.
Visiting Barcelona met with unexpectedly heavy resistance in their European Cup Winners' Cup-tie against Shelbourne in Dalymount Park last night", the match report said.
"They were an extraordinarily polished combination, using the ball as it was meant to be used along the ground in smooth, well-engineered passages of brilliant football and, let's face it, only for a splendid display from Shelbourne's defence the visitors would have had a lot more to show for their work at the finish."
They had a mountain to climb in the second leg but the tie was far from over, the three men each say. But as they explain, football was never going to be the sole priority for a squad of players many of whom had never stepped foot on an airplane, let alone visit a foreign country.
The Nou Camp can be an intimidating cauldron of noise for opposition teams, but the most serene atmosphere for those playing in the colours of the Blaugrana. Above all else that takes you by surprise is its sheer size.
Strahan traveled alongside the squad despite picking up a serious injury during the first leg which would see him ruled out of the return fixture — an injury which required a steroid injection from the team doctor at Dalymount Park during the game.
Unimaginable to today's presence of hyper inflated squad sizes, in those days he explains, the side had 11 players. If one picked up an injury the only options were to either continue playing through the pain, or stand down and see your team play on with a man less.
Strahan played the remainder of the first leg but following a late fitness test with manager Doyle behind the goal at the Nou Camp, would not feature in the return fixture.
"I did a fitness test before the game at the Nou Camp. Mr Doyle took me aside behind the goal while all the other lads were training and warming up, but I just wasn't able. Naturally I was disappointed but I still remember walking out onto the pitch before kick-off.
"I said to one of the lads, 'ah here, the place isn't even full', pointing up to the top of the stands at some empty sections. The top tier was empty alright, but because of the sheer size of the place there was still 40,000 there!"
In a moment which stands surreal when taken in isolation to the first leg, Pat Bonham's penalty after half an hour gave Shelbourne the lead in the second leg — meaning Shelbourne Football Club led the giants of Barcelona in the European Cup Winners' Cup in their own patch at the Nou Camp.
"I was the one who was involved in the penalty", says Wilson, who was deployed on the right wing that night. "I had a good game and when I had a good game, I could be fairly useful. I was on the wing in the second leg, went for a run and was taken down going through in the box by their defender Rodri.
"It was a penalty but there was some consternation about it. I was rolling around on the ground and Dick Kearns, who was a coach with Shelbourne, runs over to see if I'm okay.
He has his medical bag and of course the 'magic water' comes out and everything was grand. I said to him: 'I'm grand Dick, honestly I'm okay, I've made it look a bit worse than it is'. But the referee overheard me and warned me about play-acting!
"Paddy was our penalty taker and he took it no problem. A few players might have been doubting themselves or nervous about it so, to be honest, there weren't too many lads jumping in to take this spot-kick in the Nou Camp in front of so many thousands of people."
The scoreboard read Barcelona 0-1 Shelbourne after 30 minutes. However an equaliser thundered in from the boot of Sándor Kocsis, of the famous Hungary side, six minutes later to make it level-pegging at the break.
The second half would see Barcelona grab two late goals in the space of as many minutes to bag the win on the night and make it 5-1 on aggregate over the two legs. Fusté gave the visitors the lead before Cayetano Ré, who won the famed Pichichi Trophy for La Liga top goalscorer the following season, bagged a third making it 3-1 at the Nou Camp.
The Shelbourne cohort don't hold many regrets about what happened after taking the lead now. They lost instrumental defender and captain Theo Dunne to injury in the first half — because Shelbourne had only 11 players he didn't reappear after the break, and the side battled on with 10 men for the remaining 45 minutes.
Perhaps today they might have put their remaining men behind the ball to secure a historic 1-0 win at the Nou Camp. But back then it was all about playing off-the-cuff like Gerry Doyle had coached them, or not coached them as it was.
S&G and Barratts / EMPICS Sport John Giles (bottom left) and Tony Dunne (centre) were both team-mates of Jackie Hennessy at Manchester United. S&G and Barratts / EMPICS Sport / EMPICS Sport
"No, no," says Wilson thoughtfully. "At half-time we were satisfied with how we were playing, everything was going well as far as we were concerned. But, no, you do realise in your own head who you're playing and the calibre of player you're on the pitch with.
"The one thing we never did, and it might have been ideal if we did, was to put 10 men behind the ball when we went ahead and do a backs-against-the-wall job to see a win out.
"But the reason we didn't do that is because it wasn't our style. The way we saw it, if we can score one and take the lead against Barcelona playing our brand of football, then we can score two, or three playing the exact same way.
"You know yourself as a player that when you're up against a team like Barcelona you just don't want to be on the receiving end of a hammering.
We never even entertained the idea of going to the Nou Camp and earning a win. It would have been great alright, and truth be told when we scored you grew another couple of inches, buffed your chest out thinking: 'hold on now, we're actually leading Barcelona at the Nou Camp here'.
"But in the back of our heads after that adrenaline ran out we knew it wouldn't be possible."
There was never any lasting disappointment, the three men explain, because it was never about the opposition or about a fanciful idea of playing against Barcelona.
It was about being successful, which they had the medals to prove, but more so it was about the team dynamic, the bond between those young lads in north Dublin fortunate enough to play football and have a job at the same time and sharing happy moments together, with one another.
They made the most of those trips abroad not only because they earned the right to do so by winning consistently on the domestic front, but also due to the fact that they were given opportunities to travel across Europe playing football which others did not.
"Joe, Jackie and myself still socialise together every now and then," says Strahan. "I'm far from being an arrogant individual, or conceited in any way, but one day we were talking and Joe said: 'Jaysus Freddie, we must have been fairly good footballers?'
People talk to us now about what we achieved and we can look back on it fondly, but when we were growing up and living through it we never thought about it, and that's the honest truth.
"It's only now that we're going into our 80′s that you take the odd quiet moment and think 'wow, we mustn't have been bad!'"
"People back home would be astonished", adds Wilson. 'You played Barcelona?!' But you never lost the run of yourself and you stayed grounded about it all.
"More than anything because in Ireland people are the first to cut you down when they think you've got a big fucking head about yourself", he laughs. "There's no bigger crowd to bring you back down to earth than an Irish crowd."
They didn't even get to swap jerseys in either leg, they confess.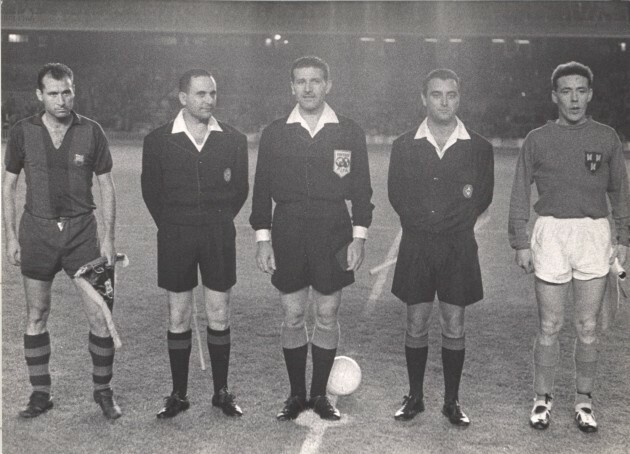 Marc Gómez Barcelona captain Sígfrid Gracia and Theo Dunne. Marc Gómez
Hennessy: "That wasn't as big a surprise to me because it had happened before when I got my first international cap for Ireland. I was told by the FAI on my debut against Poland in 1965 that we weren't allowed, so when it happened again at the Nou Camp I wasn't surprised."
Strahan: "No, no we had to give the jerseys back to the kit man. It wasn't the norm for Irish clubs like ourselves. My first international was against Poland and their lad came over to me and took off his jersey gesturing for me to take it in exchange for mine.
I had to apologise and explain that we weren't allowed. That… as well as the fact that I wanted to keep it because it was my international debut — I still have it upstairs.
"There was no great money behind us or shirt sponsorship in those days, we had to keep them. The club bought you two things — they bought you your jersey and they got you a pair of boots."
Wilson: "They came to Dublin, it was a great atmosphere, a great night bar the scoreline, the whole lot… but we weren't even allowed swap jerseys with the Barcelona players.
"We went to Barcelona and it was the exact same thing. They wanted to swap jerseys after the game in the Nou Camp naturally, but we were told by our superiors at Shelbourne that there was to be none of that.
"We were told the jerseys had to be on the train with us when we went home on the Friday to be washed and ready for our league game on the Sunday.
We were disappointed with that, absolutely. I laugh at it now because even looking at our game against Lisbon the year before, with swapping jerseys — everyone knew that was the thing to do in big-time football.
"It wasn't even Gerry that told us not to do it, it was the kit man Mick O'Brien. He told us there was no chance because he needed them for the league game the following Sunday. It was the same with the football — we only had one for training — it had to be washed and kept."
Strahan, the immovable centre back who couldn't feature on the night, is the only one to have been back to the Nou Camp since.
It's just as immaculate as he remembers, he says, even if it's a little bit bigger.
"Yes I've been there once since. We went on the tour and saw the museum, I couldn't find a Shelbourne pennant anywhere.
"Ahh it's unbelievable… sure anyone could play football on an immaculate pitch like that.
"It was unbelievable to look out and think that you were a tiny part of a club's history like Barcelona."
All three men have kept their small Barcelona pennants from the game. That, and the abiding memories of a decade of service and success, trophies, titles, wins, losses, Mr Doyle, Tolka Park, a few trips abroad and the pride of the red jersey of Shelbourne.
Something that will stay with them forever.
The42 is on Instagram! Tap the button below on your phone to follow us!