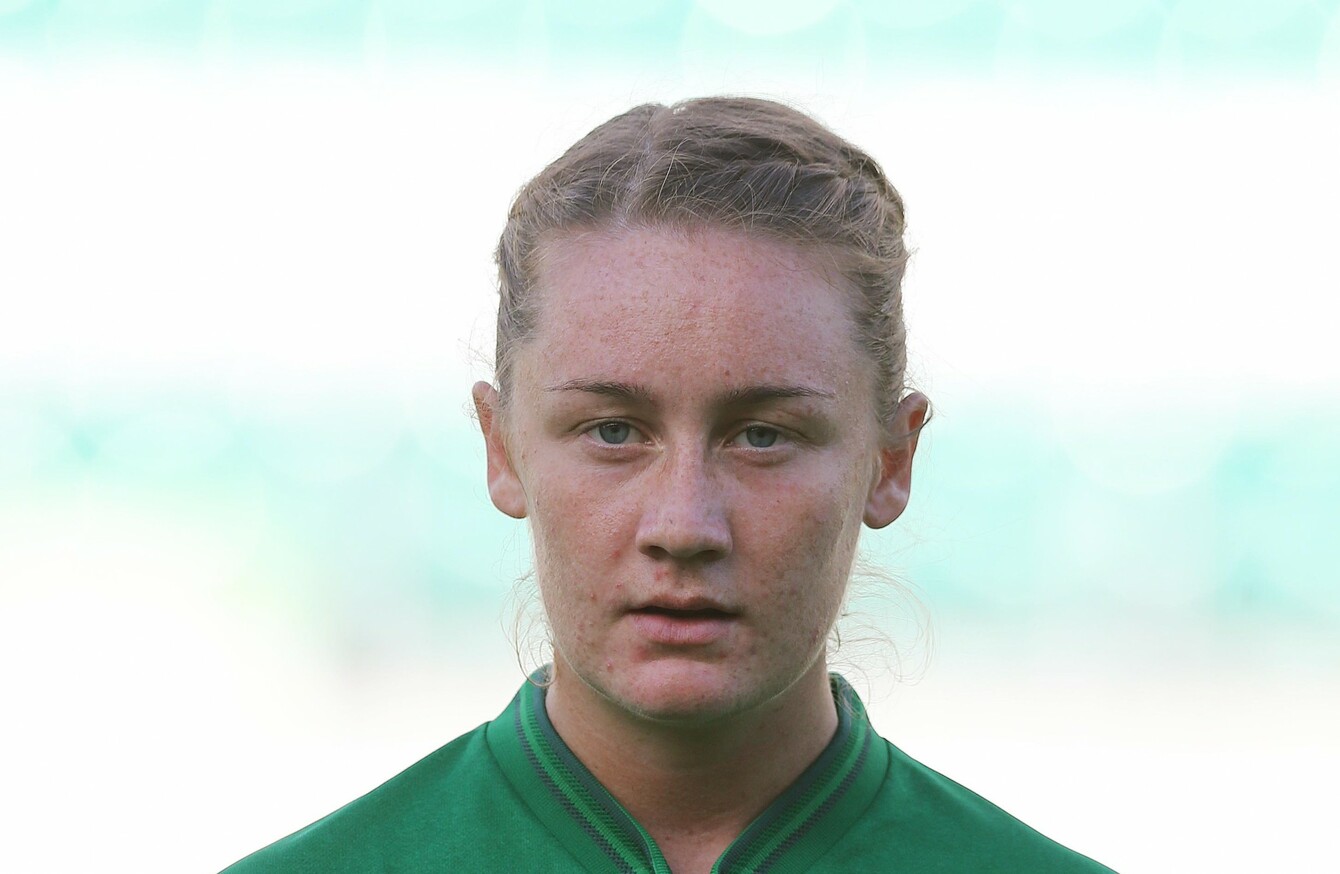 Ireland international Rachel Graham is hoping to help Shelbourne win the WFAI Cup final on Sunday.
Ireland international Rachel Graham is hoping to help Shelbourne win the WFAI Cup final on Sunday.
ALMOST A YEAR ago to the day, Shelbourne Ladies were on the verge of winning the Women's FAI Cup final, when victory was cruelly snatched away from them.
Siobhan Killeen's clinical finish after 55 minutes looked to have won the game for Shels, but with literally seconds remaining until the final whistle, Ciara Rossiter was on hand to slot a rebound home, after goalkeeper Niamh Reid Burke parried away Emma Hansberry's free kick.
Further drama ensued as a Maria Delahunty extra-time volley gave Wexford Youths the lead for the first time before another last-gasp close-range goal, this time from Shelbourne's Dearbhaile Beirne, ensured the match went to penalties.
Wexford Youths ultimately prevailed from the spot 4-2 as they won the trophy for the first time in their history. Shelbourne, meanwhile, were left to wonder what might have been, as they came agonisingly close to tasting glory.
Losing in such heartbreaking fashion is not something that can be easily erased from the memory and to make matters worse, Shels also were beaten in the league play-off by the same opponents later in the season.
"It was kind of a rollercoaster," Rachel Graham, who played for Shelbourne that day, tells The42. "We were seconds away from winning it and then conceding, and conceding again, and then getting back to penos. It was up and down.
I suppose (we learned that you) don't switch off. The last-minute equaliser kind of killed us."
This year, Graham and co have an opportunity to gain revenge on the Youths, as they meet again on Sunday in the WFAI Cup final (kick-off: 12.05pm).
With Wexford winning three trophies last season, and beating Shelbourne in the league play-off as well as the cup final and the WNL Shield, some observers might assume they will have the edge going into tomorrow's game.
Yet the momentum actually appears to be with the Dubliners. They secured an impressive 3-1 victory over Wexford Youths in the league last September in Ferrycarrig Park and currently sit top of the WNL on 20 points — four ahead of their opponents on Sunday, who sit third.
We're definitely confident, I wouldn't say cocky, but our preparation has been good. We just have to go and do it on the day now," says Graham.
Compared with the highs of last year, Wexford Youths have had a difficult campaign this time around. Their historic Champions League run ended in disappointing fashion, while they have struggled to maintain the type of form that saw them win the league last year, although injuries to some key players haven't helped.
Shelbourne, by contrast, look better than ever of late. In addition to their impressive exploits in the league, they also won the WNL Cup after beating UCD Waves 3-2 last May.
It is just the second season since the side merged with Raheny, and Graham believes it is only now that the players are truly beginning to click.
That took a while and was a transition, but now we've all gelled together and we're more of a team," she says. "Everyone's kind of comfortable with each other, there's no talk of separation between Raheny and Shels.
"We've got a new coach (Mark Leavy) in who's very good and we're well organised, so there's nothing too strange or secretive (about our success), it's just good coaching and we've gelled better as a team than last year."
Before their merger with Shelbourne, Graham had spent almost half her life playing for Raheny.
Now 27, the experienced midfielder joined the club at the age of 14. Before then, her first experience of organised football was with a boys' team when she was aged 11. She only left for Raheny after the rules dictated that she could no longer play with footballers of the opposite sex.
I have older brothers and they played, and I used to play out on the road with them all the time. I used to watch all their games and play on the side of the pitch, so that kind of started it off.
"I started playing out on the road with my brothers and they never treated me like a girl — they were pushing me to the ground and kicking me and roughing me up. They didn't give me any sympathy, but that's the way it should be.
The first team I ever joined was a boys' team so I didn't really know any different. It wasn't a big adaptation for me. But I fitted in well, they treated me like one of the lads. They never treated me like: 'Jesus, here's a girl.' They passed me the ball and knew I could play so they just took me in.
"I'm in Carlow IT now. They've a football course and I train with boys down there — it's something I've always done, so it's not like I'm a fish out of water playing with boys."
With Graham currently studying sports management and coaching, her schedule tends to be quite hectic, particularly when she's expected to play football for her college as well as Shels.
I have a scholarship with the college and you have to play for them as well. You're trying to balance that with your club football and you don't want to over-train then within the course as well, so you have to find a good balance, but the lads who run it understand (the pressure you're under), so you're well looked after down there."
Graham admits she will likely be nervous than usual on Sunday, in the somewhat unfamiliar surrounds of the Aviva Stadium and with the RTÉ cameras watching on.
I wouldn't be too bad with nerves, but it is a cup final, you have a few little butterflies in the stomach. You're lining up in the tunnel at the Aviva and you can see the big stand, so it is a bit surreal from what we're normally used to week in week out and there's a bit of nervousness.
"But it wouldn't be too bad — it's still a game at the end of the day, so you have to block all that out and just play the game."
And while there was plenty of drama and excitement in last year's WFAI Cup final, there was also an unwelcome bit of controversy.
The fact that the game went to penalty kicks meant it wreaked havoc with the matchday schedule at the Aviva. As a consequence, the men's teams, who were due to play each other imminently, had less time to warm up and in desperation, took to the field while the women's penalty shootout was taking place.
Obviously, there was a bit of a blip last year, but when we were watching and taking the penalties, we didn't even notice the men were on the pitch, we were that tuned into the penos," explains Graham.
"It was only afterwards we saw the uproar about it. It is good to have the two (of the FAI Cup finals on) together and the two of them on the telly — treating them as equal. I think they've allowed a bit more time (between them) this year in case the same thing happens again, but hopefully we'll get it done in the 90 minutes this time."
Consequently, there may be several stumbling blocks and it is probably going at a slower pace than some people would like, but there is no doubt that women's football in Ireland has made progress, both in terms of popularity and in relation to the playing standard.
The formation of the WNL in 2011 was a big step forward, while WFAI Cup finals haven't always been shown on national television.
I think people are taking more notice of it now," Graham says.
"Even some people who never even knew about women's football are wishing me good luck (for Sunday), because they've seen it advertised.
"Players are travelling to play for Dublin clubs, whereas you never would get that if there wasn't a national league, so the standard is better overall.
Some people say 'women's football is not good' and you say: 'Well, have you ever seen a game?' And they say 'no'. 'So how do you know?'
"I think if they actually went to games, they'd be surprised at the standard of players there. (Women's football has) always had a bad name, but I think over the last couple of years, we're getting away from that and people are taking it a bit more seriously, but there's still a bit to go."
The 2016 Women's FAI Cup final between Shelbourne Ladies and Wexford Youths will be shown live on RTÉ2 from 11.50am on Sunday.
The42 is on Snapchat! Tap the button below on your phone to add!