STANDING IN THE centre circle, they feel safe from the venom that is being discharged from the sideline.
They dare not move too close to the crowd that is just waiting for them to make another mistake.
Alarmingly, this is the reality for many young Irish children competing in schoolboy soccer matches up and down the country, but it is not other children doing the taunting, it is grown adults. It is parents.
Instead of being encouraged to take chances, make their own decisions, and use the skills they have learned in training, the youngsters are frozen in a state of fear. On the pitch they are being graded as adults, instead of being encouraged as children.
Antonio Mantero, of thecoachdiary.com, has experienced this situation many times, and he is now attempting to change the attitudes of both parents and coaches on the sidelines throughout Ireland.
This weekend, soccer clubs across the country will take part in the first Silent Sideline Weekend – organised by Mantero.
He believes young children are struggling to enjoy the game because they are being inundated with abuse, advice, and tactics from others.
"I once heard a player saying that his preferred position was centre midfield because in this position he didn't have to be near any sidelines," says Mantero. "He was referring to all of the screaming and shouting from adults.
One of the hardest things to coach is getting your players to communicate or send a message with the ball. If adults are doing all the screaming and shouting, this will prevent the kids from communicating.
"The problem is most adults on the line are shouting all sorts of negative nonsense and this will have an impact on a player's performance and most certainly knock their confidence, which will prevent them from communicating with their team-mates."
Sport psychologist Canice Kennedy said he has witnessed first-hand the impact of negativity from the sideline. He believes a young player will often struggle to replicate what he or she has learned on the training pitch when it comes to match-day because of the pressure from the sidelines.
"It's my belief, and I have seen it with my own children, that on Tuesdays and Thursdays when children are training they are capable of reaching a very high level technically.
"But at the weekend, when there are 30 or 40 parents on the sideline shouting different tactics or instructions at them, they simply fail to ever reach that technical level again."
He continued: "It's good that parents want to be involved, but in my opinion there are two issues. Firstly, the parents get the children too hyped up, and secondly, they try and over-coach them. The focus should be on enjoyment and positive reinforcement rather than winning.
"Too many parents automatically want to know if their son or daughter won, rather than if their child enjoyed the game. That should be the first question they are asked, that should be the most important thing."
The Silent Sideline Weekend will hopefully encourage parents to be more aware of their actions when watching children play soccer. Indeed, Antonio Mantero would like to see more being done to highlight the problem.
I think we as adults have a social and moral responsibility to behave on the line. I believe ultimately it is the responsibility of each and every organisation that facilitates youth sports.
"However, the governing body could and should be doing a lot more to highlight this issue. Why is there not a course about adult behaviour and controlling your emotions in kid's sports?
"Why have we no videos to highlight the abuse children are receiving every weekend all across the country? Every club should have a child welfare policy, and adult behaviour on the sidelines would fall into these policies.
"The fact of the matter is, shouting and screaming at children is bullying and the sooner people realise this the better. Every adult involved in kids sports has a responsibility to make sure children's welfare is paramount."
For many, this depiction of the schoolboy game in Ireland will seem extreme, but for those who are actively involved in it, this is a reality.
Crumlin United Secretary Martin Loughran has coached many schoolboy teams, and has been involved as a parent too with his own children. He sees competitiveness within the schoolboy game being another problem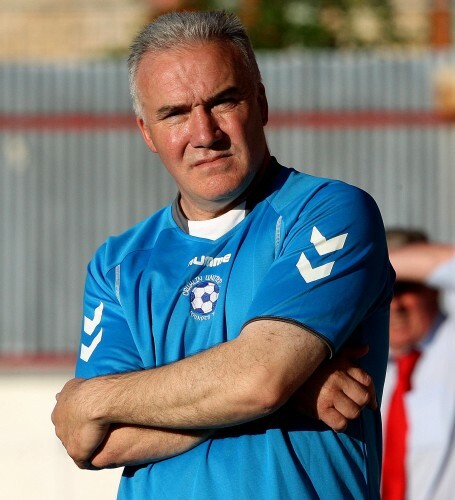 Lorraine O'Sullivan / INPHO Crumlin United's Martin Loughran. Lorraine O'Sullivan / INPHO / INPHO
This season the Dublin District Schoolboy League (DDSL) changed their rules in relation to teams who play at Under 8 and Under 9 levels. There are now no referees, no league tables, no match-cards, and no results.
The aim is to promote enjoyment within the game, include all players, and promote a fun and soccer-friendly environment. Other changes include smaller pitch sizes for teams up to Under 12, which will help to build strong technical skills.
But Loughran, who now manages Crumlin United's very successful Senior Men's team, said parents were reluctant at the beginning to embrace the non-competitive format.
"This season the DDSL have brought in non-competitive football at Under 8 and Under 9 level, and it's five-a-side, and it means all the kids are getting a game.
The biggest problem we've found with the non-competitive game is the parents. They're all asking where are the league tables, and what are their kids going to win, and will there be trophies, but they have seen the benefits now and seen the progression of their kids and it's done them the world of good.
"The pitch is tighter, they can't run ragged with the ball, and they're getting closed down quicker, so they have to pass the ball. They have to think, and think for themselves, and use their own guide of discovery.
"Let them do it themselves, and if they do it wrong they will eventually do it right."
For more information on the Silent Sideline Weekend, please visit www.thecoachdiary.com or visit them on Twitter @Coachdiary