TWO IRISH ADVENTURERS, Maghnus Collins and David Burns, undertook a 10-month, 16,000km trek from Istanbul to Shanghai.
Collins and Burns, from Limerick and Derry respectively, journeyed along the old 'Silk Route' to Asia by bike, kayak, raft and on foot, raising more than €35,000 for charity [Self Help Africa] in the process.
After cycling through Turkey, Iran and up through India, the pair entered Nepal and ran the equivalent of 25 marathons in 27 days, across the Tibetan plateau, before they settled into their kayaks.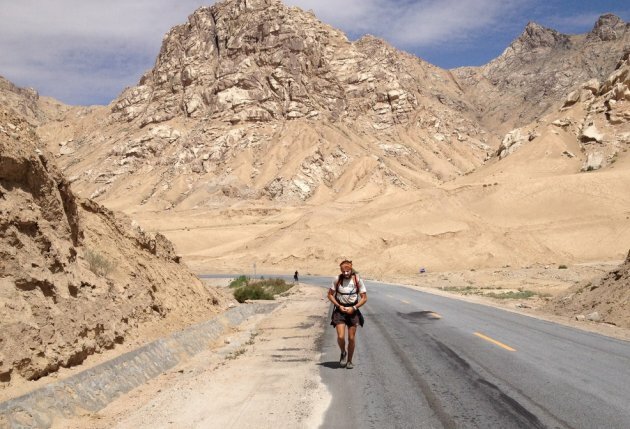 Maghnus Collins tackles an uphill climb.
Just under a month ago, the pair paddled their final strokes and pulled ashore in Shanghai to a rapturous welcome from Chinese media and the Irish community living in the city.
Burns spoke to TheScore.ie about the high points of the the trek and the moments when he felt close to rock bottom.
'Littered with death'
I had decided to do the final leg of the trek, over 6,300 kilometres down the Yangtze River, before I knew what it entailed. It has never been fully done before.
The upper river is over 5,000 metres above sea level but it drops to less than 1,000 metres down a deep valley. It is horrible and the route is littered with death.
Many people have attempted it, often with disastrous results. I wouldn't have had the same rafting skills as Maghnus but we both put in a massive amount of research on the river.
I, mapped out every kilometre, every rapid, exits points and danger zones. I probably know the river better, now, than anyone in the world.
Saying that, the upper river was real scary and we had to be on the ball every day.
David Burns on the Yangtze River.
Some sections that I had marked as red, we had to get out, scale rockfaces and carry our rafts and gears along the riverbanks. Still, we did 90% over the river by raft or kayak.
Between us, we must've taken about 20 falls. One would have to rescue the other using ropes as you would be caught in the middle of surging whitewater rapids.
On average, with getting us both to shore, salvaging the gear, chasing after bits of equipment and rafts, each rescue would take about an hour.
We would gather ourselves and set off again. It tested us physically and mentally.
The line between bravado and stupidity was very narrow but we were always there to talk things through.
Whirlpool
On one of the most dangerous sections of the upper river we had to deal with four rapids in close succession. We walked it beforehand and knew the route was precarious.
We got through the first three ok and the plan was to get to the shore to avoid the fourth.
Maghnus was coming in, 50 metres behind. It was an area where the fast water meets the slow. It eddies and creates a whirlpool. His raft flipped and he took in a mouthful of water.
I was able to get out a throw him a rope but the raft had shot off down river. For the next three days, I chased it on my raft and Maghnus climbed up river banks and followed the shoreline but, eventually, we were forced to give it up.
Maghnus usually carried his documents on him but, that day, it was all packed onto the raft. Visas, passports, bankcards, it was all gone.
*All was not lost. Phonecalls home, diplomatic interventions and benevolence from home and abroad ensured that the adventure could continue.
'An incredible experience'
Before the upper river falls off into the valley, it travels on a plateau that stretches about 500km.
For about 400km of that section of the river we didn't see a single person. The scenery was amazing and we were having some unbelievable times in the wild.
On some days we would have hundreds of dears running along the shoreline and following us.
It was an incredible experience and the first time I ever thought that reaching the end would be possible.
'Through forest and clouds'
My other favourite moment would be coming into the Himalayas. On the leg to get there, through India, we had experienced days when it would reach 50 degrees.
But, thankfully, as we climbed up towards Kathmandu, the temperatures dropped. We would need it as the climb got pretty steep.
Last year in the Tour de France, some teams were complaining as the gradient on certain stages was 22%. Parts of our climb reached 35% and was very close to looking like vertical. We were also carrying about 50kg of gear on our bikes.
Still, it was amazing to be on the climb, going through the forest and clouds.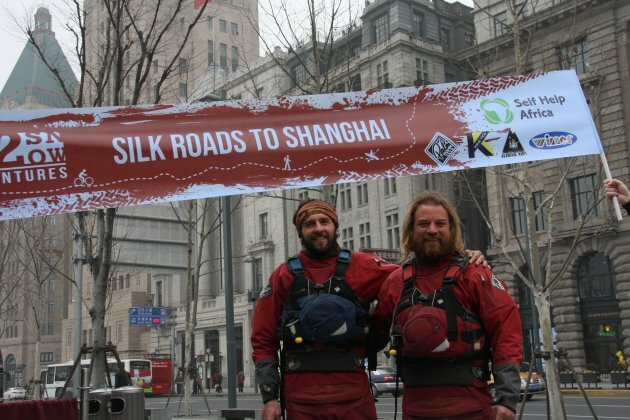 Collins and Burns celebrate journey's end in Shanghai.
The Sand2Snow Ball, with all money raised going to Self Help Africa, is taking place on Friday, 15 February at the Guinness Storehouse and a limited number of tickets remain.
For more on the lads' travels and tales through their Facebook page or by checking outwww.sand2snowadventures.com.