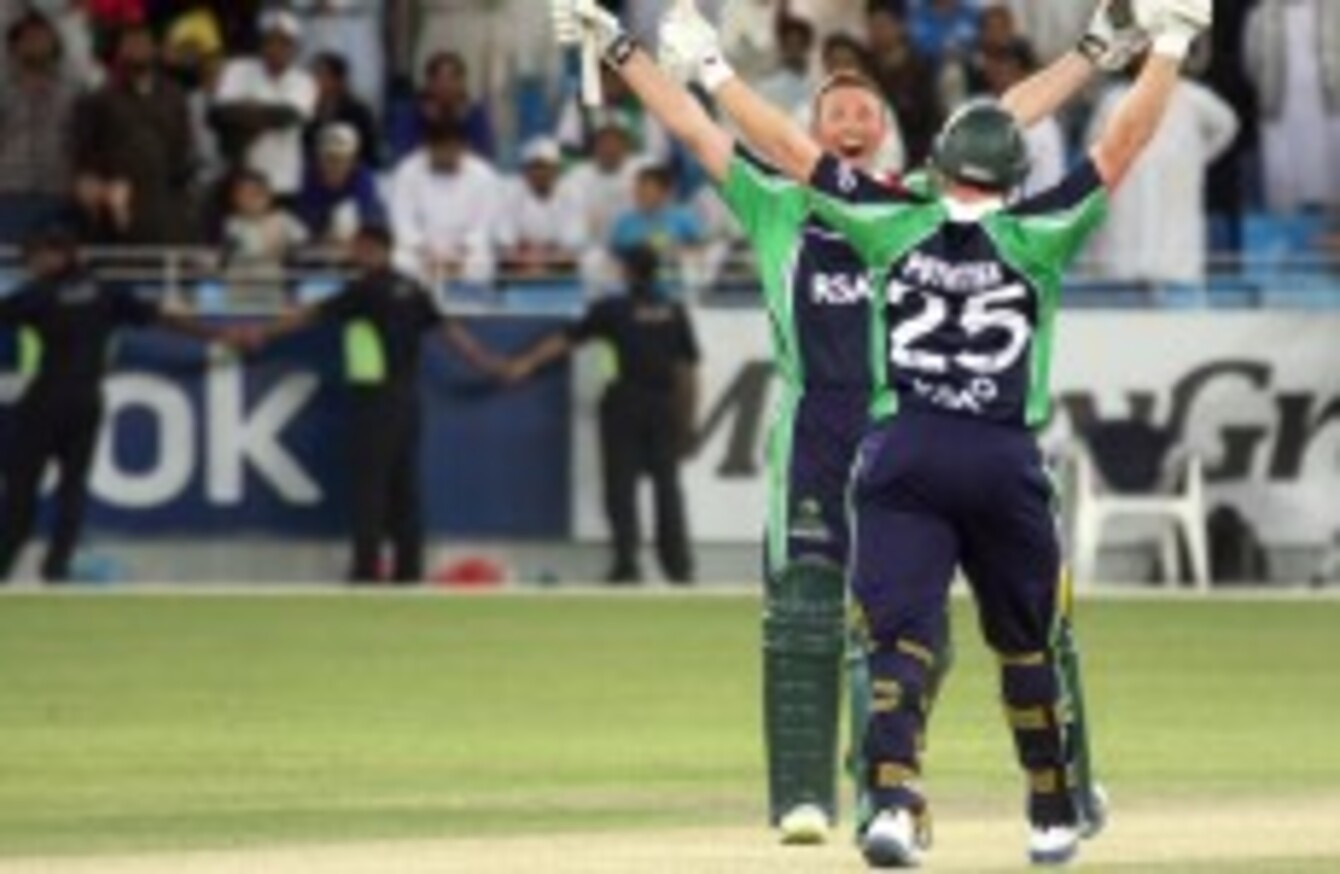 Image: ©INPHO/ICC/Barry Chambers
Image: ©INPHO/ICC/Barry Chambers
IRELAND CRICKET COACH Phil Simmons hailed the win at the Twenty20 World Cup qualifiers as the stand-out memory of a first-class year for Irish cricket.
And Simmons reiterated his praise for Ireland's star man in Dubai, Paul Stirling, saying that the 22-year-old has the talent to be as good as modern greats Chris Gayle and Virender Sehwag.
Stirling lit up the final against Afghanistan when he scored the second-fastest half-century in a T20 international, putting up 50 off 17 balls en route to a total of 79.
"After losing the first game to Namibia we put ourselves in a position where each game became a 'must win'," Simmons wrote ahead of the inaugural RSA Cricket Ireland Awards in Dublin later this week.
"The side responded superbly and got stronger as the event  progressed, winning 10 consecutive matches to not only qualify but win the competition.
"The final against Afghanistan was in many observers' eyes the best game ever played between two Associates – I certainly haven't been involved in a better one at this level.
The innings Paul Stirling produced was nothing short of incredible. The power, placement and shot selection was breath-taking and it was a real privilege to witness it.

I said at the time he has the ability to be rated with the greats of world cricket including Chris Gayle and Virender Sehwag.
Simmons also praised the contribution of bowler George Dockrell, winner of the ICC Associate Cricketer of the Year award in 2012.
"I first noticed George's ability with the ball as a 16-year-old — playing for Leinster vs Clontarf and bowling his first nine overs for 16 runs against [Alex] Cusack and [Andrew] Poynter, both national players — and then as a 17 year old during the U19 World Cup qualifying tournament in Canada.
"I was immediately impressed and fast-tracked him into the senior side three years ago and he has been an ever present since.
He has a calmness and authority about  his bowling and he is cool under pressure. He was our leading wicket taker during the season — 37 in total — and very rarely has an off-day.
The inaugural RSA Cricket Ireland Awards take place on Friday 16 November in the Round Room in the Mansion House, Dublin. For further details on how to book seats and tables, click here.