THE IRISH BACK row is a fluid situation at the moment with Sean O'Brien looking at a move abroad, Jamie Heaslip possibly heading on the same flight, Chris Henry and Iain Henderson just back from injury, Jordi Murphy steaming into contention, Stephen Ferris reportedly close to a return for Ulster, and Peter O'Mahony still searching for his best position.
Into the mix you can add Tommy O'Donnell, Shane Jennings, Kevin McLaughlin, James Coughlan, Dominic Ryan and Rhys Ruddock, one or two of whom will probably feature during the Six Nations. The back row selection will dictate both the style and the success of Joe Schmidt's debut season in the Six Nations, but even with all those options Ireland are already on the back foot without O'Brien.
If a coach, hypothetically, was given unlimited resources and told to build a team from scratch, he might start by buying Sean O'Brien, Stephen Ferris and Jamie Heaslip, three of the best all round athletes in the game. If they can hold off (and return from) injury, gather a few more trophies with Toulon or Ulster or Leinster or Ireland, then they have a shot at becoming the greatest players to play for their country in their respective positions.
Back rowers are the key influencers, the non-specialists who have to be good at everything. The international players in these positions would all make decent heptathletes. The good ones can run fast, they can run for a long time, they have explosive power for the hits, but a grinding machine-like power for mauls and scrums.
Rugby used to be a game of set plays, of distinct moves, short bursts of activity book-ended by props faking injury and two minute penalty kick routines. The game had little or no pattern to it, with a random mix of scrums, line-outs, rucks, mauls, garryowens, back-line moves, grubbers and clearance kicks.
The sport is now more fluid, the dominant play is the ruck, and the trends indicate that will continue. There's no worldwide average, but in a World Cup match there are about 150 rucks per game. Between the 2007 and 2011 World Cups there were seven fewer line-outs on average per game, and 18 more rucks and mauls.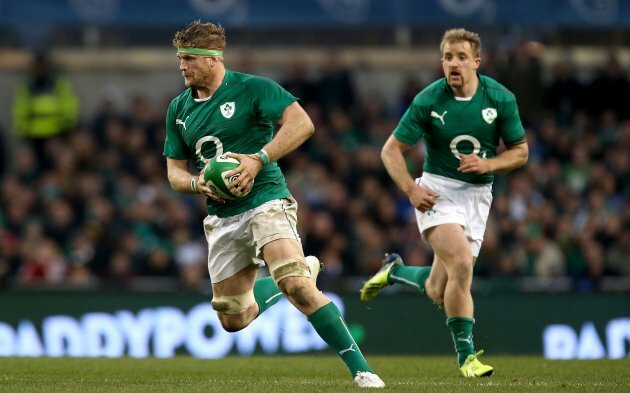 Jamie Heaslip is one of the finest athletes Ireland can call on. ©INPHO/Ryan Byrne.
On a dry day there can be as few as 10 scrums per game. Compared to 1995 there are 40% fewer scrums and line-outs per game, while there are now twice as many rucks. If a rugby game was a Dickensian workhouse, the back rowers would be the ones beating the drum.
For Joe Schmidt's game plan, they assume even greater importance. In his time with Leinster he once admitted if he was an opposition coach playing against a Schmidt-led side, he would focus on flooding the breakdown, throwing numbers at it. Not a revolutionary insight, but still revealing.
In the Six Nations, O'Brien will probably be replaced by Chris Henry, who is as good as O'Brien at poaching and tackling, but nowhere close on all the other measures. O'Brien's importance is such that his loss may involve a complete re-think on how Schmidt approaches the tournament.
Rugby teams go through good spells and bad spells, but in each game there will come a point where they run out of ideas and lose all momentum. In this situation every country has one easy out. The mentally lazy, but in the circumstances, only option: give it to their blunderbuss.
France have Louis Picamoles, South Africa have Bismarck Du Plessis, New Zealand have Kieran Read, Ireland have the Carlow man.
The positive thinkers will point out that his absence will force Ireland to think laterally, to kick more strategically, to keep the brains on red alert and it may squeeze the best out of the other ball carriers; but in the same way there's still a giant Stephen Ferris-sized hole up in Ulster, there's no replacing the chunk of muscle, bone and gristle that is Sean O'Brien.
Like rugby? Follow TheScore.ie's dedicated Twitter account @rugby_ie >