A FEW WEEKS after Munster's first Heineken success in 2006, Paul O'Connell was already talking about the importance of doing it again. Given how long and at times painful the journey had been, that came as a bit of a shock.
When the Cork footballers won the All Ireland in 2010, within days Graham Canty was being asked about the need to secure another title, but to do it with style, and to beat Kerry along the way.
Getting out of the Mayo/Buffalo Bills/Jimmy White bracket in 2009 was the most important step of all for Irish rugby, but as the years have passed the more the anxiety has grown that, like Cork and Donegal and Manchester City, maybe it was a one off.
O'Connell was always keen to point out that lots of good teams win the Heineken Cup, but only great ones win it twice. He was speaking as much to his teammates as to the media, you felt. For some sides the fixtures can fall nicely, weather and injuries can go their way, favourites falter and suddenly they find themselves in a the quarters or semis. Look at Edinburgh in 2013, for example. Nowhere close to being a top 10 team in Europe, yet they pushed Ulster close in the semi final, and who knows what would have happened had they got through that one.
Leinster and Munster both had a cause. They weren't rated, they had a history of failure, they were the underdogs. Finding a fresh motivation for the second push seems to be the tricky part for most teams. It's a new kind of pressure that most players don't deal with very well. Do it once and you're talented and ambitious, sure, but possibly streaky too. Do it twice and you're a force to be reckoned with, an empire, a team that can forever more draw on its history.
Perhaps the best illustration of how differently a team is perceived when they win a second title is this current Dublin side. When they snatched victory against Kerry in the 2011 final many neutrals thought 'ah sure give them one every 20 years or so, its good for the game'. Two years later with another one in the bag, and suddenly there's dark mutterings from on high about the inequity of their financial might and calls for the county to be split in two.
When Leinster finally won it in 2009, and then went through the exact same process as Munster, it seemed only natural that the players from those two provinces, who at that stage were the main contributors to the national squad, would know how to replicate it at international level. Irish rugby was in a hurry to make up for all the years of under achievement, and now that the dam had broken, surely success would flow.
Why it hasn't happened isn't down to the quality of personnel, and there hasn't been a great team stopping them either. Kidney seemed the ideal man too, given he had done it with Munster, and had a lot of those players still under his charge with Ireland.
For the Munster players involved in '06 and '08, a few reckoned the second win was more rewarding because it proved they were no longer reliant on passion. They had the structures, and the cool-headed approach to do it year-in, year-out. Cool, calculating and sustainable would be a pretty good description of Joe Schmidt's Ireland, if they win something.
Exclusive Six
Nations Analysis
Get Murray Kinsella's exclusive analysis of Ireland's Six Nations campaign this spring
Become a Member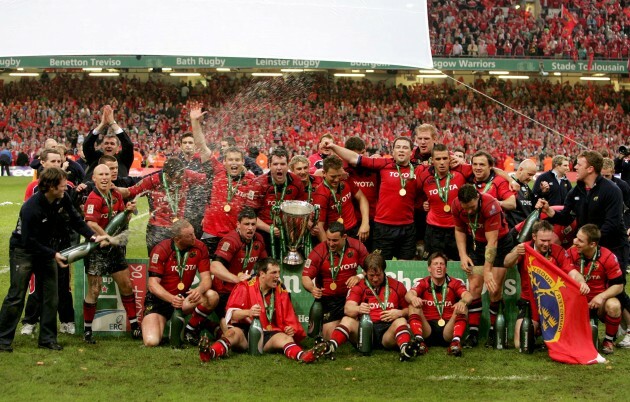 Morgan Treacy / INPHO Munster players celebrate winning the Heineken Cup final in 2006. Morgan Treacy / INPHO / INPHO
At the end of last season if you'd been offered a Six Nations with three home wins and two respectable losses away from home, you'd probably have taken it. The way things have fallen though with the O'Driscoll send-off, the Schmidt-Kiss-Plumtree plan gaining momentum and the French in disarray, it now feels like we can't afford to fail.
Nothing can take away the joy and the emotion felt at Lansdowne Road last weekend, but to let O'Driscoll sail off with just one championship would rankle for years. Three Heineken Cups and two championships on his CV, however, has a whole different look to it. The low expectations of 12 months ago now seem an eternity away.
In sport, impatience is a virtue.
You can follow Second Captains on Twitter here.