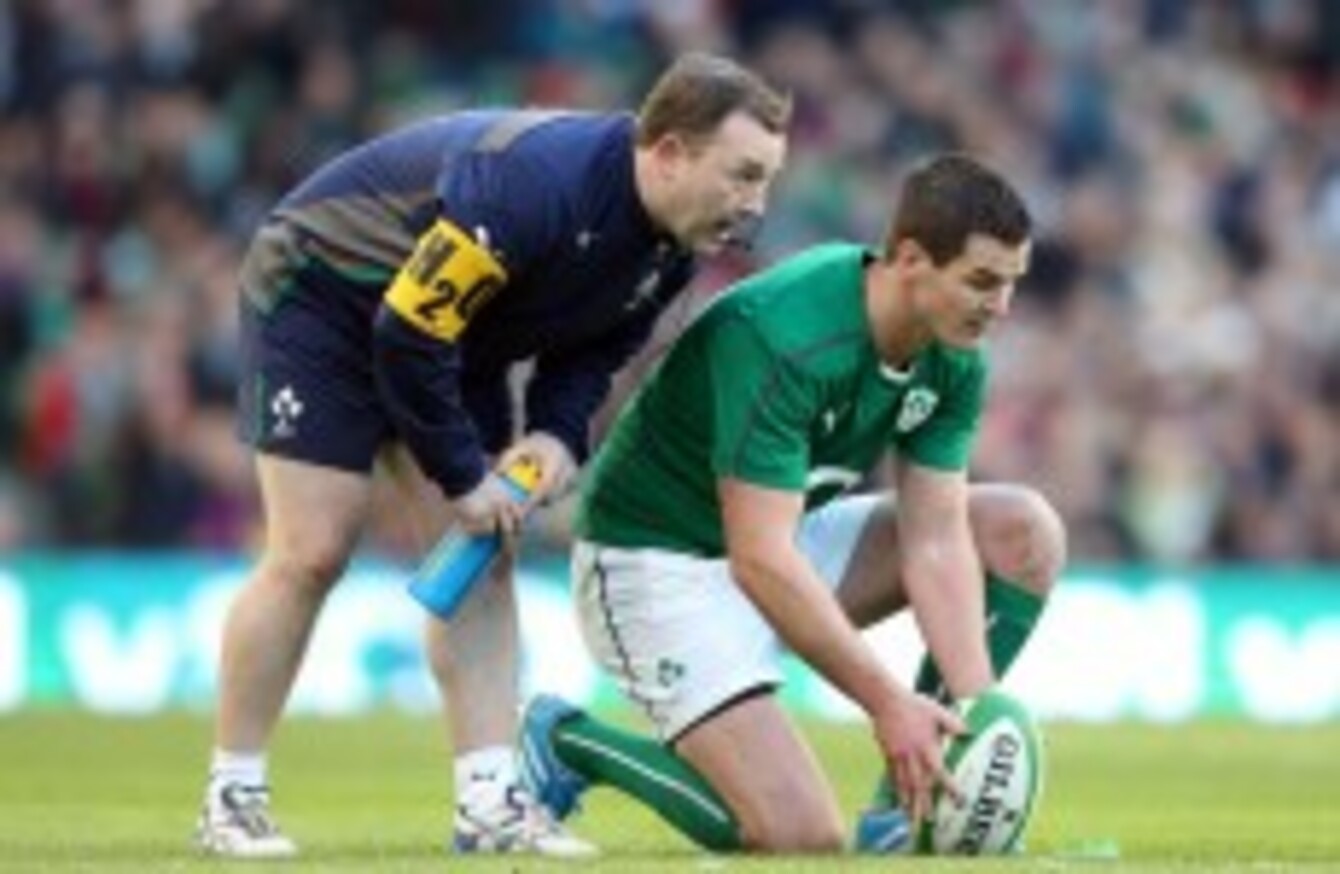 Ireland's Richie Murphy with Jonathan Sexton.
Image: INPHO/Colm O'Neill
Ireland's Richie Murphy with Jonathan Sexton.
Image: INPHO/Colm O'Neill
JAMIE HEASLIP WAS awarded man-of-the-match, and Peter O'Mahony made a lot of the big plays, but Sexton was Ireland's most important player against Scotland.
Maybe it's because he isn't on our televisions every week anymore, but the quality of his performance was a real jolt to the system.
In the subsequent analysis it was deemed a certainty that, either way, the team would have eventually found their rhythm, but that's not necessarily the case. Ireland went back to playing with structure in the second half, but the goodness only flowed after his break.
This game had all the hallmarks of a typical Ireland-Scotland game in which Ireland fail to fight the fight on their terms. It still required that kickstart from Sexton to get brains and bodies flowing with adrenaline. There have been plenty of Six (and Five) Nations games against the Scots where that spark has never arrived and they go on to take a messy victory.
The crowd had been pitifully quiet up to that point too and were clearly waiting for a moment they could relate to but from the 38th minute onwards the levels of engagement were transformed. Maybe it's too much of a leap to say it helped his teammates too, but it was noticeable how much the players relaxed and fell back on muscle memory once he made that break.
Composure
It's worth analysing the different components required to make something like that happen. The instinct to sense defensive cover was coming up on the outside, vision to spot the gap, footwork to beat the first man, acceleration to beat the second, power to ride the half tackle, top-line speed to get away from centres and backrowers, composure when in space to weigh up his options, and skill and core strength to throw an inch perfect 20 foot pass while running at top speed.
The message Sexton rammed home is that at international level, more so than in the Heineken or Rabo, you need your brilliant players doing amazing things. The great line breaks and offloads don't always need to end in scores either. It's the message it sends to your opponent, and the space it creates in later moves. Sexton was heavily marked after that, leaving more space in midfield for his teammates for the remainder of the game.
Ireland's Rob Kearney, Brian O'Driscoll and Jonathan Sexton. Pic: INPHO/Dan Sheridan
Whenever Sexton's talent is discussed, the main question mark that crops up is would you prefer Ronan O'Gara or Sexton taking a last-minute drop goal or penalty to win a game? The answer is probably O'Gara. He was the the best clutch player we've ever had. That's not the whole argument though. No player is perfect, and Sexton ticks just about every other box.
The lowest moment of his career so far is that penalty miss against New Zealand. It's not often a player gets to cradle 108 years of sporting history in his hands, and that will continue to define perceptions of him for a while yet.
Part of the problem is Sexton has been the starting outhalf in a non vintage era, results wise, for the national side. It's maybe forgotten now that Ireland almost lost the 2009 Grand Slam because of O'Gara's wayward penalties against England.
More than any other team in the Six Nations, Wales are reliant on their superstars doing something extraordinary. Ireland could conceivably be on a clean sweep over them since 2005 were it not for Shane Williams in 2008, Mike Phillips in 2011, Jonathan Davies in RWC 2011 and George North in 2012. That's a lot of ifs, but all those games were winnable (the quarter-final game was 10-10 in second half), were it not for some special plays. Warren Gatland creates the environment to let those players rip.
Under Schmidt, Sexton should at least get opportunities to create special moments. He's dominated three Heineken Cup finals and is one of the most decorated players in Europe but until he is responsible for closing out a game for his country, there will always be a few doubters.