CHRISTMAS IS A peculiar time for Simon Zebo and indeed all rugby players. He'll allow himself "a little turkey" but the other festive treats will have to stay on the table.
He's already had his break following an exhausting run of games for province and country. So, while the rest of the world is enjoying their holidays, he's looking towards a Pro12 fixture against Leinster (TG4, 5.30PM) on St Stephen's Day.
2016 has been a successful year for Irish rugby overall. Scalps over the three Southern Hemisphere sides in Test matches brought a much needed reprieve following a disappointing Six Nations campaign, and Zebo played his part.
11 minutes into Ireland's November Test against Australia, Zebo was summoned from the bench to replace a visibly shaken Rob Kearney. The number 23 coming on to claim his 28th International cap.
After his introduction, he played an instrumental role in the Iain Henderson try courtesy of a bouncing kick of the ball that put Keith Earls through the cover before the offload to Henderson.
After 54 minutes, Ireland were holding a slender six-point lead and trying to repel the Australian resurgence, when the ball was recycled to Zebo. He opted for a kick into touch but it didn't travel far. The ball skewed off his boot and gifted possession back to the visitors.
The camera shows Zebo facing across the Irish line, wincing, and gesturing an apology at someone. He can't quite remember who it was, though "it was probably Besty (Rory Best)," he tells The42.
Seven minutes later, Australia are four points clear and transferring the ball across the pitch when Zebo takes his place in the Irish line. He finds himself staring down Michael Hooper and starts closing in on him, quickening his pace with each stride.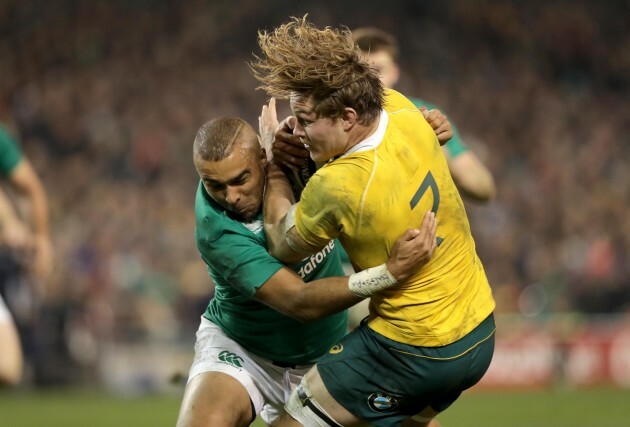 Morgan Treacy / INPHO Simon Zebo's tackle on Michael Hooper last month. Morgan Treacy / INPHO / INPHO
Hooper collects the ball just before Zebo crashes into him. It's the second wind Ireland have been looking for to break the Wallabies' countering momentum.
Ultimately, it was the moment which led to Ireland's triumph — Zebo's family and friends would probably endorse that sentiment, he agrees — but within the confines of the dressing room, he's a grounded man.
"It was just one of those moments where you have to back yourself, you try and make a big statement. I think we probably needed it at the time. If you've got the confidence to do it, you've gotta do it.
"We got the result and we didn't think too much about the game. For sure at our next international camp, we'll review it but at that moment in time we were just enjoying the win. We beat southern hemisphere sides and we have to enjoy that moment."
But in those moments when Australia were on the rampage, surely the players were contemplating the worst?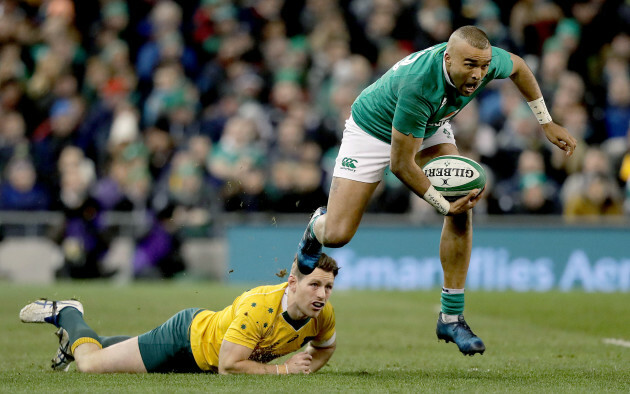 Morgan Treacy / INPHO Simon Zebo breaking away from a tackle against Australia. Morgan Treacy / INPHO / INPHO
"We wouldn't really think like that. It's easier for spectators to see the momentum change in the game and things like this but as players, we play minute by minute and moment by moment.
"If something goes wrong, if they score a try or a penalty, it's literally, 'Next job, what can we do now to swing the momentum back for us?' Even when I sliced the ball off the side of my boot, it's not something you dwell on for too long because if you do then, the game will slip away from ya.
"We were all pretty calm and Besty was leading us quite well and we knew what we needed to do. Just one or two crucial moments in the game got us that momentum that we needed to get us over the line."
RUGBY4You / YouTube
The sense of self-belief he carries has been a mainstay characteristic of his game since he first arrived on the international stage back in 2013 with that famous Six Nations debut against Wales.
He could have played a conservative game that day, given it was his first chance to impress at that level. But Zebo put on a show and treated the crowd to a back-heel of the ball following a pass from Jamie Heaslip which led to a try. He also collected a try of his own and signed off with that trademark 'Z' sign salute.
There was no pretense behind the performance, rather it was just the kind of expressive display that comes naturally to him.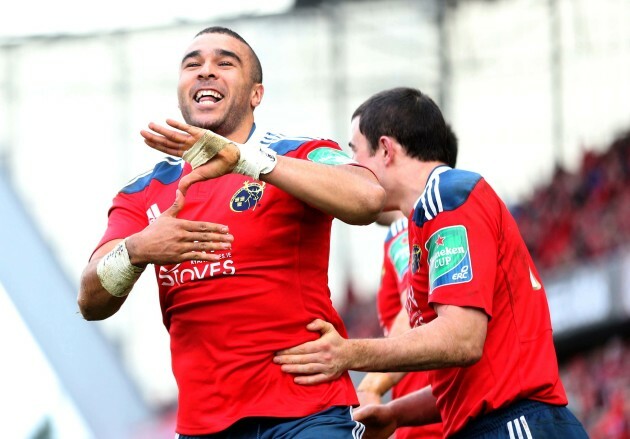 Billy Stickland / INPHO Simon Zebo's trademark. Billy Stickland / INPHO / INPHO
"It was a special moment. That was probably my first introduction to the international stage as doing something like that."
"Before I was on the international stage, I was trying to make friends and enjoy myself and enjoy the craic and it translated into doing something. I try to play with no fear and entertain the people who pay to come and see us."
I'd back my skill level and my talent over anything, that's why I believe I am where I am out of belief and confidence and playing with no fear. The more you think about things, the more you lose the ability to express yourself on the pitch and 10 times out of 10 it might have gone backwards or went under my hand but I'd belief and confidence in myself."
In Ireland's first clash against the All Blacks this year, some of that audacious play manifested itself again. A box-kick from Conor Murray on the hour mark prompted Zebo into a sprint. Waiting on the other end ready to gather the ball was All Black Aaron Cruden, but the Munster man was plotting an ambush.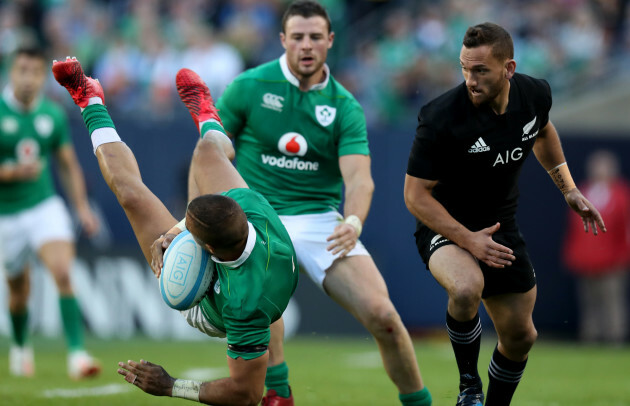 Billy Stickland / INPHO Simon Zebo taking a leap of faith. Billy Stickland / INPHO / INPHO
He launched into the air, arms outstretched and cupped the ball into his chest before rolling off Cruden's shoulder to make as clean a landing as you can get considering the height of his leap.
The winger however, can still see the imperfections of what appeared to be an excellent move.
"I probably jumped a little bit early but yeah it's one of those things again. Conor just put up a great box kick and I just really went after it. And (Aaron) Cruden who wouldn't be the biggest guy in the world, I fancied myself against him."
As regards jumping, we do this thing at the gym called the CMJ (Counter-Movement Jump) and I'd say I've probably the worst recorded jump ever and then when it comes to the pitch, I don't know how it works."
Away from the rugby pitch, Ireland lost an iconic figure this year, which brought the rugby fraternity together in a powerfully emotional way.
Zebo still remembers the first time he met Anthony Foley. He was an U20 player looking to impress a legend of the province.
"There was about 40 or 50 young boys out there and he was the head coach and he was trying to pick us and I remember just shaking his hand and being star struck and being in awe of the man and what he's achieved.
Cathal Noonan / INPHO Anthony Foley and Simon Zebo. Cathal Noonan / INPHO / INPHO
"He epitomised Munster rugby and everything I wanted to do. To see the man who's been there and done it and potentially was about to be my coach, I was very excited.
"I'd say he would have been more impressed if I had gone head first into a scrum. Me and Axel have and had a great relationship. He's a great character and we had a very close relationship."
After Foley's death, Munster recorded a comprehensive victory over Glasgow Warriors in Thomand Park. Zebo crossed the whitewash that day and, in honour of his fallen hero, he pledged the score to Foley.
I'd be quite religious. Whenever I get the opportunity to go to mass that's good but I'd be a big believer in prayer. It's happened to me a couple of time with people I've lost, I dedicate the very first try to them. I'd be quite spiritual. I'd be pretty confident that every time I go out on the pitch, my grandfather is looking after me and Axel is looking after me."
"I'm a firm believer that everything happens for a reason and when it's your time to go, it's your time to go. I'm sure he's looking after us right now. Every game we've won he's with us and we'll try to keep it going."
The rugby calendar doesn't take the Christmas break into account but Zebo is comforted by some important upcoming fixtures against Connacht (Pro 12) and of course the Stephen's Day meeting with Leinster.
He also has another rap video to plan in the new year with Paddy Jackson, but when asked by The42, he refused to divulge the specifics of their next hit.
"Oh definitely, when we get a bit of time together, I think there could be a third song coming. I don't want to give too much away. He's Jay Z and I'm Kanye so we'll have to pick and choose our songs very carefully and make sure it's perfect."
 The42 is on Instagram! Tap the button below on your phone to follow us!