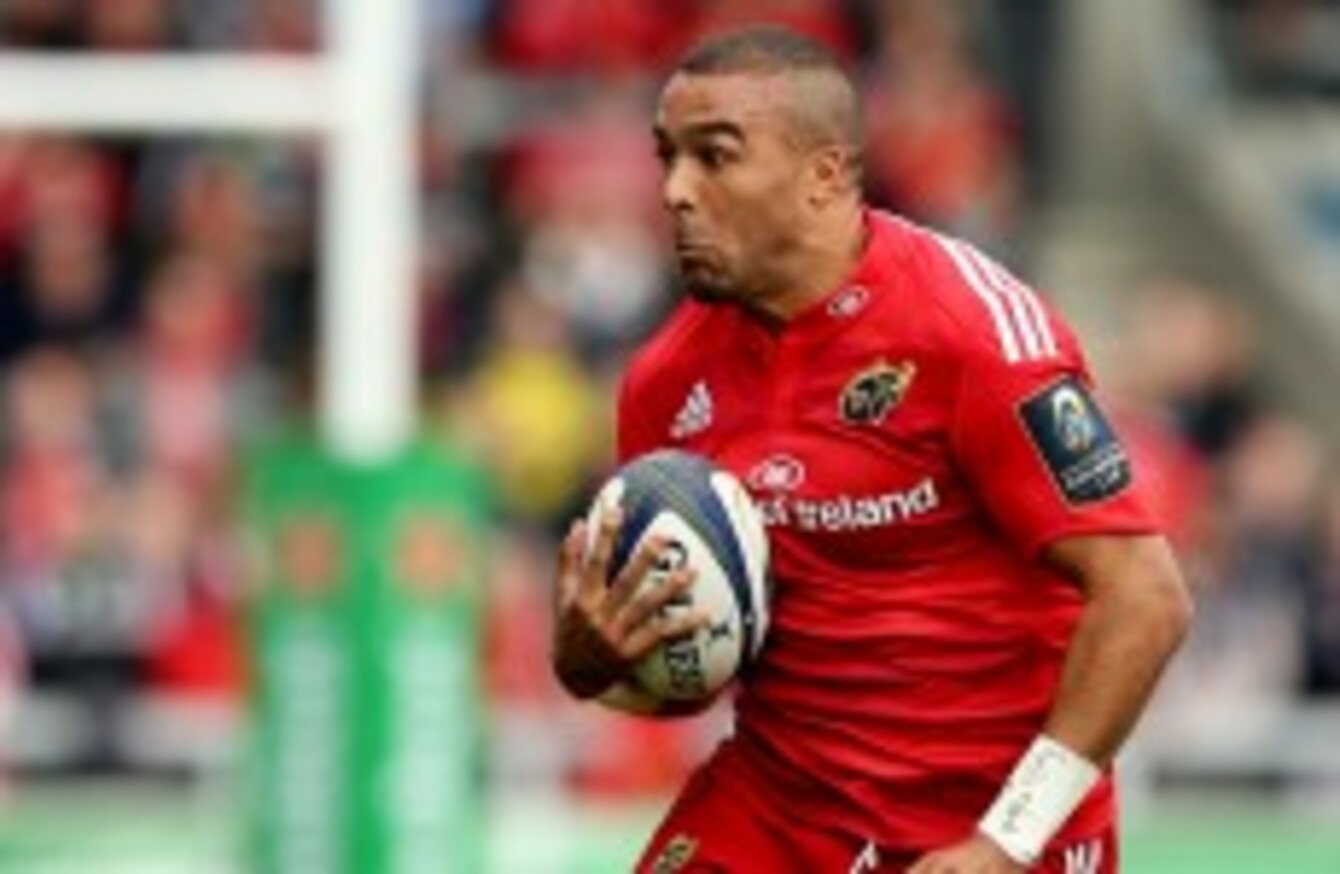 Zebo was lively on the left wing for Munster against Sale.
Image: James Crombie/INPHO
Zebo was lively on the left wing for Munster against Sale.
Image: James Crombie/INPHO
CHRIS ASHTON IS a man rugby supporters love to hate, but Simon Zebo doesn't see what all the fuss is about.
The pair of wings are set to go head-to-head on Friday evening at Thomond Park as Munster host Saracens in Pool 1 of the Champions Cup, with both players in strong attacking form.
Ashton dotted down twice in Sarries 30-23 victory over Clermont last weekend, while Zebo has scored four times in the Pro12 this season. Two excellent finishers, and two men who attract a whole lot of attention.
The Englishman is a much-maligned figure, whose 'Ash splash' celebration can drive opposition fans to fury. Ashton is a notorious character in the stands, but Zebo – a divisive player himself – simply sees a man enjoying his rugby.
"We've had one or two chats after games, but nothing too serious," says Zebo of his dealings with Ashton. "He just seems like a nice guy."
I've talked to James Downey [who played at Northampton with Ashton and at Munster with Zebo] quite a bit; James would have been very friendly with him and couldn't have talked higher of him.
"I'm sure he's a gentleman, but I suppose he has this unfair perception of him that people don't like him.
"Considering he's just enjoying playing rugby, enjoying what he does. I like to see people play rugby with a smile on their face, because that's why they started to play the game. Why should they change? We'll just hope to keep the smile off his face this weekend!"
Zebo is as ready with his own wide smile off the pitch at the Castletroy Park Hotel in Limerick as he is on it. The Cork man is an energetic, positive presence, whereas Ashton can be more confrontational and abrasive in the heat of game day.
If that works for him, then so be it, says Zebo.
"He's probably at the level where he's at because he's a competitive individual. He's a quality player and whatever gets him going, it's totally individual for every player."
On the other Saracens wing is likely to be David Strettle, who also scored a brace against Clermont at Allianz Park. Zebo agrees Ashton and Strettle present quite the formidable finishing duo, but points to Munster's 15-9 win over Sarries in Limerick in 2012 as a blueprint for Friday.
They're very impressive. Two great players and we'll have our work cut out to nullify their attack and them getting the ball. But we've played [Saracens] before and kept them quiet in Thomond Park, so I'll need to go out and do the same thing."
While Zebo may have to deal with Ashton and Strettle's finishing prowess this weekend, he is equally as concerned about his own involvements in Munster's attack.
The 24-year-old has been notably active off the ball this season, working hard to present himself in midfield for short passes inside and outside the playmakers in those central areas.
Indeed, this aspect of play is something that Ashton has excelled at in the past when at his peak heights of form. No winger worth his salt stands by on the wing awaiting the service, and Zebo is no different.
"Anthony [Foley] wants me on the ball as much as possible, which is great. I suppose I have a license to go look for it, and a license to run off players like Keats [Ian Keatley], Andrew Smith, Felix [Jones] and these guys, and try to get a few touches.
"It's just made so much easier when you've got guys like CJ and Peter O'Mahony giving you momentum and gainline to run onto. We need to bring that physicality this weekend and I'll hopefully get some nice touches as well."
Zebo and Munster are buzzing right now, buoyed by the manner of their victory in Sale. While they have dealt with their failings in the first half at the AJ Bell Stadium, the left wing points out that their confidence has been lifted by Keatley's late winner.
The belief in the squad would have gone up a good bit, to know we can grind out those types of game. From one to 15, I think we really showed belief and the inner quality we have to keep building phases, not panic, not try the Hail Mary move.
"We just believed in the ideas and believed in what we could do. The last couple of phases showed that and then Ian did the business."
Zebo will look to do the same on Friday night in Limerick.