MUNSTER AND IRELAND winger Simon Zebo says Joe Schmidt's high standards will only be a benefit heading into the World Cup, following the news that the Irish coach has signed a new contract until 2017.
Ireland have won back-to-back Six Nations championships since the New Zealander's arrival, and the former Leinster head coach has earned a reputation for making the tough decisions, as Zebo has learned during his tenure.
The winger has found himself in and out of the team throughout the course of the last two seasons, most recently being dropped for the final game of the 2015 Six Nations against Scotland.
Speaking at the launch of Munster's new adidas jerseys for the coming season, Zebo says that while he was disappointed to miss out after nine starts in a row, he says that Schmidt's high standards will only benefit Ireland in the long run.
"Yeah, it's brilliant. It's just a bit of solidity. You know you don't have to deal with changes and learning a new game plan and things like that.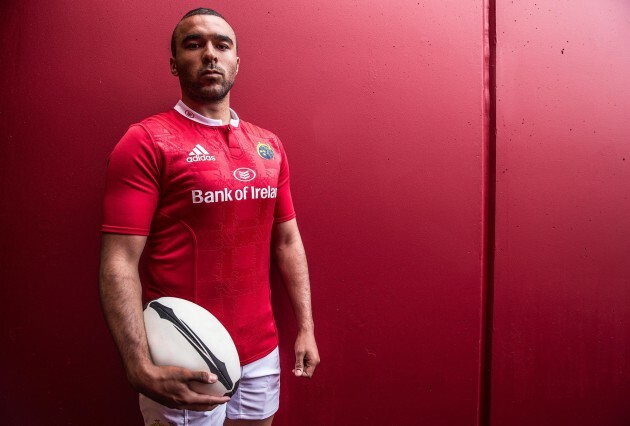 Dan Sheridan / INPHO Dan Sheridan / INPHO / INPHO
"Yeah, he is tough to please. He knows absolutely everything about every aspect of the game. You are never going to have the perfect game with Joe, which is great because you will always strive to improve under him and try and make yourself better, and improve from game to game or even training sessions. He is great to pick faults in players and show you areas to improve. It's great that he demands such high standards.
"He just knows the game inside out; whether you are a prop, winger, full back,
centre, he just knows the game. He is a student and a teacher of the game.
"As he said, I was showing a little bit of wear and tear. I can understand that. I wouldn't have been as sharp in the Wales game as I would have liked to be. I was probably a bit tired towards the end of the season which was disappointing but normal enough," Zebo said.
While the ultimate goal is a place in the starting 15, the first task is to nail down a place in the 31 man squad who will travel to the World Cup.
With so many form wingers available for selection, and so few places there to be filled, versatility is a word that has been used all summer among Irish fans, with very little room in the squad for one-position players.
Ryan Byrne / INPHO Zebo scored two tries from full back in the 65-10 thrashing of Sale in January. Ryan Byrne / INPHO / INPHO
Having experienced game-time at full back for both Munster and Ireland, Zebo says he's shown the coaches that he's capable of performing in more than one slot in the backline. More regularly a winger, Zebo says he doesn't feel out of position wearing 15 though.
In fact, he says he loves it.
"I think they know I can do a job at full back, I don't need to plead my case. I've played internationally at full back, I've played full back for Munster and I really enjoy playing there.
"I get more of the ball , it's a position I love playing – I played there in the Champions Cup against Sale and got man of the match, I love playing there, when I get my hands on the ball that's when I'm at my best.
"I think the coaching staff know the attributes and pros and cons of each player so it's just going to be about playing the best you can in the warm-up games and doing as best you can," he said.
There's a balance to be struck though between being a Jack of all trades and a master of none. The versatility is a factor, but the performances will decide things.
Schmidt's selections in the past 18 months have had a fair reflection on form, making the wings one of the most competitive slots on the pitch for Ireland in the four warm-up games next month.
"Just play the way I am capable of playing and do things on the pitch that I am able to do. It will just come down to form I think. There are four test games coming up to the World Cup. Whoever's form is best will go on the plane.
"Obviously there is going to be class international standard players who are not going to travel. That's just the way it is, that's sport," he reflects.
Injury is also a part of sport though, something Zebo has had a brief encounter with recently.
The winger caused a brief panic for Irish fans last week when he hobbled out of their open training session in Galway with a blow to the knee
There was a brief moment, he says, when he thought his World Cup dream was over there and then, but he was a relieved man to find out it was nothing more than a routine knock.
"It's all good. The scans showed up clear, just a little bit of damage, but nothing to keep me out for too long. It's fine.
"I took a few days' rest. I had to take a few meds and put up the leg, but I feel fresh now again. We were doing speed training and things like that and I was moving quite well," he said.
"It was my kneecap. It kinda (went) out and in. It was that feeling anyway. It was quite worrying for a few minutes."
Simon Zebo, Conor Murray and Peter O'Mahony yesterday launched the new adidas Munster Rugby 2015/16 home and alternative kits. The jersey is available to buy from the 25th July in Life Style Sports Stores nationwide and online at  www.lifestylesports.com/munster