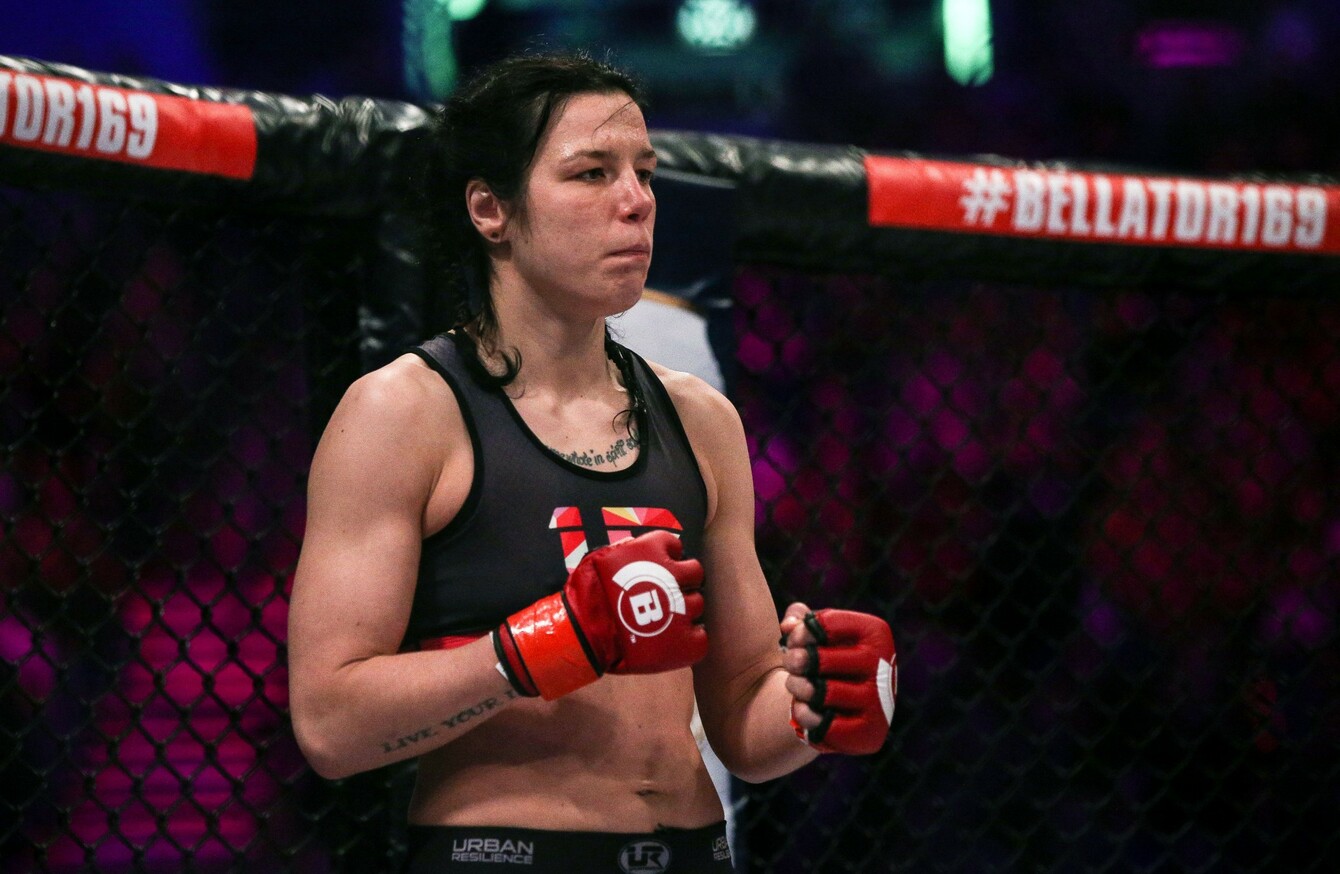 Sinead Kavanagh seconds before the start of her Bellator 169 outing last December.
Image: Gary Carr/INPHO
Sinead Kavanagh seconds before the start of her Bellator 169 outing last December.
Image: Gary Carr/INPHO
SHE'S ADOPTED THE nickname 'KO', and on most occasions, I'd call cliché on a move like that.
But Sinéad Kavanagh has more than earned her crust to hold such a title.
Coming from a boxing background, which heralded five national titles for the native of Inchicore, Kavanagh is utilising her skills as a punch specialist in MMA with devastating effect.
Just two of her four professional fights to date have managed to last the duration, with the other opponents falling helplessly to the power of her swing.
Her career in the professional ranks of MMA dates back to 2015 and, in just under two years, she has accumulated a (4-0) record.
Source: BAMMA/YouTube
This reporter attended her pro debut in 2015, where she dispatched Hatice Ozyurt inside the opening minute of their BAMMA 22 meeting.
The precision of the shots she landed were lethal and Ozyurt had no answers.
Next up was Zarah Fairn dos Santos at BAMMA 24, the first of her two three-round tests. Kavanagh told The42 last December that she had to "dig deep" for that victory in February 2016.
"It was three awesome rounds." she said. "I think I showed my skill there and that I have that determination."
From there, Kavanagh secured her third consecutive win against Polish fighter Katarzyna Sadura in front of a home crowd in September of last year.
The opening phases of the first round looked promising for Sadura. She withstood the impact of Kavanagh's early hits and countered with some leg kicks to maintain her challenge.
Source: BAMMA/YouTube
But before the 10-second warning had even arrived, Kavanagh was declared the victor. She worked her opponent up against the cage before devastating her with her strike power.
Kavanagh's most recent outing was at Bellator 169 — her second professional fight to go to the judges. A change of opponents put Kavanagh up against Elina Kallionidou who, at that point, boasted a (5-0) fight record.
Despite the 31-year-old's obvious dominance, the fight lasted the three rounds before Kavanagh was awarded the win.
Her superior power and precision was evident from the first few seconds and Kallionidou could only find refuge in some headlocks to break up the punishment.
In the second round, the Greek opponent looked to be gassed, and resorted to throwing aimless kicks while lying on the canvas.
The fact that this bout lasted the full duration was more of a reflection of Kallionidou's resilience and ignorance to pain than anything else.
That manifested in the latter stages of the third round, when she managed to wriggle free from an onslaught of ground-and-pound and get back to her feet despite the visible signs of exhaustion.
Landing a contract with the UFC remains a core focus for Kavanagh and following the untimely retirement of veteran Aisling Daly, there's an opportunity there for her to become Ireland's most recognisable female MMA fighter.
And Kavanagh believes that UFC opportunities could have come about earlier in her career, had it not been for an unfortunate incident during her days in the amateur ranks.
When she spoke to The42 last month, she lamented that the outcome of the 2015 International Mixed Martial Arts Federation (IMMAF) World Championships may have contributed to the delay in that UFC contract coming her way.
After getting through to the final, Kavanagh was denied the gold medal by Canadian Jamie Herrington, who failed a drugs test after the tournament. She informed Kavanagh of the drugs test on Facebook, but the Dubliner doesn't harbour any bitterness about it.
Source: International Mixed Martial Arts Federation/YouTube
"I told her it's water under the bridge and what's done is done. You can't reverse it. It is what it is. The only thing I feel disheartened about is, 'Could I be in the UFC right now? Could I have gotten sponsorship?' That's the only thing, it's the what ifs."
BAMMA and Bellator will collaborate again in Belfast tonight, where Kavanagh is due to face Iony Razafiarison (1-1, 1 NC) on the Bellator 173 portion of the bill in a 140-pound catchweight bout on the main card.
The French fighter has not fought since 2015, where she was defeated by Bryanna Fissori at Bellator 139.
The42 is on Instagram! Tap the button below on your phone to follow us!