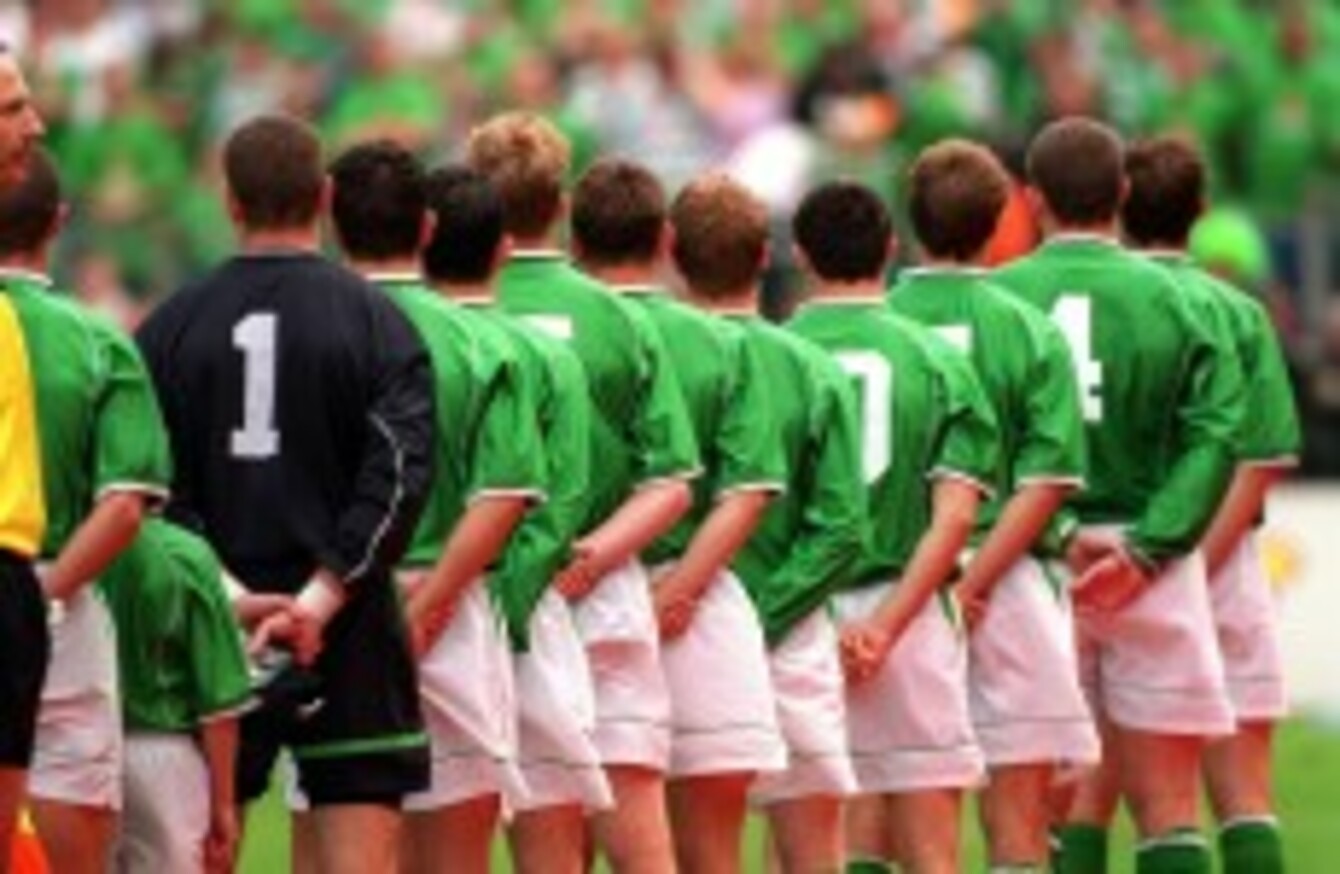 The Irish team during Amhrán na bhFiann.
Image: INPHO
The Irish team during Amhrán na bhFiann.
Image: INPHO
IN RECENT YEARS, the singing — or not singing — of the national anthem has led to major discussions over whether players are committed to playing for their countries.
For some, international soccer is a nationalist spectacle. For a couple of minutes before a Euro qualifier or World Cup match, attention is focused on that country, the players representing it, the flag and its fans. The anthem itself is meant to embody what it means to be a citizen of that country, its history and ideals.
But when did player's singing their anthem or exhibiting other mannerisms such as linking arms or placing hands on hearts come under so much scrutiny? Is it that important in modern football?
Just weeks before the 2010 World Cup, German players were criticised for a lack of national pride. The problem was that certain players on the ethnically diverse team were not singing the national anthem at friendly matches leading up to the competition. Among these were some of their most talented players, including Jerome Boateng (whose father is from Ghana), Sami Khedira (whose father is Tunisian) and Mezut Ozil (a third-generation Turkish-German).
The German fans and media began questioning their patriotism and were worried it could affect performance on the field. The German Football Association, along with the players themselves, were forced to come out and convince the public that they were very patriotic, regardless of whether they sing the anthem. But this debate continued, even up until the 2014 World Cup. Some fans and members of the media argued that all players should sing the national anthem, even if they had multicultural backgrounds, because it would show they were united. Interestingly enough, Roy Hodgson also called on all of his players to sing "God Save the Queen".
Similar arguments have been put forward in France. Some members of the French media linked France's poor performance in Euro 1996 with the fact that some players did not sing the anthem. As recently as 2013, the French National Front called on Karim Benzema to be excluded from the French squad because the striker refused to sign their national anthem, La Marseillaise. Benzema, who is of Algerian descent, said that he would never sing the anthem and was following in the footsteps of Zinedine Zidane, who also refused to sign the anthem. Although, people didn't seem as bothered about Zidane singing when France won the World Cup in 1998 and Euro 2000.
Some countries have gone as far as suspending players for not singing the anthem. Adem Ljajic was been suspended from the Serbian national team for failing to sing the anthem before a friendly with Spain. Ljajic is a Muslim, with the vast amount of the rest of the squad being Christian Orthodox, and refused to sing for "personal reasons".
Be part
of the team
Access exclusive podcasts, interviews and analysis with a monthly or annual membership.
Become a Member
Ireland is no different and the debate has raged here too. There are a number of English born players who don't sing our national anthem. Aiden McGeady and James McCarthy, both Scottish born, are the same. Even some of our Irish born players don't bother singing the anthem, as was evident in Sunday's friendly. One thing that angered many Irish fans was the image of David McGoldrick chewing gum during the anthem. At the same time, there seemed to be an equal number of English players close-lipped during 'God Save the Queen'.
Does it matter if they sing or not? For players, it seems to be a sort of minefield. No matter what you do — sing, don't sing or even kind of sing — someone is going to be unhappy with you.
There have been many discussions in recent years over the importance of national identity in an era of globalization, and we can now see it's impact on the sporting world. There is now scrutiny on what it means to be Irish in society and sport. So, it was no surprise that the Jack Grealish sage sparked a lot of debate over English players declaring for Ireland.
Should a player like Steven Reid, who was born in England but considers himself Irish, be thought of as any less Irish? Growing up as a child his mother, born in Ballinasloe, had always told him they were Irish. When Ireland lined out against England last Sunday, he knew who he was supporting and it wasn't the country of his birth.
Perhaps, it would be easier if the players didn't sing the national anthem at all. If it was just left up to the fans? San Marino and Spain are the only countries that don't seem to have this problem, and that's because their anthems don't have lyrics.
Do you think it's important for our players to sing the national anthem?

Poll Results:
Yes, they should make an effort (2580)
No, it doesn't matter (761)