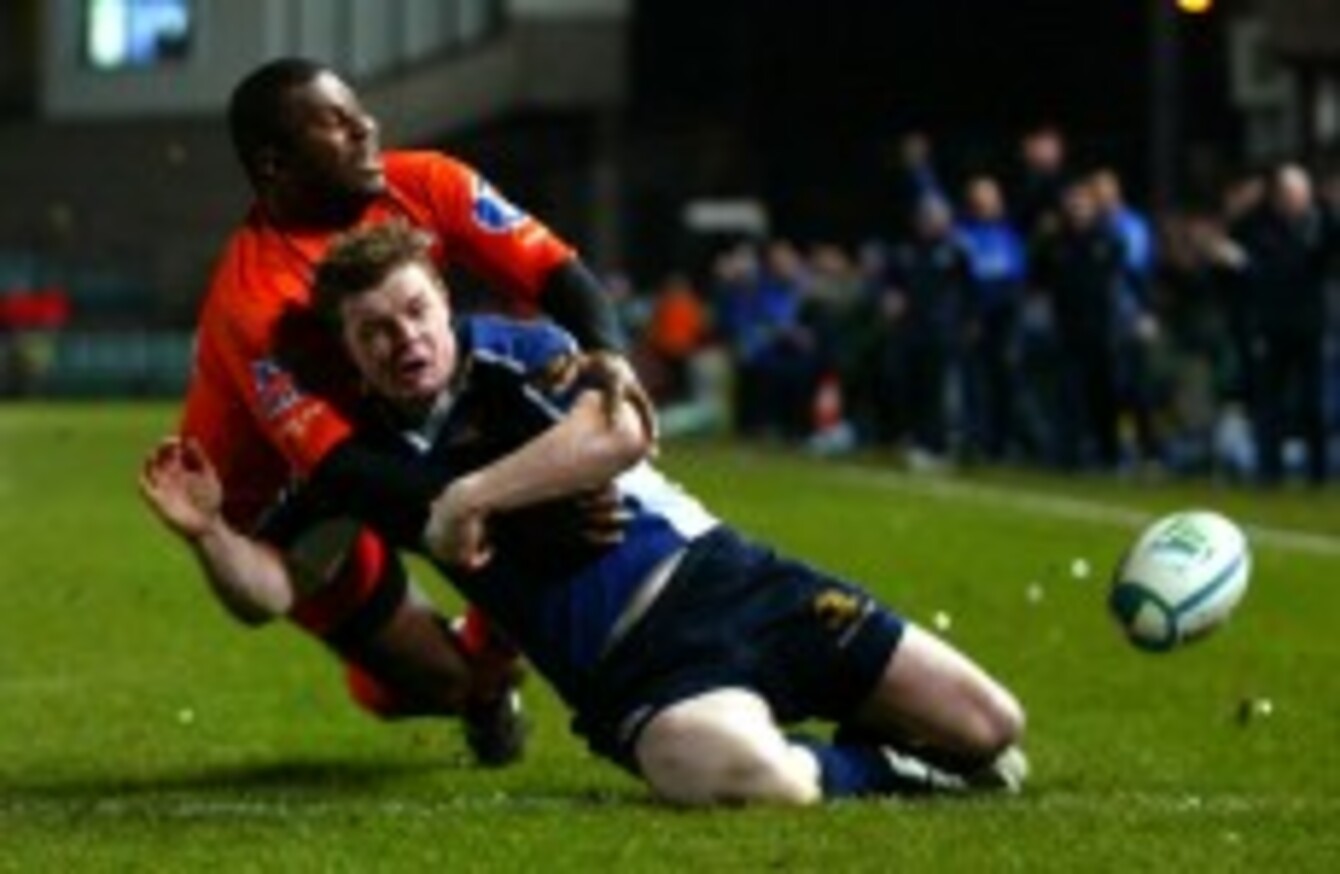 Rupeni Caucaunibuca knocks the ball loose from Brian O'Driscoll to prevent a try.
Image: Dan Sheridan/INPHO
Rupeni Caucaunibuca knocks the ball loose from Brian O'Driscoll to prevent a try.
Image: Dan Sheridan/INPHO
TRY-SAVING TACKLES are rightfully lauded as moments of exceptional skill and determination, rescuing situations where five points for the attacking team appear to be a certainty.
However, there are occasions on which the final defender may feel that he or she has little hope of successfully completing a desperate tackle. What else can be done to prevent the try being scored?
Rugby can often be about adapting, both in a long-term sense and instantaneously during games. We got a fine example of the latter during the Highlanders' defeat to the Sharks last weekend.
Ben Smith is a firm favourite here at TheScore.ie and he produced yet another intelligent play to deny Tondi Chavhanga a try in the left-hand corner late in the second Super Rugby play-off.
Smith, never one to shirk his hits, recognises that he is not in a strong position from which to tackle the Sharks' wing, having initially rushed up off the line in an attempt to shut down the wide passing option.
His reaction is instinctive and accurate, batting the ball out of Chavhanga's loose grip. While the Sharks' man was rightfully disappointed by his poor ball protection, Smith deserves credit for his clever moment of skill.
Aware that a fend was all but certain, the New Zealand international reacted by stretching out to remove the pill from Chavhanga's possession. Obviously this is not a skill he will hope to become reliant on in these situations, but on this occasion it was ideal.
In the other Super Rugby play-off last weekend, we saw another player attempt a similar act close to the try line, but this time it was unsuccessful.
The Chiefs' Bundee Aki, who will join Connacht later this year, came close to knocking the ball loose from the grasp of Brumbies' wing Robbie Coleman as the latter raced clear to dot down.
Aki, who was beaten on the outside by Jesse Mogg earlier in this passage of play, does superbly to get back within reaching distance of Coleman as the Australian heads for the tryline.
The 24-year-old Kiwi clenches his right fist and goes for an underhand punch onto the bottom of the ball. While Coleman's ball protection is far better than Chavhanga's in the first example, there is good contact made by Aki.
Unfortunately, at exactly the same time as the Connacht-bound centre's fist strikes the pill, teammate James Lowe gets his right hand on the very top of the ball, unintentionally giving Coleman an extra hint of security.
It's impossible to know if Aki would have done enough to loosen the ball from Coleman's grip without Lowe's involvement, but it remains an interesting moment from the Chiefs centre.
There is no intention here of suggesting that a last-ditch tackle is not usually the most suitable option for rescuing defensive teams close to their own tryline, but these attempts to knock the ball loose could prevent five points being conceded on other occasions.
Source: docathail/YouTube
One of the most memorable instances of this skill was that in the video above, as Fijian cult hero Rupeni Caucaunibuca 'rejected' Brian O'Driscoll's seemingly certain try in the corner at Lansdowne Road.
The Leinster centre did famously manage to score a hat-trick of tries against Agen in the same game despite vomiting on the pitch during play, but Caucau's wily intervention prevented O'Driscoll from getting a fourth.