"IT'S MAGICAL, IT'S crazy."
They're just two of the words that spring to mind when Slaughtneil's Louise Dougan is asked about the past few months.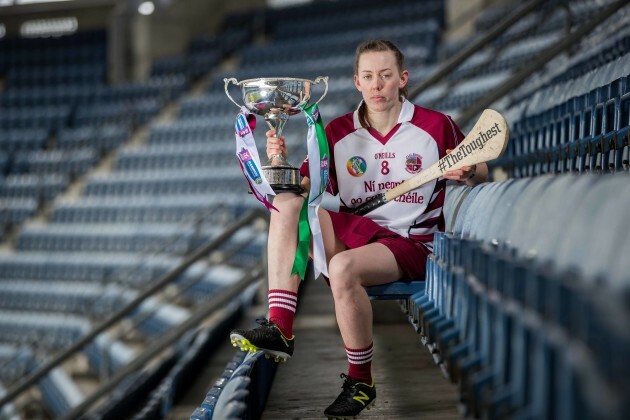 Morgan Treacy / INPHO Louise Dougan. Morgan Treacy / INPHO / INPHO
The small Derry club have been the talk of the country recently. 2016 was something else. They completed an historic Ulster treble, winning provincial senior titles in football, hurling and camogie.
The mens' footballers proceeded to book their St Patrick's Day All-Ireland final date in Croke Park, but the hurlers fell just short at the last step.
With serious attention and hype around the male dual players, their female camogie counterparts must not be forgotten.
They've had an incredible year of their own, breaking serious boundaries to reach their maiden All-Ireland senior final.
At our time of conversation, the All-Ireland treble dream was still alive. We now know it's no longer feasible, but a double would still be an incredible feat especially for a small rural club like Slaughtneil.
"It's all very surreal most of the time, but you do acknowledge it," Dougan tells The42. "Whenever you're up about the pitch, there's always people there.
"They're never stopping even though they're winning at times, they're still practicing and improving more and more. They're not letting it get to them either you know. The club focus on one match at a time, we just take it in stages.
I don't even know what to say. The years that it was never noticed before all of these victories, it was then that all this hard work was done and it's just starting to pay off for the likes of us now."
Like every GAA club, the sense of community within is remarkable. But some may say it's particularly special in Slaughtneil.
The same community has been wounded by loss over the past few months, but bonded through sport.
Thomas Cassidy was always one of the central figures of the club, raising a generation of hurlers and camógs unbeknownst to him. He was always around the pitch, helping out in whatever way he could outside of his involvement with the camogie management team. He carved his three daughters — Aoife, Bronagh and Eilís — into the players, and people, they are today.
After a battle with illness, Cassidy passed away just days before his daughters and their side triumphed in last October's Ulster final.
With every success, they're dedicating each one to a man each of the girls hold in their hearts.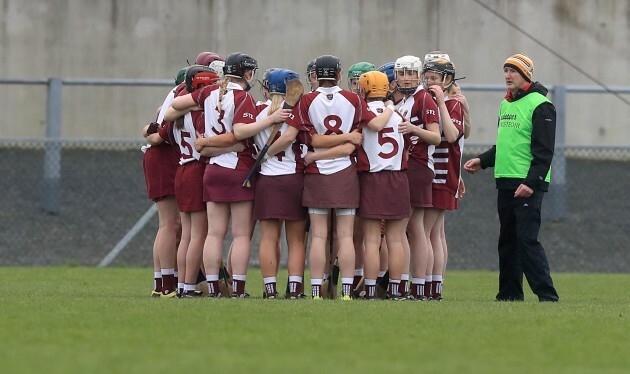 Donall Farmer / INPHO ' Friends is family and family's friends.' Donall Farmer / INPHO / INPHO
"I think that's why this year is so special," Dougan continues. "Thomas is always going to be a main man regardless. Especially with this bunch that he's been training with Dominic [ McKinley] and Cob [Damian McEldowney]. He was always there so nobody's ever going to take that away.
We had our ups and downs but it's the likes of these here [getting to the final], the ups — they're all special and you always know that reason why. Hopefully, he'll be looking down on us and will get us over the line."
That Ulster final is one the side look back on with great fondness.
Having been there or thereabouts on the provincial stage over the past few years, this year's win is one that stands out, although it's their third senior title since 2012.
It took a last minute goal to separate the sides, and catapult Slaughtneil into the All-Ireland stages of the competition.
"It's still quite surreal, until you watch it back you don't quite believe it, or how it happened. But then again you always have your beliefs that there is someone looking over you. There's that one person that's always going to be there."
From there, their next assignment came in the form of Tipperary kingpins Burgess-Duharra. Burgess had beaten an Inniscarra team that had accounted for All-Ireland champions Milford in the Munster final, so they entered the clash as hot-favourites.
Slaughtneil had a different idea though. They raced into the lead and never looked like letting it slip.
"I just think, the start that we got, it gave the impression that we weren't ever going to let it go. The hunger was always there. Normally it would have taken us a wee while to show that, to get that step ahead.
"Normally we'd trail and that, but we got that head start and it just went on from there. We never took the foot off the pedal."
That day saw Dougan, usually a half-forward or midfielder, slip into a more defensive role, which paid great dividends.
Facing a youthful Sarsfields side in today's final, it's a tactic that may have to be executed again.
"If the managers have something set out, they'll tell us and we believe, and trust in them 100%, so if they think it will work again then definitely, I've no qualms about playing it."
Everything is for the good of the team.
With two sets of sisters involved – the Cassidys and the McMullens — and numerous other cousins and family ties to the fore of the team, Dougan has several relations involved with the club but doesn't line out alongside any immediate family.
That being said, it's all one big family, whether they're related or not.
"The club is that tight-knitted family, there's sisters and brothers, and they all know each other. You're running into each other everywhere you go. Friends is family and family's friends.
You'd do anything for them, and you know that they'd do the same. It's just special"
Camogie is huge in Slaughtneil. The club don't field a ladies football side, but rather focus on the stick and ball.
Dougan, like many of the other girls, played football with a neighbouring club when she was younger but when it came down to it, she knew which code her heart was set on.
"I grew up with a hurley in my hand. I live two minutes from the pitch, you wouldn't want it any other way.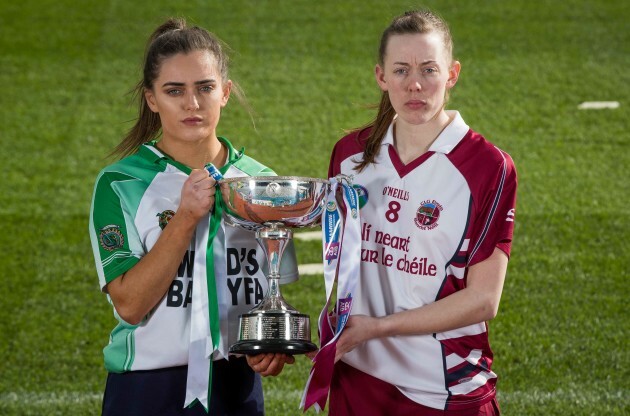 Morgan Treacy / INPHO Dougan with Sarsfileds' Orlaith McGrath. Morgan Treacy / INPHO / INPHO
"As I started to get older and realise the hard work it was, I chose camogie and Slaughtneil. I don't know how the fellas do it, playing dual, it's serious commitment.
"If you had the passion for it you could do it too. I didn't have it for the both, it was just camogie."
From there, she's played bits and pieces at inter-county level, but admits that she prefers club mainly due to the passion and heart.
Talking to The42 at the media day ahead of the final, there was still nearly two week until the big day and Dougan was cool as could be as she sized out Croke Park, and of course her opponents.
"An older sister of mine, she was playing a wee half-time show in football years and years ago," she laughs. "Anytime there's any arguments or anything, it's all 'oh I played in Croke Park, and you never' so I'll be going out now and she has nothing on me, she has no upper-hand."
But she knows there's much more at stake than that.
With the two sides gunning for their first shot at senior All-Ireland club honours, it's destined to be a proper dogfight, a battle to the death.
It's often considered a cliché in sport, but this is one that's going to come down to who wants it more.
And there's no doubting how much Slaughtneil and Louise Dougan want to win.
"I mean there's not going to be any bad teams when you get to an All-Ireland final and it's going to go to the bitter end, I would say.
But the belief is definitely there, 100%. I'm confident in myself and all the players that we can. It's there for the taking but it's not going to be easy. But down to the hard work, I'd say, bitter end minutes, whoever's wanting it the most can definitely take it.
"There's no point in stopping now if it's doable I say. We'll go ahead and give it a rattle. All we can do is give it our best anyway, and see how it goes."
The42 is on Instagram! Tap the button below on your phone to follow us!