Slaughtneil defender Clare McGrath.
Image: Ryan Byrne/INPHO
Slaughtneil defender Clare McGrath.
Image: Ryan Byrne/INPHO
WHEN SLAUGHTNEIL SHARPSHOOTER Eilís Ní Chaiside split the posts for a two-point cushion at the end of last year's All-Ireland senior club camogie final, it was more or less over.
Some breathing room with a few seconds on the clock, a first All-Ireland success for the Derry side so close they could touch it.
Defender and current Ulster club Player of the Year Clare McGrath remembers the moment as clear as day.
"I remember Eilis Ni Chaiside's point at the end," she tells The42 12 months on.
"I think just at that stage, you thought, 'Right, this could be it' but you're still constantly thinking, 'There's still a few minutes. It's a two-point lead, a dodgy lead'.
"Croke Park felt massive at the end of the match. Usually, you're swamped by your family and friends and everyone from the local community and the club. At the end of the match, we were running over towards everybody else.
"I think it was just elation and being happy that we had come out on the right side of it.
"I still remember this photo of me fist pumping at the final whistle. It wasn't very ladylike! But ah no, it's great. I think that summed the whole thing up; relief, happiness, everything in one moment. It was great."
And here they are, back in the decider and preparing for a repeat clash against Galway kingpins Sarsfields.
"Excited," McGrath grins. "Take two of last year's final.
"We're ready for a massive challenge ahead. We know that Sarsfields will be out gunning for ourselves, but we just have to focus on ourselves and get our game right and get our heads right and hopefully we can come out the same side as last year.
"It's just trying not focus too much on the expectations of other people. As a team, as players, we would have high expectations of ourselves. We'll manage that and try to move on without falling to the pressure of everybody else around us."
It's been some rise to the top for the Oakleafers. McGrath herself first started playing senior camogie at the age of 17 and remembers the darker days.
Their first county senior title came just in 2012.
"I can remember my first championship match very clearly, as if it was yesterday," the 30-year-old recalls.
"We had a lot of years where we won absolutely nothing, but you still did the exact same things. You had the pride in your jersey, the pride for your community, your family and your friends and that's what we continue to do.
"The ethos or nothing has changed. There has been medals and accolades at the end of it, which makes all of those other years account. You appreciate the wins much more."
The club of Slaughtneil as a whole needs no introduction at this stage, particularly after establishing themselves as one of the most admired in the country with an historic three-timer at senior level in Ulster last year, and following suit again this year.
With both the footballers and the hurlers losing their respective All-Ireland semi-finals, all eyes are on the camógs today.
Each of the teams inspire one another, they drive each other on and that's something which adds to how special — and successful — the club is as a whole.
"It's great. You can see it especially with the children. It's lovely to see, they're so excited. Usually it would have been football and hurling that would have got the recognition (before the camogie team started winning titles).
"We've come through the ranks now. It's great to see females being acknowledged in our club as well. Not to say that we weren't treated equally, that's not the case. But we're all treated the exact same. There's no differences or inequalities which is brilliant.
"It's great, we're all busy. Kept going, packed lunch in the car and off to wherever! It's great, it's a good buzz."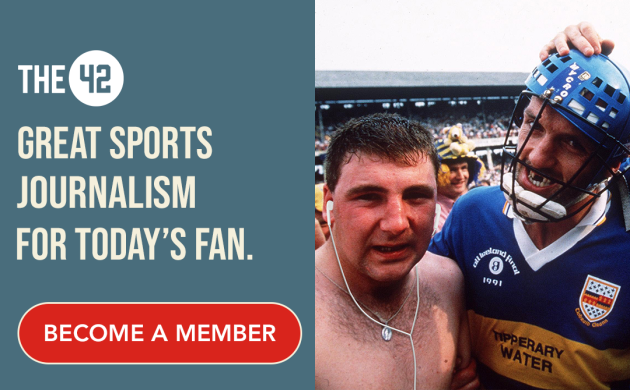 McGrath is a social worker herself and based in the Magherafelt area. It's pretty much 9-5, Monday to Friday but that's not always the case. There's no guarantee she'll be out the door at 5pm with some time to spare before training.
"We would have to work crises etc," she explains. "So I'm always looking at the watch going, 'I have training!'
"First thing in the morning, you wake up and think about camogie, what you're training, what you're eating that day, your hydration. It's always thinking about how you can make yourself better when you wake up that day.
"You're constantly thinking about camogie and how you can improve yourself."
And finally, the camogie team itself there's an unbreakable bond. McGrath speaks glowingly of her sister, Josephine, as she tries to find the words to explain how special it is.
With much of the same players who secured that historic All-Ireland victory over Sarsfields in Croke Park last March, they're gunning for more.
Retaining the title is a huge ask, but something that can be surely be done considering the tight-knit feel among the players.
"It's very special. But the girls, they're all your best friends. I see the girls more than I see my husband! Or see my other family members, or work colleagues, that says something!
"I've grown up with all of them. If there was something wrong, I know that you could pick up the phone to each and every one of them.
"It's lovely to see the younger girls coming through too. I would have taken the U14 Feile team along with Denise McGuigan who also plays on the team. All those girls are now on the panel, a couple of them are pushing for my place and other places!
"It's lovely, the competition. That's what you want, that's how we improve as players. It's great."