LARGE PARTS OF the second half of Sunday's Ulster club football final felt like a boxing match; Slaughtneil knew they weren't going to deliver a knockout punch but were always happy to keep Kilcoo at arm's length.
However Kilcoo had two great opportunities to find the net in the second half that would have completely upended the game and forced Slaughtneil to come out of their shell a bit more.
Kilcoo's sloppy start
Kilcoo made a sloppy start to the game. They fouled Chrissy McKaigue on their own 45 and there was some afters so the referee move the ball forward. This turned a very difficult shot (if Slaughtneil had even taken it on) into an easy chance.
Note where the referee points to when moving the ball forward.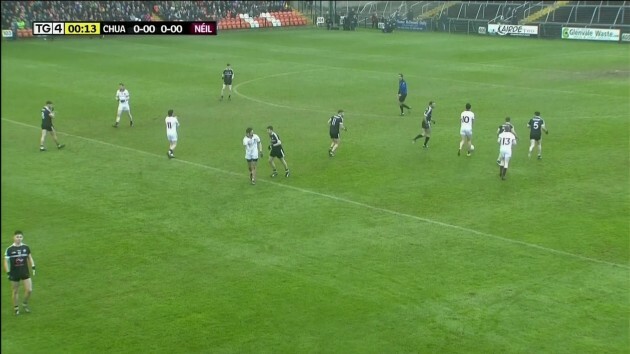 And then where the ball is kicked from. It might seem like very little but each one of these yards matter.
A free from this sort of range is almost a guaranteed point and Kilcoo put themselves in that situation with the afters.
From the resulting kickout, Kilcoo cough up possession from a double-solo and then the full back commits a foul with the Slaughtneil forward heading away from goal. The TV cameras didn't pick up the foul but the referee is in no doubt.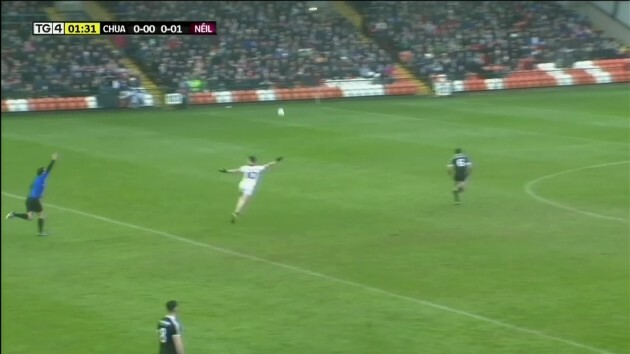 These are two soft opportunities to concede so early in the game and in both cases they look like entirely avoidable situations. In an Ulster final, it is often these fine margins that matter.
Slaughtneil facing the counter
Slaughtneil like to play high up the pitch. Yes, they drop off at times but they commit men forward and this occasionally left them vulnerable at the back.
From the very first kickout, we can see how committed they are.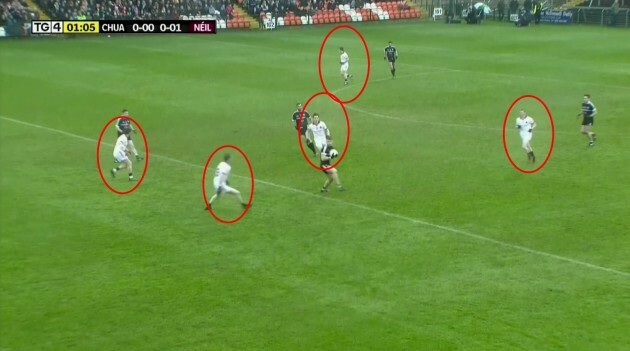 Not everyone is in shot here but you can see they are not happy to sit back and defend their 45. As the pressure comes on, Kilcoo are forced to pass it around the back without making much progress.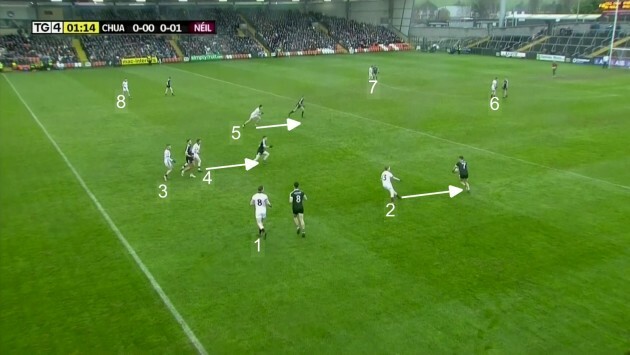 In total eight Slaughtneil players are putting the squeeze on and it makes Kilcoo's progress difficult.
Any sort of pressing like this depends on being able to get pressure on the man on the ball. Where Kilcoo did get joy was when they got the opportunity to get their head up and could kick over the Slaughtneil midfield and half-back line who also play high.
Midway through the first half, when Kilcoo got themselves back into the game, there were times when Slaughtneil couldn't get that pressure on the ball carrier.
This is a kickout from Kilcoo, and there are 10 Slaughtneil players in there (with two full-forwards out of shot to the right) — so 12 outfield players in the Kilcoo half.
Kilcoo get time to turn and play a ball into the forward line where they have a 2 v 2.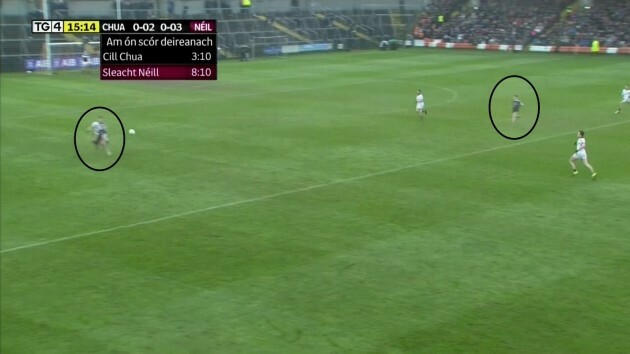 Although Slaughtneil have men getting back, they are running towards their own goal and it gave Ryan Johnston, who had a wonderful game, enough time and space to get the score.
At the start of the second half, there was another break from Kilcoo. The full back eventually picks the ball up and with no pressure on him, has time to look up.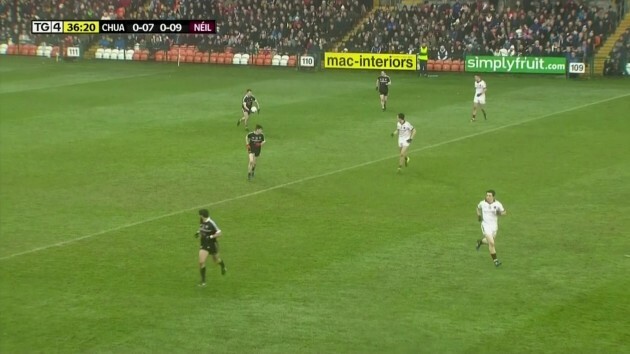 Just as the ball gets released from inside the Kilcoo half, there are eight players between the two 65s.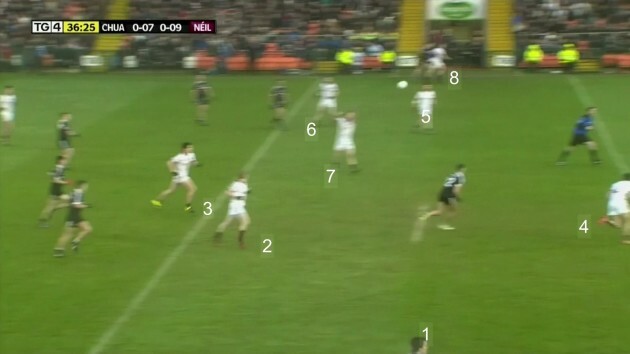 Too many of Slaughtneil's players are caught in no man's land. A team like Corofin, who like to bypass this midfield area, could really exploit this style of play.
Chrissy McKaigue's Influence
There is a little doubt that Chrissy McKaigue is a massive influence on Slaughtneil team. They never really set up with a sweeper but McKaigue is an ever-present in the defence and offers something going forward as well.
His decision-making, strength and pace are exemplary. Time and again, when a Slaughtneil defender looked to be in trouble, it was McKaigue who showed up and offered an easy option.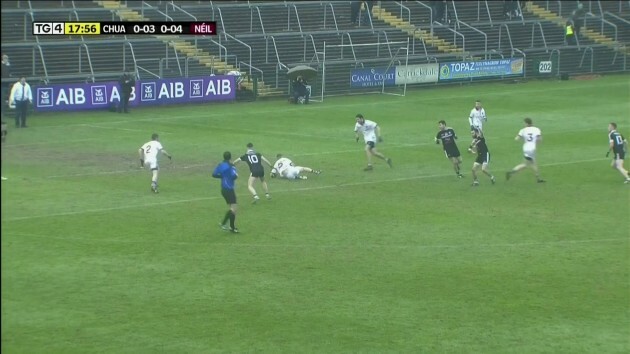 Here, Slaughtneil's number five has slipped on the 21 facing his own goal. McKaigue is first on the scene and receives the handpass.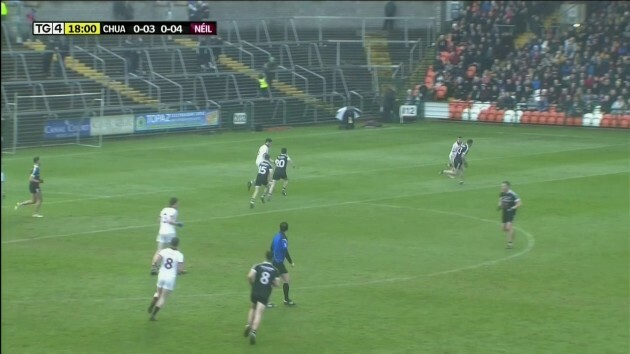 There is very little on for him with two Kilcoo men closing in fast. After attempting to use his pace on the outside, he is forced back towards his own goal.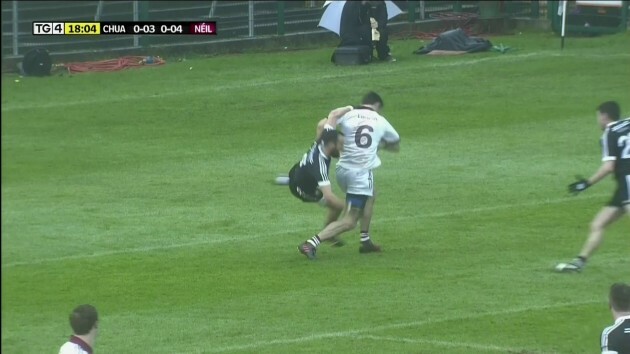 There is never a sense of panic with him and he just shrugs off Conor Laverty to win a free and ease the pressure.
Again, late in the second half Slaughtneil win a short kickout but are under a bit of pressure. McKaigue is first to react and takes responsibility for possession despite having his marker within touching distance.
Exclusive Six
Nations Analysis
Get Murray Kinsella's exclusive analysis of Ireland's Six Nations campaign this spring
Become a Member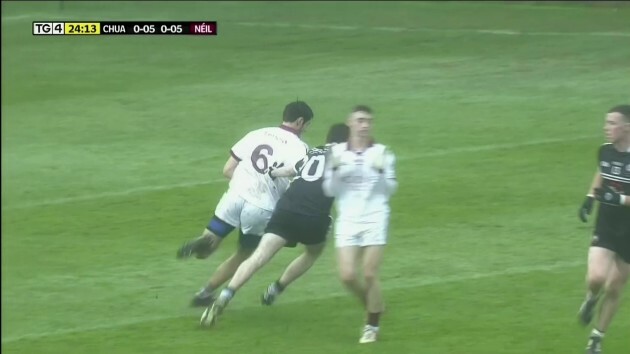 He takes the ball heading towards his own corner with very little on, but once again he refuses to panic.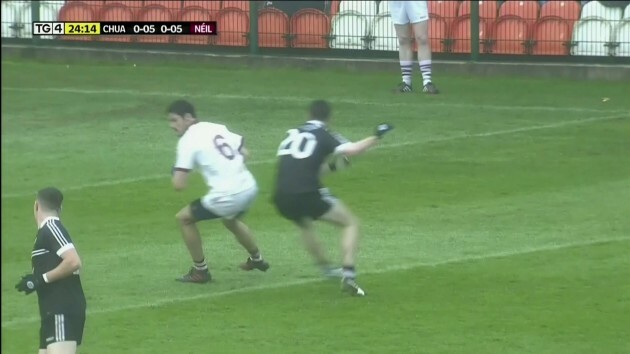 He does a lovely pirouette to lose his man and applies the afterburners to break out of defence. The footwork here is magnificent but the composure to not panic is a huge strength to the Slaughtneil team.
Moments later McKaigue lays a handpass off having relieved all pressure and marched his team to the 50.
His pace in attack and ability to get forward mean his marker is always being asked questions. Slaughtneil's key spell in this game was between the 25th minute and half-time where they tacked on four unanswered points; McKaigue was responsible for one of those scores.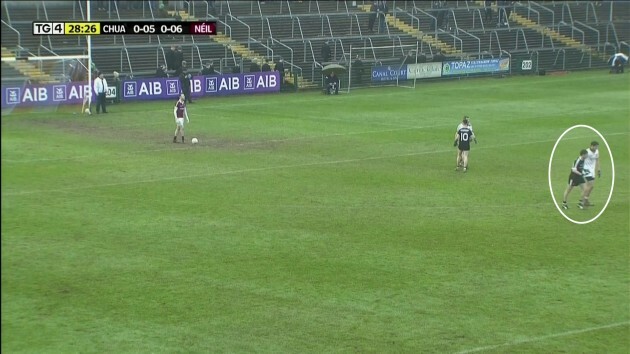 Here you can see him at the top of his own D for the kickout, with his marker in toe.
He is nearly out of shot here but you can just see him start his sprint. He seems fully aware of the opportunity that is on and the space that is ahead of him.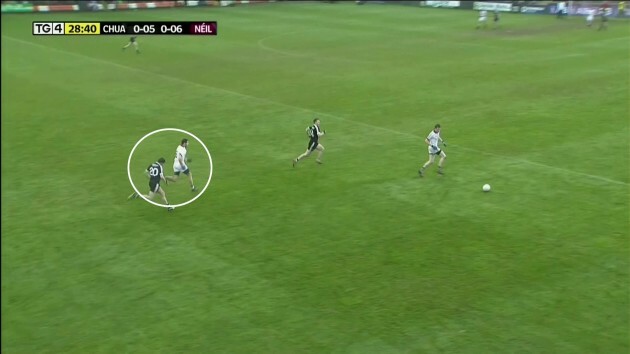 Just as the ball is about to be gathered he has stolen a couple of yards on his man. The two Slaughtneil full-forwards are so deep that there are acres of space to exploit.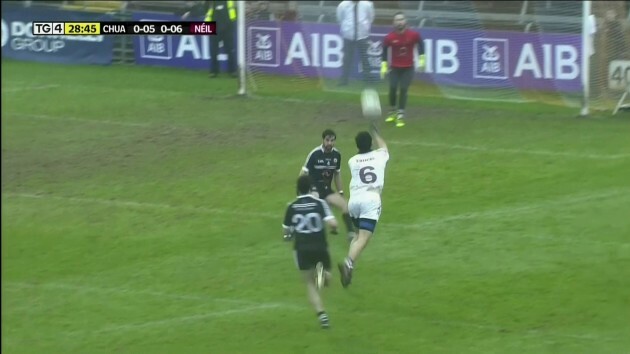 He takes the pass and calmly slots the ball over the bar with his fist. Stopping McKaigue's influence will not be easy but he is a vital cog in the Slaughtneil wheel.
Summary
Slaughtneil's ability to keep the ball in the second half wore Kilcoo down and at times, the Down side looked like they had run out of steam.
But it wasn't all rosy for Slaughtneil. They coughed up a couple of goal chances that would have severely changed the complexion of this game and they do look vulnerable on the counter.
Still, you always felt that they had enough to go and get the scores if needed. It was probably only a late sucker punch that would have caught them.
The42 is on Instagram! Tap the button below on your phone to follow us!