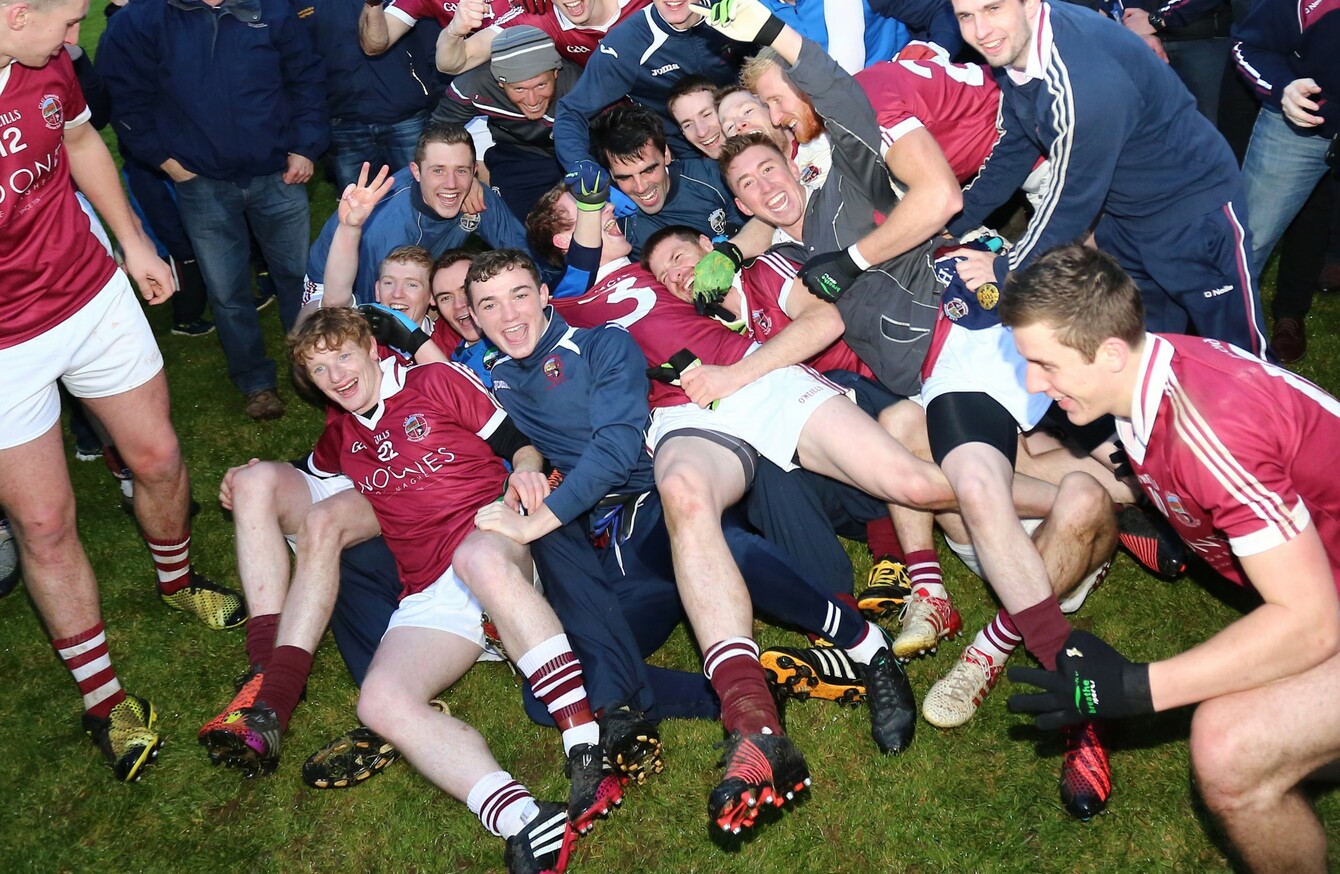 Slaughtneil's players celebrate their Derry final win against Loup last month.
Image: Presseye/Kevin Scott/INPHO
Slaughtneil's players celebrate their Derry final win against Loup last month.
Image: Presseye/Kevin Scott/INPHO
THE SLAUGHTNEIL SAGA continues to fly in the face of theories around the 'modern ailments' of GAA clubs — it's a story that many can take hope, and learn lessons, from.
Small, rural club — check.
Numerous dual players — check.
A veritable breeding ground for divisive club politics? Absolutely.
Potential pitfalls these may be, but the south Derry club has found a way to juggle all the variables and come out the other side without smashing anything on the floor.
If Slaughtneil's footballers follow the lead of their camogie and hurling counterparts and capture the Ulster senior club title today, their provincial hat-trick will write them into the GAA history books forever.
To put this in perspective, this is a club of no more than 300 families, a small parish in the shadow of the Sperrin mountains, that has "about nine or 10″ dual players across its hurling and football panels.
The stars are aligning over Robert Emmets GAC Slaughtneil, it seems. But this momentous year wouldn't be possible if the club wasn't working in harmony, monitoring the workloads of dual players and keeping lines of communication between the different codes open and healthy.
If they dare to dream of another few wins, two for the footballers and one for the hurlers, the GAA could be facing an unprecedented fixture headache on St Patrick's Day.
But before Slaughtneil get carried away with talk of creating that kind of logistical nightmare, they've got to overcome formidable opposition at Armagh's Athletic Grounds this afternoon in the shape of Kilcoo, a club that has won five Down football crowns in a row and is desperate to notch its first provincial success.
"Going for three senior provincial titles, it's hard to explain what that means," jovial club chairman Sean McGuigan explains.
"It would be a great achievement for the record books alone and for the work, especially by those dual players — they put in a serious amount of work.
They're up at the club four nights a week whenever we're playing in the championships.
"They're on a bit of a crest of a wave at the moment; they're going well."
Every which way you turn in the Slaughtneil tale, there is another twist to rouse further interest. This is a sporting journey that could be tailored to the masses.
Stories sprout from all angles as you try to piece together the secret to their success, if such a thing exists.
There's the judicious Mickey Moran at the helm of the footballers, a man whose brain has garnered success across the breadth of the country at club and inter-county level.
Or perhaps you'd prefer to weigh up the possibility that one of Slaughtneil's leading lights in both codes, Chrissy McKaigue, could still be plying his trade on the professional, oval arenas of the AFL had things worked out differently.
But the reality is, for all that's special about Slaughtneil, this is a GAA club like every other, one that has to deal with its own curve balls, often at the most inconsiderate moments.
For all the joy the success has brought, this is also a club in grief.
Just over a month ago, Thomas Cassidy, nurturer-in-chief of hurling and camogie in these parts, passed away after a long illness.
His death came just days before Slaughtneil's historic Ulster success against Loughiel, becoming the first Derry club to achieve the feat.
The fact that two of Cassidy's sons are on the hurling panel and three of his daughters are on the camogie team shows how closely knit the fabric is in Slaughtneil.
It is therefore befitting of Thomas Cassidy's legacy that his input is now being appreciated on a national scale.
The Cassidy name is immersed in Slaughtneil's record books. It was Thomas's uncle Denis who introduced the club to the small-ball code in the mid-1960s, just over 10 years after Slaughtneil GAC was founded.
Having seen an All-Ireland final in Dublin, Denis Cassidy took a hurl home to his friends and family. And after felling some ash trees they got to work on making their own hurls, without the aid of electricity.
The Cassidy name has been present in the club's hurling and camogie progress ever since.
"Thomas, Lord have mercy on him, he was the heart and soul of the hurling in the club to be honest," McGuigan adds.
"As chairman of this club I had no idea he had done that much.
"I was talking to his wife last week, and she was saying how he'd come in from his work and ask about what's going on before going out and training a hurling team, go to the bunscoil or something.
He took every one of those [senior] players from underage, from U6 right up to seniors, they went through his hands.
"It's people like that that keeps this club so strong. It's even emotional just talking about it. That's what makes the GAA so strong, people like that."
McGuigan is another man who lives and breathes GAA. He is six months retired as a civil engineer but showing no signs of slowing down.
He has barely caught his breath from refereeing a schools match as he details Slaughtneil's success in 2016.
The man who is affectionately known as 'Play it on Sean' for his free-flowing style as an official (it's also his Twitter handle) is wise to the issues that have the potential to unravel this winning habit.
Club politics can get nasty as teams battle for resources, training pitches and players. But not in Slaughtneil.
"We wouldn't allow that to happen here," McGuigan explains.
What are they
really like?
Rare insights on sport's biggest names from the writers who know them best. Listen to Behind the Lines podcast.
Become a Member
"We couldn't afford that to happen because of the [low] numbers we have, it just wouldn't work out.
"We regularly meet the two managers from the two codes.
"And OK, all managers are greedy surely to win. But there is a good understanding with those two fellas, (hurling manager) Michael McShane and Mickey Moran.
"They do think of player welfare and you must think of that. If you don't you'll be in trouble.
There's a great ethos in the club to compete in the two codes.
McGuigan radiates maroon and white. He, rather unconvinvingly, tries to imply that he sees Kilcoo as the favourites today. Toeing the party line is tricky when it means this much.
Kilcoo may have won five Down titles in a row but Slaughtneil have serious pedigree themselves (and are seen by the bookies as marginal favourites, for the record), having reached the All-Ireland final last March only to suffer a 10-point defeat at the hands of Galway giants Corofin in what was Moran's first season in charge.
Slaughtneil are looking to capture their second provincial crown in three years and they come into today's decider with quite a record, having not conceded a goal (and averaging just over eight points against them) in their six championship games to date.
'The Robbies' won their first county title in 2004 but that tally has now reached four after three successive triumphs and McGuigan credits Moran, who has managed more counties at senior level than anyone else, with a lot of that success.
"Mickey Moran came in and he saw something in them that could take them over the line," McGuigan recalls.
"He said at the interview [for the role] that he would try to win a championship within three years and in the first year it happened, and he got them to an All-Ireland final."
McGuigan admits their defensive record has been a key factor but he believes Moran's calming influence is having an incredible effect on the field.
"More important than that [not conceding goals], we're not getting yellow cards or red cards and that's down to our management because years ago we didn't get yellows, we got red cards. Our discipline was very poor that way.
"But this team, as regards discipline, if another team tries to intimidate them, they just don't go down that road."
Cool, calm and collected they may be these days but if Slaughtneil get over the line this afternoon, just before 4pm, composure will be the last thing on the minds of club members. And rightly so.
The42 is on Instagram! Tap the button below on your phone to follow us!