TWO OF HURLING'S top names believe that "sledging" between opponents is Gaelic football's dirty little secret.
Both the legendary Henry Shefflin and Cork's Patrick Horgan said that they have never experienced any malicious trash talk while on the field.
Football's darker side came under the spotlight again following Donegal and Tyrone's Ulster championship clash, with Sean Cavanagh opening up on his experience of personal abuse.
There have been calls for referees to take action to stamp out the nastiness but Allstars Shefflin and Horgan feel that there is no such problem in hurling.
"I've never seen it on a hurling field in all my years," Shefflin said.
"I've never experienced it – a lad misses a free and he says something like, 'You missed a free,' but that's basically it.
"From talking to different players, hurling-wise, and from your own experience, it seems to be something that's crept into the game of football.
You would hope that it just doesn't creep into the game of hurling. And I don't imagine it will.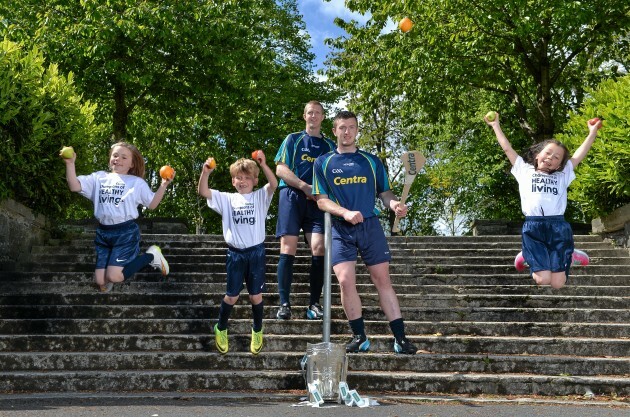 Brendan Moran / SPORTSFILE Horgan and Shefflin were speaking at Centra's 'Champions of Healthy Living' hurling launch. To find out more details, log on to www.centra.ie. Brendan Moran / SPORTSFILE / SPORTSFILE
The speed of hurling makes it harder for players to get in each others' faces and spark a bout of verbals, he suggested.
"A big thing for me, with the football – because there's runners going left, right and centre, they're banging each other and blocking a run, and next thing the lads fall on the ground, they get up, and they say something to each other.
With hurling we don't have that because the ball is gone 50 or 60 yards and that's it, the play is over that side. So I'd imagine that's probably helping the game of hurling, that there's not that same level of physical contact.
Exclusive Six
Nations Analysis
Get Murray Kinsella's exclusive analysis of Ireland's Six Nations campaign this spring
Become a Member
Speaking to the media on Monday, Cavanagh said that some players would go so far as to research an opponent's family history and then use it to taunt them.
"I couldn't believe it," Shefflin said.
"There was a rumour of that last year that I'd heard at one or two of the football matches. And anyone who said it to me, I said 'No, I don't believe you' and that was basically it.
"It's only when players are starting to come out now and actually say it, and I think you'll hear more of it creeping out now as well, different players saying it.
I just find it absolutely crazy. I think there's no place in the game for it, and I think that's been the general consensus from everyone.
"I think if it's going on in certain teams, management need to step up to the mark and say 'Look, lads, this is not going to happen on my shift.'"
Donegal manager Rory Gallagher complained that his captain Michael Murphy had been physically 'targeted' by Justin McMahon, who had been detailed to a man-marking role on the forward.
Horgan criticised the nasty edge to the game in Ballybofey, and agreed with Shefflin that hurling's speed is partly its saviour.
Michael Murphy, a man hanging off him, I don't know how someone wants to go around doing that as a job.
"It just bugs me like so. I don't know. I have no time for it anyway.
"It's probably harder in hurling because the ball can travel so far so quick, whereas when you're building in football, fellas they could be trotting around for a while, running off the ball for ages, so I'd say it happens more in football, yeah
"When it happens it's not nice. To even see it on Sunday wasn't nice."