RUNNING FROM WAR, dodging bullets and defying Al-Qaeda linked Islamist insurgents who ordered them stop: Somalia's determined Olympic hopefuls have overcome challenges few other athletes could even imagine.
"Somalia has had no real government for the last 20 years, but determination, good fortune and hope will take us close to victory," said 18-year-old female athlete Zamzam Mohamud Farah.
The training facilities are pock-marked with bullet holes from years of brutal conflict, but as the four athletes — two men and two women — stride out in training, they offer a glimmer of hope for the war-ravaged nation.
Multiple governments have failed to create stability in the Horn of Africa nation, wracked by over two decades of civil war, let alone form a competitive sports team.
Yet coach Ahmed Ali Abikar, who himself ran for his country, believes the team could prove a point to the world about Somalia, which so often appears on international news only for war, famine, drought or piracy.
"We are motivated, our team spirit will see us through," said Abikar, as the athletes stocked up on energy with piles of sugar-laden traditional Somali pancakes. "We can show everyone that sport is still alive in Somalia."
Somalia, like all nations, has two guaranteed slots in athletics, one man and one woman. For the anarchic nation, just having their two athletes fly Somalia's flag in London will be an achievement — but Abikar has higher hopes.
"I'm confident that those we choose to go to London to represent the country in the Olympic Games will come home — we hope — with very good results," Abikar said.
"They lived in conflict the whole of their lives and that could impact their performance, but their talent is fantastic," he added, watching as the athletes exercised in T-shirts with the Olympic rings neatly hand painted on.
Facilities are a far cry from the first class treatment that characterizes life for star competitors from other nations. Years of war left training facilities in ruins.
"We are suffering from hardships, constant war, lack of finance and hampered by poor facilities," said Abikar in the team's base, a former primary school abandoned during fighting between rival militia forces in the capital Mogadishu.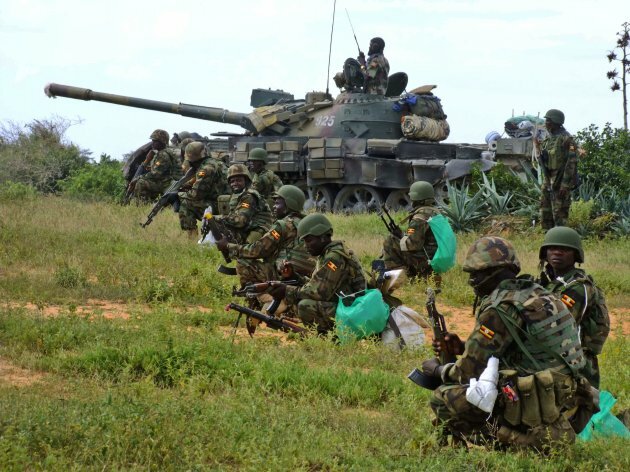 African Union peacekeepers take up positions, 30km north of Mogadishu last month. Farah Abdi Warsamneh/AP/Press Association Images
"We have no personal doctors and in case the athletes get sick, they have to seek general treatment in Mogadishu," he added.
The athletes, aged between 18 and 20, have spent the last six months in camp, but life has been far from easy. The two female athletes were often forced to exercise indoors after threats by extremist Shebab insurgents.
"The Shebab kept threatening me, they wanted to stop me from reaching my dreams," said Farah. "It was hard since that meant we were forced to have our training indoors."
The Shebab fighters abandoned fixed positions in Mogadishu last year, driven out after a long offensive by African Union troops, as well as soldiers loyal to the Western-backed transitional government.
But the hardline rebels — who have imposed draconian penalties on activities deemed "Western", including football — have since launched several guerilla style bomb and grenade attacks in the capital, and people remain fearful of them.
In April, a suicide bomber killed the Somali Olympic Committee president Aden Yabarow Wiish in an attack during a ceremony at the national theatre.
"People are not always happy about our sports dress — we were insulted for it but we never gave up," said Amal Bashir, another of the two female athletes.
The two train wearing tracksuit trousers, short-sleeved T-shirts and a headscarf, in a country where women normally wear voluminous dresses that cover them from wrist to toe and billowing veils.
Exclusive Six
Nations Analysis
Get Murray Kinsella's exclusive analysis of Ireland's Six Nations campaign this spring
Become a Member
"Our goal is bigger than whatever challenges that come our way," Bashir added.
Yet things are improving in Somalia: years after leaving due to rising violence, 19-year old Mohamed Hassan Mohamed returned to compete for the country of his birth.
The father of one fled to Yemen in 2009 to escape incessant waves of violence.
Happy
"Somalia is safer now and we can focus more on training rather than dodging stray bullets", said Mohamed, who runs the 1500 metres, coming fourth in the 2011 Pan Arab Games in Qatar. "I'm very happy and more confident than ever."
Mohamed says he hopes to put up a performance in London to match that of Abdi Bile Abdi, Somalia's legendary runner who became the 1,500 metre world champion in 1987.
"I want to remind my people and the world of the great Somali and world champion Abdi Bile Abdi," Mohamed said.
The athletes will face a tough challenge when they travel to London, but Somali Athletics Federation deputy chief Kadijo Adan Dahir said she was confident that having come so far, they can overcome the hurdles ahead.
"The security situation has hampered our efforts, and the resources we have had to prepare the athletes was unspeakable," Dahir said. "But I can assure you that these athletes are strong in spirit," she added.