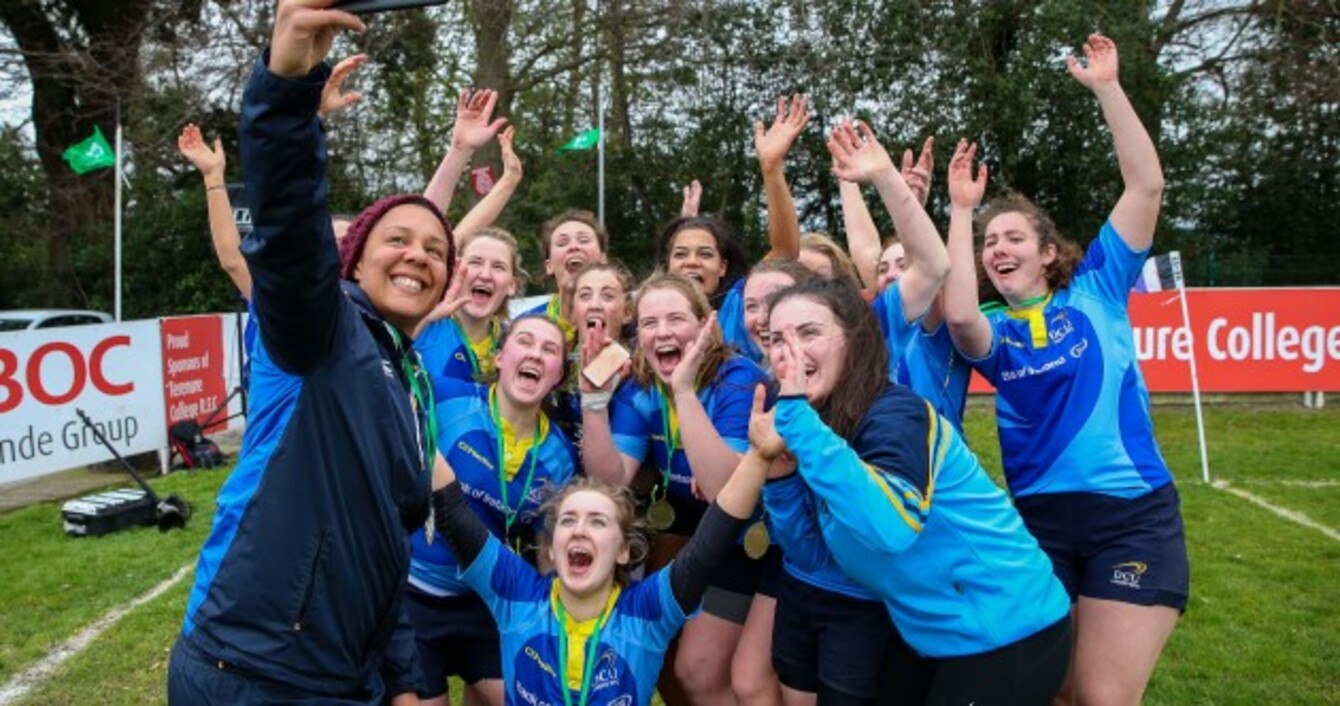 Spence takes a selfie with her DCU team at a recent 7s tournament.
Image: INPHO/Gary Carr
Spence takes a selfie with her DCU team at a recent 7s tournament.
Image: INPHO/Gary Carr
SOPHIE SPENCE LOOKS back and laughs about it now; given how far she's come, and the way things have worked out, it's understandable she has a smile on her face.
"I had never watched a game of rugby before, I was literally told by the coach to run forward and pass backwards. That's how naive I was. I was pretty clueless," she recalls.
At the age of 21, Spence, a talented netball player, had been persuaded to try rugby by a friend at university in Newcastle. Modest beginnings, but it would prove to be the start of the most remarkable, whirlwind journey which has taken her from the Tyneside coastal town of South Shields to the forefront of women's sport in Ireland.
"It's a bit mad really," the Ireland international admits. "Rugby was never something I had even watched so I never saw this coming whatsoever.
"To feel and see the impact you have on people is amazing. It's so lovely for people to stop you and say they enjoy watching our matches and that we're great ambassadors for the country and for women's sport. That drives you on."
Since making her international debut in 2012, Spence's game has progressed at a rapid rate of knots and the powerful, hard-carrying and talismanic second row is now one of the key cogs in the Irish wheel.
She will be a central figure for Ireland in this summer's Rugby World Cup, a tournament being played in Dublin and Belfast, and her form and fitness will be key to the hosts' chances of emulating their feat of reaching the semi-finals in 2014.
Spence is currently knee-deep in preparations ahead of a huge summer for women's rugby, and indeed sport, in Ireland and while she's fully aware of its significance, the idea of running out for a second World Cup on home soil would have been beyond fanciful nine years ago.
After getting a taste for rugby at university, Spence decided to stick with it and joined the Sharks, a women's club based in Darlington, where she would play for a couple of seasons, developing as a player and becoming more and more familiar with the intricacies of the game.
In 2011, one of her team-mates saw there was an Exiles training session taking place in London and suggested they make the journey down south.
"We went along," Spence explains. "We didn't think much of it, to be honest.
"Philip Doyle [the Ireland head coach at the time] took the session and afterwards he pulled me aside. He told me what I was doing right but also said I needed to work on a few areas.
"From that, I got myself a personal trainer and just worked hard. That trial was in August and in December I got the call back from Goose [Doyle] to say I was in the squad for a training camp in January."
Doyle was clearly impressed by what he saw that day and recognised the huge potential Spence had, even if she was still a little raw. Speaking since, the former head coach said such was her talent, he knew he needed to cap Spence, through her Irish mother, as quickly as possible before England came calling.
She may have been fast-tracked into the set-up, but Spence quickly made her mark with explosive ball carrying, tireless defensive work and an imposing physical presence in the Irish pack during the 2012 Six Nations.
"I didn't have a clue what the Six Nations was before," she admits. "I didn't come from a rugby family or background at all and because of that I didn't know what was going to happen. I was a bit naive as I didn't have a clue about the game but just enjoyed it and that was enough."
At first, Spence continued to live with her mother in Newcastle and commuted over to Dublin for training sessions at the weekend. That way, she was able to keep lecturing in Sport Science at Newcastle University.
"My job was very supportive and it was only possible because I had a strong support network around me," she continues. "My Mam was a massive support. She's my best friend and I wouldn't have been able to do any of this without her.
"She would do my laundry and make my meals which meant all I had to do was get up in the morning, go to work and make sure I was ready to jump on a plane on a Friday."
Myrtle Spence, originally from Lisburn, moved to Newcastle in her early 20s to work. Although born and raised in the north east of England, Sophie's Irish roots always ran deep and she would visit her cousins in Ireland during the school holidays when she was growing up.
"Everyone is Irish on my Mam's side and I would travel back and forward on school holidays, Belfast was like a second home for me. Ireland was always a place I thought about moving over to and I then got that opportunity through rugby.
"After two years playing for Ireland but living back in Newcastle, I took the plunge to drop everything and move over here full time. It was a risk as I left my job, home and Mam but it was something I wanted to do to take my game to the next level.
"Ireland had been a part of my life since I was born so it felt right or natural to move over and live here."
After sitting down with her mother, Spence weighed up her options and carefully considered leaving her job back in Newcastle, and essentially dropping everything, to pack her bags and start afresh in Dublin.
"I was ready for a change," she says. "It was coming up to the World Cup and after three years with my teaching job I just wanted to do something else. I just took the opportunity, left my job, my home and dropped everything.
"It was a case of see what happens but everyone was so supportive. I just kind of felt ready and I could take a risk to do that and the fact the World Cup was the following year, I wanted to see the girls for more than just four sessions in January. I could actually spend the rest of the tournament with them and that was a big help."
After settling into life in Dublin, the decision started to paid instant dividends on the pitch as Spence helped Ireland to a Grand Slam in 2013 and was then part of the history-making squad which reached the last four of the 2014 World Cup.
Off the field, things were starting to fall into place too.
"The rugby family is such a powerful thing and I only knew the international players coming over and even then it wasn't very well. I moved to Belvo [Belvedere Rugby Club], and people were so helpful and gave me opportunities to look for work and helped me out when I didn't have a job and when I was looking for a place to live. People were brilliant which really helped me out.
"I eventually got a job with Leinster Rugby as a development officer and I did that for a year before moving onto three years with DCU rugby. I'm finishing up with them in the next three weeks so looking forward to another job and another adventure."
Spence's impact isn't just being felt on the pitch with her previous roles with Leinster and DCU helping to grow, expand and bring the women's game to new audiences while the recently launched Spence Rugby Academy is designed to make rugby more accessible for girls around the country.
Her partnership with Nissan speaks volumes of Spence's worth and appeal and her role as a 'Next Generation Ambassador' tells you everything you need to know about her ability to inspire and influence.
When you think of women's rugby, you think of the likes of Sophie Spence, Niamh Briggs and Fiona Coughlan. Leaders, role models and, to a certain extent, trailblazers.
"As players and a team, it's important we create a legacy," Spence continues. "You look at girls who are 10/11/12 who really want to aspire to wear the green jersey and now it's so much more doable and accessible.
"It's important as players we go to speak to supporters after the game who travel from all over the country and make the game more accessible. We do and we need to continue representing ourselves very well because there's a generation under us who we're inspiring, who look up to us and it's important we carry ourselves in the correct manner both on and off the pitch.
"It's going to be massive this summer. The main thing for us is to perform and you need that for people to stay interested and for people to watch us. We want people there and to watch and take an interest but we know what we have to do to make that happen.
"The World Cup is still a good bit away but it has been in people's minds since last summer. Every time we're together we make sure we give 110% to ensure we're the best we can be as a team and individuals so we take this opportunity and not pass us by.
"I loved every opportunity rugby has given me so far but as a player and as a team we need to continue to do that and if we can do it at a home World Cup it would be huge."
The42 is on Instagram! Tap the button below on your phone to follow us!