THE IRFU'S DECISION to turn down the offer of an historic women's Test series in Australia is 'hugely disappointing' and 'a missed opportunity', according to recently-retired international Sophie Spence.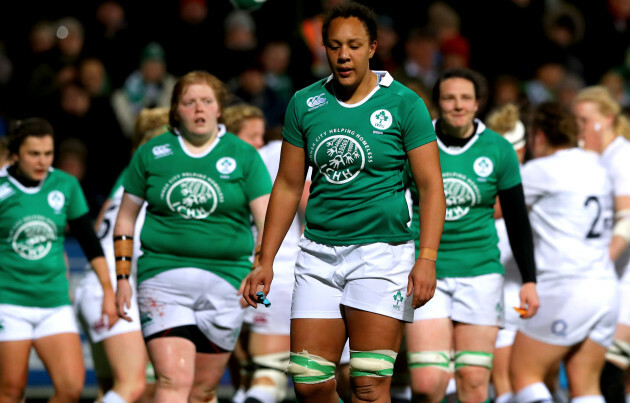 James Crombie / INPHO James Crombie / INPHO / INPHO
Rugby Australia had proposed to host a three-Test double-header with the men's clashes, which kick off this weekend, but the IRFU declined.
Gavin Cummiskey of The Irish Times first reported this morning that a formal invitation was extended for Adam Griggs' side to face Australia in Brisbane's Suncorp Stadium this Saturday before Joe Schmidt's men line out, followed by meetings in Melbourne and Sydney on 16 and 23 June respectively.
Australian Women's Rugby president Josephine Sukkar confirmed that they offered to cover the Ireland squad's accommodation while there, with the only cost being flights Down Under.
Sene Naoupu is one current player who voiced her disappointment on Twitter this morning, while Spence and other former internationals are among others to have weighed in on the debacle.
And when speaking to The42 this afternoon, the former World Rugby Player of the Year nominee and Grand Slam winner expressed her dismay.
"It's a bit of a shock," Spence said. "Now that it's something that was offered, it's hugely disappointing. It is completely a missed opportunity.
It's even more disappointing because when you're in the bubble, you feel like you can't really speak out. For players to feel that strongly about this missed opportunity for the game to grow, not only on the women's side of things but in Ireland as well, it's a huge disappointment.
"The fact that accommodation was going to be paid and it would be openers for the men's game, it's just that experience as a squad to travel together, learn together and learn from the men's side of things as well and what the professional set-up is actually like because these lads are training day in, day out.
"If you could take a tiny little bit of experience from them, that's huge in the development of any player."
Extremely frustrating to read, this could have been the chance to show that"geniune commitment and effective action" that was requested by the people who put so much into the sport in Ireland. Is it a business that is only supporting a pathway for one gender still? https://t.co/xqG5a2oHUq

— sophie spence (@spence_87) June 7, 2018
An IRFU spokesperson told The Irish Times that 'when the offer came we'd already decided to focus on November fixtures to build to the Six Nations'.
"Obviously this isn't a players' decision. This comes down to the Union," said Spence, who retired from the international game last December.
"I know there was something out before about not wanting players to miss work but I know myself, playing, to get the opportunity to go across to Australia — never done before — and play an Australian team, and also do it alongside the men, I think that's a massive opportunity that you'd definitely take your annual leave for, as everyone continues to do, or unpaid leave.
"I wouldn't have thought that would have been a problem from a players' point of view. Look, if you couldn't get it off, someone else would take your place.
"It's definitely a massive opportunity missed and I'm sure players are extremely disappointed by hearing this today."
It was announced last month that Ireland will face the USA in Donnybrook on Sunday 18 November, the day after Ireland's men host the All Blacks in the Aviva Stadium.
USA elsewhere, host New Zealand's Black Ferns in Soldier Field, Chicago on the same day as Schmidt's side go up against Italy.
That's another missed opportunity, Spence says, arguing that a game involving Ireland's women could have been scheduled as the opener. She looks to Ladies football and their double-headers as one example as a pathway to progression.
"It is those opportunities, you're trying to pull more people in to watch and expose the game more," she says.
"I just think how mad it was watching the women's GAA final and what was it, over 45,000, that's people in Ireland where as the [Women's Rugby] World Cup final, it didn't fill Kingspan and that's a worldwide tournament.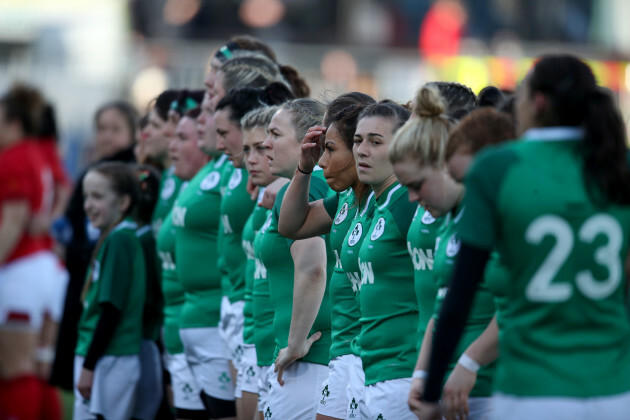 Bryan Keane / INPHO Bryan Keane / INPHO / INPHO
"You're going without exposing everyone in Ireland to the game — and sometimes it has to be for free to try and grow the girls at home, there's nothing wrong with that. It's about giving opportunities."
The ongoing saga between the IRFU and Ireland women's team has been well documented over the past few months.
From Sevens and 15s crossovers to the fallout after the World Cup, the advertisement of a part-time head coach job and the '#legacy?' campaign to now this. And Spence added on the latest development:
"We knew the results last year at the World Cup were disappointing and preparation and things as a squad, we were disappointed.
"There's a lot of talk: was the Women's World Cup put in place to get the men's World Cup, and that's still talked about now. It's stunted; it hasn't developed further from that. You would have liked to have seen further developments to, I suppose, prove the public wrong in that it was just a gesture.
"You need those things put in place — resources, resources for coaching to develop them, club sponsorship because it all starts with the clubs at grassroots to actually have a successful international side as well.
"If the senior women aren't getting given opportunities then you go, 'Do girls want to aspire to wear a green jersey? Do the parents want them to commit to that?' I suppose [they could get] better opportunities with a different sport."
Sick of staying quiet about missed ops for shared learning. Been working on a paper investigating a model of promo and dev in women's sport that could be sustainable for wom rugby in Ireland, but what's the point. When a key charac of successful models is integrating with the men https://t.co/OA95OFZ2FM

— Sene Naoupu (@SeneNaoupu) June 7, 2018
Spence went on to question the idea of legacy that has been talked about so much around the 2017 WRWC, and the widespread thought that the IRFU are supporting just one gender.
"I suppose within [The Irish Times] article earlier, it stated about the Australians getting rid of some of their sponsors because they don't want to be seen as a business who are supporting one gender pathway. That's not who they are and they changed that.
"Hopefully it's something that we can see change here, but I suppose, I don't know if the review will make a difference within that. I don't know what the review will change really, but it's something that we obviously have to change.
"We have to be able to invest in teams across 15s and 7s, across both genders and when we invest, then we can start to see results."
She added: "There's a level in countries that is just going to go up and up, and I do worry that we are going to get left behind."
The42 is on Instagram! Tap the button below on your phone to follow us!