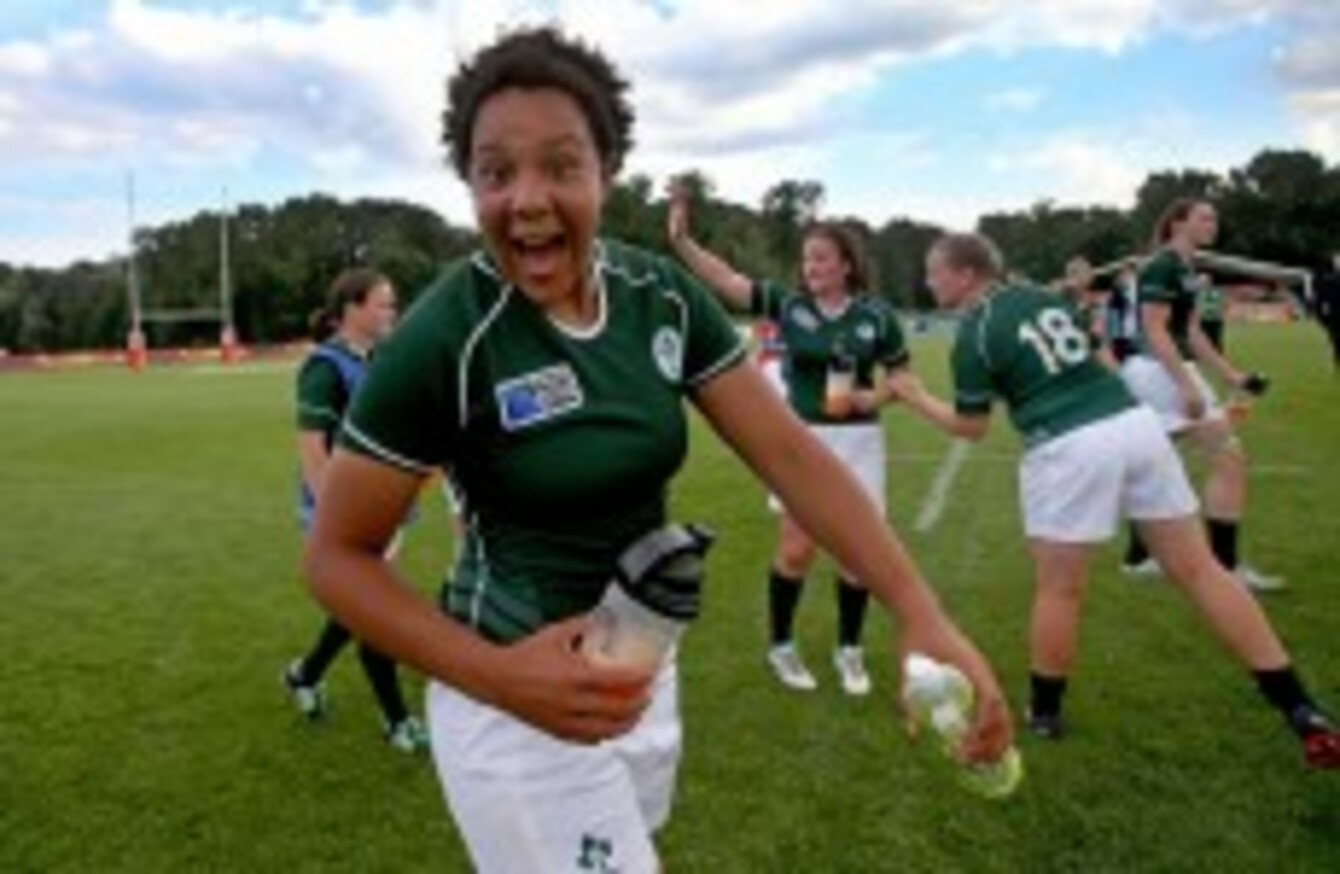 Spence celebrates Friday's win over the US.
Image: Dan Sheridan/INPHO
Spence celebrates Friday's win over the US.
Image: Dan Sheridan/INPHO
JUST TWO YEARS into her international career, second row Sophie Spence is already a key component of the Ireland team.
The Old Belvedere player starred in Friday's World Cup win over the USA, carrying effectively and impressing throughout with her mixture of physical power and technical skills at the breakdown and set-piece.
Newcastle native Spence's rugby odyssey began at university six years ago, when she packed in netball and turned her hand to the oval ball at the age of 21. Progress into the Women's Premiership with Darlington Mowden Park followed, until Ireland came calling.
National team head coach Philip 'Goose' Doyle contacted Spence and convinced her to trial for the Exiles team, taking advantage of her Belfast family roots. A full international debut followed swiftly in 2012 and Spence hasn't looked back since.
Tomorrow, the 27-year-old will take on the world's best team in the shape of New Zealand.
"They have a huge work-rate and their forwards are very big," says Spence of the Black Ferns' capabilities. "Their back three are very strong too. On the attacking front, they look for the gaps and take them, so we don't want any dog legs in defence."
The Kiwis' 13 tries in beating Kazakhstan 79-5 on Friday points to the reigning champions' ability, but Spence is confident that Ireland can step up to the challenge. The win against the Americans in their opener was satisfying, although the lock feels there is more to come.
"We didn't use everything that we wanted to use, but we adapted our game in the way that we had to to perform against the USA. We've still got a lot of things in the bag which we will use.
Things are feeling very positive and we're fine tuning things at the moment. Were going to take the game as if it's any other game, play the way we play and do that on the day."
Spence relocated to Dublin from England last summer in anticipation of the World Cup, joining the likes of Jenny Murphy, Sharon Lynch, Ailis Egan, Nora Stapleton and second-row Marie Louise Reilly at Old Belvedere.
To make such a move in order to be closer to the Leinster and Ireland camps speaks volumes of Spence's mindset, utterly professional in an amateur sport. That in turn is reflective of the Ireland camp in its current guise.
"It's fantastic," says Spence. "To have a nutritionist, to have a S&C coach, you've got all your meals when you're in camp, you get your gym programme each week and you're monitored so well, so it's just a fantastic set up to be part of.
Ireland are living on-site at host venue Marcoussis, a sports complex just south of Paris. Spain, Canada and France are similarly ensconced in the world-class facilities, which the French men's national team use as their Six Nations base.
"Our rooms are superb, the team room is fantastic, and it really feels like home," explains Spence. "We've been here for a week now and it's really comfortable. You're just a 60-second walk to the training pitch, we couldn't ask for anything more."
Spence makes particular mention of Ireland's strength and conditioning coach Marian Earls, who has guided her expertly through a "slow year with a few injuries," building the second row's mental strength along the way and helping her to peak at the ideal time.
While a daunting challenge awaits tomorrow in game two, Spence and Ireland are in a good place. The proximity to the airport hub of Paris also means that there has been a further boost in the shape of welcome faces for Ireland at Marcoussis.
"It was fantastic support [against the US]," agrees Spence. "My clubmates came and my mam came over with her friend. Loads of the girls' families came over, a great crowd. It's great that they take time out of their work schedules to be here."