YOU MIGHT HAVE noticed Sophie Spence's growing profile over the last year or so.
The Ireland lock ran the Spence Rugby Academy over the summer, coaching girls of all ages in the game she loves so dearly. Spence is an ambassador for Nissan and will speak at the Huddle Dublin event in the Aviva Stadium this Thursday.
The profile of Irish women's rugby has been growing with its success in recent years, but 29-year-old Spence appears to be taking greater strides than most.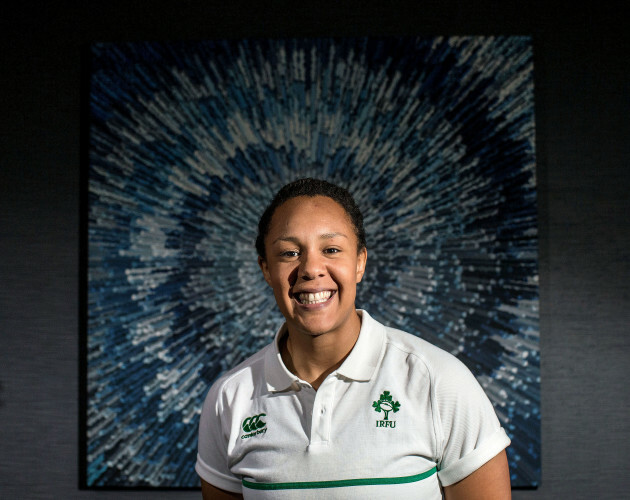 James Crombie / INPHO James Crombie / INPHO / INPHO
"It's opportunity, isn't it?" says the Newcastle native, a product of the Exiles system.
"Last year was massive for me in opening the doors and giving me the opportunity to connect with different people. I think there's a lot more exposure. 2013 launched that, then 2014, but in order for that to continue, it has to continue to be successful."
Indeed, there is some pressure on Irish women's rugby to maintain its growth, particularly with a World Cup on home soil waiting at the end of this season. A genuine shot at being crowned the best team in the world.
The Grand Slam of 2013 launched women's rugby into the public consciousness, with a first-ever win over New Zealand on the way to a fourth-place finish at the 2014 World Cup in France adding another layer of gloss to the product.
Old Belvedere clubwoman Spence made her Test debut back in 2012, and has noticed the major shift in mindset for Ireland Women.
"You look at 2014 and it was completely different. I wasn't a senior player at that point and I had only been playing for two years. It was a different outlook to what I have now. I was the newbie almost, not realising what was at stake.
"I knew we'd come seventh in the last World Cup [2010] and to get fourth at that stage was a massive progression. But now we're in high performance, we're training a bit more, getting more opportunities to come together as a squad. We should be able to do better than last time.
"We're training to be world champions."
Billy Stickland / INPHO Billy Stickland / INPHO / INPHO
After a mammoth 18-week pre-season over the summer, Ireland's female players are heading into round three of the All-Ireland League this weekend. An extended competition, with teams now playing each other home and away, is a positive move.
For the international players and those hopeful of first caps, the November Tests loom large. Tom Tierney's squad will take on England, Canada and New Zealand – "three of the best teams in the world" – in UCD, which also hosts next summer's World Cup.
"There will be a lot of new players," says Spence of plans to build more depth in November, "but we have to find the right balance of going out to put in a performance that's good enough."
As well as allowing opportunity for Tierney to further test his less experienced players, those November games will be vital preparation for the 2017 Six Nations and that home 2017 World Cup, which takes place from 9 August until 26 August.
"It can do so much for this country," says Spence. "Not just for rugby, but sport in general from a female side of things. You have young girls wanting to get involved in women's rugby, whether it's at participation level or wanting to wear a green jersey.
"That's fantastic and to see them in the crowd, they know when the matches are and what we're all doing. It should be a tournament that we'll never forget and that will bring a good buzz to Ireland."
The second row has seen the excitement for the World Cup first hand in her Spence Academy, where she has also noted that the number of young female players in Ireland has "rocketed."
The game is growing, but still there is some way to go. Only five days ago, England Women confirmed 18 full-time professional contracts for its players, as well as 20 part-time and short-term deals.
"I have absolutely no idea," answers Spence when asked if Ireland are close to anything like this. "They've started with the sevens programme, supported by the Irish Institute of Sport.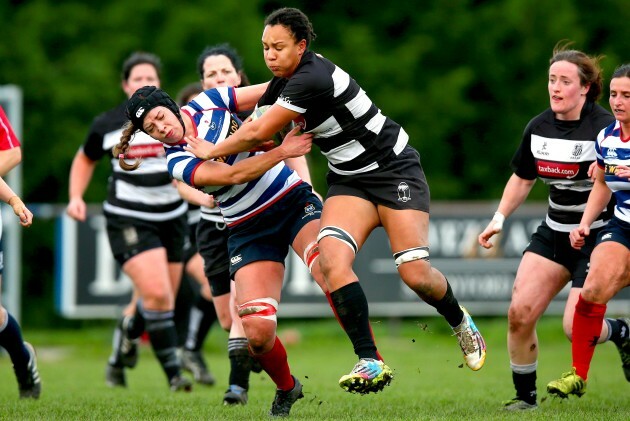 Donall Farmer / INPHO Donall Farmer / INPHO / INPHO
"In terms of 15s, we're training in the mornings and evenings and working during the day. It's a dream that we would all become, whether it's semi-professional or professional athletes, because it means you have the benefit of recovery. It would be fantastic if there was an opportunity there, I'm sure a lot of people would snatch your hand off to do it."
It appears the issue hasn't been raised by the IRFU with 15s players just yet, then. Spence's mention of the sevens code is interesting, however, given how much focus the union put on it last season in an attempt to qualify for the Rio Olympics.
Sevens was a huge success at the Games, with the women's competition serving up highly skilful and hugely entertaining rugby.
Is the seven-player code's success a threat to women's 15s rugby?
"I think in this country, everyone loves the 15s game, so I'm not too worried about that," says Spence. "The thing I love about 15s is that it's a sport for all – it's not just individual athletes coming together. I'm not worried at the minute, but it could.
"They're pumping a lot of money into [sevens], but people who are passionate about 15s have to keep staying strong about the values in 15s and keep pushing that forward. It would be a shame for it to fade."
With a World Cup to come next summer in Ireland, it seems likely that 15s is safe for now. And with stars like Spence around, the game is in a good place and determined to grow again.
Sophie Spence, Gary Neville, Pat Lam, Ronan O'Gara and other elite athletes and coaches will line out for Huddle Dublin, a new performance, leadership and networking event taking place on Thursday 29 September at the Aviva Stadium.
The42 is on Snapchat! Tap the button below on your phone to add!