HAVE A BRIEF chat with Sorcha Tiernan and you'll quickly realise that she's wise beyond her years.
Tommy Dickson / INPHO Sorcha Tiernan. Tommy Dickson / INPHO / INPHO
At just 18, she radiates this impression of profound maturity and sensibility, this sense of appreciation for how things have been playing out both on and off the court.
She answers the phone. How are things? Busy day?
"Ah, busy enough. As usual."
It was a Wednesday afternoon. 29 November to be precise.
A Leaving Cert student, she was in school that morning until after her lunch break. Then it was off to the National Basketball Arena in Tallaght for the launch of the Subway All-Ireland Schools Cup. The usual bits and pieces there; a photo call, a few media interviews and then hit the road back to Leixlip for an evening of study ahead of the Christmas exams which started the following day.
"Sure I'll be grand. I'm as ready as I can be at this stage anyway," she grins.
Unassuming and grounded as they come, Tiernan was undoubtedly ready. Just get the job done.
Looking back through the year, 2017 has been up there with the best. That fairytale week at the National Arena back in August immediately springs to mind.
An unbeaten streak at the FIBA U18 European Championships came to an end at the final hurdle, as they settled for a silver medal to winners Germany in front of a sell-out crowd after sell-out crowd. The promised land of Division A reached, and status as Ireland's most successful ever basketball team confirmed.
A superb tournament put down on home soil.
"It was an indescribable experience," Tiernan, who starred throughout, tells The42.
"Still now, when you think about it you get goosebumps. The crowds we had here at the arena and just the atmosphere was something I don't think I'll ever get the opportunity to experience again.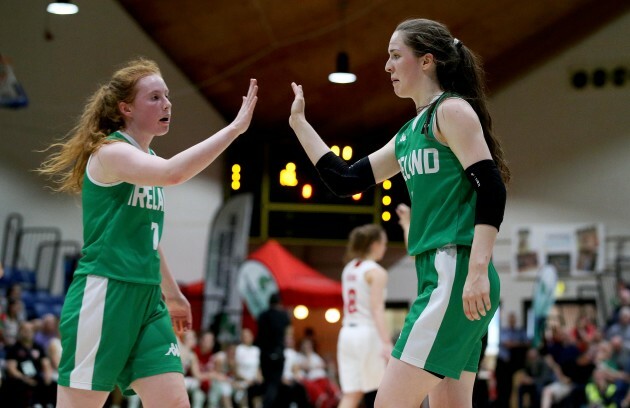 Tommy Dickson / INPHO High five! Tiernan and Dayna Flynn. Tommy Dickson / INPHO / INPHO
"It was really just an incredible thing to be part of with the teammates I have. We're such close friends and to experience it with them made it even better.
"Obviously I expected to have crowds but I'm not sure I realised the magnitude of what it was going to be. You knew. When you did something that was good and you could hear the roar, it just gave you such a lift."
The Golden Girls of Irish basketball grabbed headlines and filled column spaces, featured prominently on radio news reports and got more and more people talking about the sport as the week went on.
They were history makers and had to be rightfully rewarded for their outstanding efforts.
"Obviously none of us had ever really experienced anything like that before," she continues.
"We were going home after one of the matches and someone had sent us a video on Snapchat that we were on the news. We were just like 'What?' Just the amazement that we were on the RTÉ Six O'Clock News, it was just incredible."
She's pretty sure that was after the semi-final. They dared to dream that evening and it certainly paid off as they recorded an historic 68-57 point win over Poland.
In doing so, they ticked two unique honours off their list. They became the first Irish basketball team to reach a European final and the first to secure Division A basketball.
They didn't reach the Holy Grail but the journey and attempt to do so was like nothing they'd imagined. But the smiles after as the squad smiled for photo after photo with their new most-prized possessions said it all.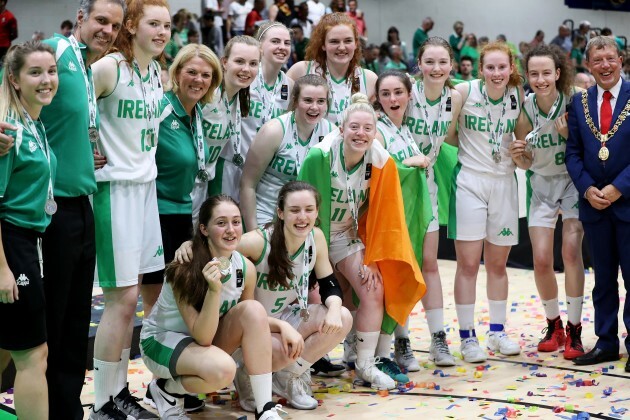 Tommy Dickson / INPHO European silver medalists: The Ireland U18 side. Tommy Dickson / INPHO / INPHO
There was no bitterness, and that's certainly still the case for Tiernan anyway.
"Unfortunately, the final, it didn't go our way. Germany were superb that day. I'd definitely like another shot at them but they deserved their win on the day anyway.
"Still at the same time, although we felt as a team we had the potential to do really well, if anyone had told us that we were going to come second in the whole thing, I'd say we would have said 'You're joking!'"
The medal itself and framed pictures of the team sit on her bedside table. It's a cherished memory, a memento of those glittering few days in Tallaght, but also a constant reminder of what can be achieved, a drive to succeed.
Tiernan has graduated through the underage ranks and is part of the Ireland senior squad at the moment. It's quite surreal still.
She took up basketball at the age of seven, got into the academy and never looked back. When herself and her siblings were younger, her parents encouraged them to try every sport that was going. She always had her heart set on one though.
"Neither of my parents played basketball so it wasn't like I was always going to play basketball," she explains.
"It just happened to be what I liked and what my two siblings liked as well. I did play a lot of Gaelic football and handball growing up, and a lot of other sports to be honest.
"If you name it, I've probably tried for a couple of weeks anyway. But basketball was what I enjoyed the most and that's what I decided to stick with."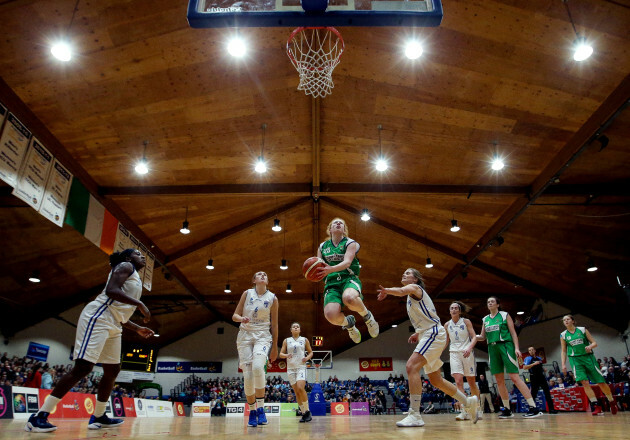 Tommy Dickson / INPHO Tiernan in action for Liffey Celtics. Tommy Dickson / INPHO / INPHO
She casts her mind back to first or second year of school. She was playing a lot of basketball, handball and Gaelic football. The balancing act was becoming more and more tricky especially with the upcoming World Handball Championships in Dublin.
The commitment would be sizable so she knew there was a decision to be made. She followed her heart, went with the basketball because she enjoyed it more.
And the same with the football. Come fifth year, she couldn't keep it all up at the highest level so it got the chop.
"It's something I'd definitely like to go back to even just to play with the club," she says, of which would be St Mary's. That's far from feasible at the minute though.
Between school, homework and study, Super League with her club Liffey Celtics, international duty and schools basketball — U19s, U20s and senior across the various sides — and her own training, shoot arounds, gym work and what not, she hardly gets a minute to breathe.
How does she do it?
"You just have to be prepared for everything and have everything done in advance" she says.
"If you get an essay any week, do it and don't leave it until the last night because more than likely I'll have some sort of training and I won't get it done. You just have to plan your time in advance and make sure you stay on top of things.
Tommy Dickson / INPHO She was a scoring star for the Ireland U18s. Tommy Dickson / INPHO / INPHO
"I do after school study from 4-6pm which I find really helps me. It means I get all my homework done then, a bit of study, depending on how much homework I have. That takes a good bit of pressure off me because coming home, you're wasting time and stuff as well. That's the way I kind of like to get my work done."
Between the various set-ups, Tiernan spends quite some time on the road. Super League-wise it's not too bad, she notes. With a Dublin-based club — she's definitely a Kildare woman though, she stresses — it makes things all the easier.
"I'm used to it at this stage. I enjoy it," she adds. It's grand.
Like any successful sportsperson, she always has one eye on the next challenge and whatever's coming up next down the line.
Her modesty shines through as she speaks of her involvement with the Ireland seniors. It's not 'we' just yet, it's still 'they' with the squad yet to be cut down and finalised.
"Ireland won the rights to host the European Championships for small countries the end of June I think next year. That's going to be held in the Mardyke. That's great for Basketball Ireland to host another big tournament.
"With the squad that's there, obviously we don't know the team yet, but I think they have the potential to go the whole way and win the whole thing."
Another reason for an increase of interest in Irish basketball, she continues:
"Hopefully it'll carry on. Cork's another brilliant venue and it's great to see more people getting into basketball because it is a great sport. I love going to training. I never go dreading it, I'm delighted to be able to go."
That shift in interest, it's something she's noticed even since her Ireland side's glittering success during the summer.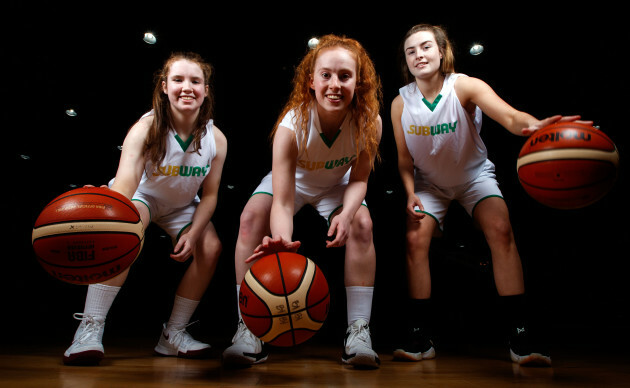 Tiernan (middle) was at the launch of the 2017-2018 Subway® All Ireland Schools Cup this month.
It has had a direct impact on her own club even and something that comes to her attention when she helps out with coaching kids from time to time.
"You'd have some kid coming up to you, saying 'Oh I was watching your games' or someone wearing one of the t-shirts which is pretty cool. As someone who would have been in their shoes once to be able to see them is pretty amazing."
And that's her still at 18. "Yeah, it's pretty incredible."
Wise beyond her years.
Sorcha Tiernan (Colaiste Chiaran, Leixlip) took to the court at the National Basketball Arena in Tallaght this month to kick start the 2017-2018 Subway® All Ireland Schools Cup — A competition that sees over 28,000 players from 250 schools across the country take part.   
The42 has just published its first book, Behind The Lines, a collection of some of the year's best sports stories. Pick up your copy in Eason's, or order it here today (€10):