MUCH OF THE focus around South Africa this week has discussed their attacking 'transformation', but Heyneke Meyer's men remain a unit that prides itself on winning the set-piece battle and the collisions.
Those pillars of their game will lay the foundation for any expansive play with ball in hand on Saturday against Ireland; getting those elements right is the primary responsibility for the Springboks.
That said, anyone who watched the South Africans' two most recent Tests will be aware that there are other strings to their bow in attack, with an increased focus on making strong decisions rather than slavishly sticking to a pre-ordained game plan.
Attack coach Johan van Graan, formerly the Boks' forwards coach, has been the man behind much of the recent improvement in their awareness of how the opposition are setting up.
A devoted student of the game, ex-Bulls coach van Graan has pushed the Springboks to read the game more intuitively, moving the ball into wide channels when the defence loads the back field, but kicking intelligently when the opposition fills their front line.
This has not quite been an attacking revolution from the Springboks in the last few months, rather a growth of their attacking options. Old habits die hard and Ireland will need to be prepared for the physical onslaught in the narrow channels.
It's still important to understand that they will go to the core part of their game," acknowledges Ireland assistant coach Les Kiss. "They will drive, they will run big forwards at you, their nines are savvy and canny players. They can shape that ruck area very nicely, so you've got to be aware of that."
The Boks certainly kicked from hand considerably less than usual in their two most games, but again Kiss points out that the likes of Handre Pollard, Willie Le Roux and Francois Hougaard can threaten with their kicking game.
"They will kick the ball, but they're smarter with when they kick and why they kick. Conditions may dictate it, or the score at the time. Their core is still there and we've got to be ready to match that."
Additional width
Over the last year or so, the Boks have shown an increased willingness to shift the ball into wide channels from set-pieces in the middle third of the pitch. Whereas before, Meyer's men would almost certainly have rumbled a maul or smashed it up the centre, they are now more willing to pass the ball to their back three on first phase.
We get an example of that in the GIF above, as the Boks shift Jean de Villiers in to the first receiver position and use Pollard's passing ability to get the ball outside the Wallabies' rugby aggressive line speed.
This set-up sees two forwards running decoy lines in front of the passes from de Villiers and Pollard, but as we see below, the Springboks will look to width even from seven-man line-outs.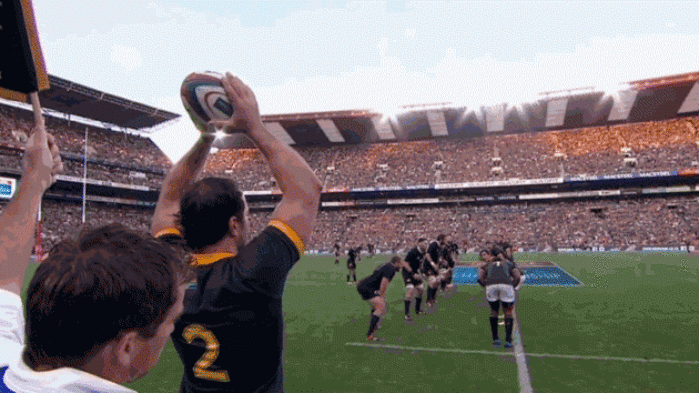 In both instances, we have to note that the defensive team's winger on the open side is lying deep, meaning the Boks' attack is in a numerically advantageous position. It's simple rugby logic – run the ball into the space when the defensive winger drops deep to cover the kick.
This same principle applies to Meyer's side in phase play too – they are searching for the chance to move the ball into space, rather than simply kicking down the throat of any deep-lying back three players.
It does challenge you," says Kiss of the Boks' attack, "because you have to keep the front line engaged, which then makes their kicking space even more potent.
"It's a double-edged sword – how do you defend the front line when they will run it wider and still be able to cover the spaces they will kick to at times?
"Because they do have a very good kicking game that can hurt you before you know it, turn you around and suddenly you're in your own half. It's a massive challenge defensively."
Counter-attacking
We have seen some stunning counter-attacking from the South Africans in recent times, although it would be unfair to suggest that this is something that they didn't do before.
The likes of Bryan Habana have always been lethal from turnover ball, although there is a more collective buy-in to counter-attacking at present. Ireland simply cannot afford to be loose in possession; coughing up a turnover is as good as offering up five points.
We get a sharp example in the video above, as the Wallabies lose the pill and then le Roux fires it to Jan Serfontein, who bursts through in midfield before freeing up Cornal Hendricks.
Australia actually get a chance to redeem the situation but spill the ball again. The key focus here is the swiftness with which the Boks strike after the turnover. In this situation, it is so often le Roux who sparks the counter, as in the second example below.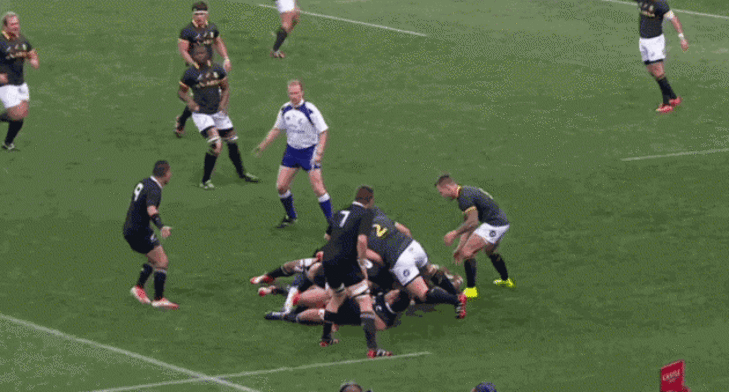 This time, the Boks attack from deep inside their own half, with total buy-in from all involved. It's le Roux who identifies the initial chance, turning down the chance to kick clear, as the South Africans have done so often in the past.
It's worth pointing out that the Boks are not running down blind alleys with this type of attack, rather recognising exactly where the space is in the opposition defence. Getting into defensive shape as soon as possible after turnover concessions will be crucial for Ireland.
That South Africa have two pure sprinters in Habana and Hendricks on either touchline makes their counter-attack all the more effective.
"When they shift to the wing, their wings generally aren't kicking," says Kiss. "Habana, Hendricks, [JP] Pietersen, they generally like to run the ball. So now they're getting more access to the ball by virtue of having those players inside. It's an exciting game, but it does challenge you."
Le Roux: playmaker
Installing Cheetahs fullback le Roux as a starter over the last two years has been perhaps the real key to Meyer and van Graan's plans to expand the attacking capabilities of their side.
A former out-half, le Roux has wonderful vision and excellent kicking and passing skills. While he can certainly play an important part in a long-kicking, territorial-focused game plan, his real strengths revolve around injecting ambition and creativity in attack.
We've seen his involvement in the examples above, sparking counter-attacks and threatening in wide channels. Le Roux is the type of player who will ensure that Ireland's defence can never switch off.
"They have got a layer of unpredictability about themselves and Willie le Roux has been a massive part of that," says Kiss. "He's certainly been able to allow them to play from deeper because he does have a good set of hands, he can move it to space quickly."
The clip above is a pattern that Ireland will need to watch closely, as le Roux hovers in behind the front-line attack, before switching against the grain and calling play back to where the ball has come from.
Some teams, including the Springboks traditionally, attack from touchline to touchline, exhausting the space in one direction before switching back and moving across in the opposite direction.
With le Roux hovering behind play, watching for potential weaknesses in the defensive line, then calling play back in the opposite direction, Ireland won't have the comfort of defending in an expected pattern around the corner.
We get a second example above, as le Roux again inserts himself in as first receiver and then ships the ball wide to the space he has identified from that deeper fullback position.
Le Roux's ability to create from that first receiver position is vital to the Springboks, providing them with a crucial second playmaker in the backline. As we will touch upon below, it also means that out-half Pollard can carry the ball with the comfort of knowing that there is another creative passing and kicking option to step in at first receiver.
Several modern teams are playing 'second five eighths' in the 12 jersey to cover that task, but the Springboks fill the role with their inventive fullback. That in turn allows Meyer to field two direct runners in de Villiers and Serfontein in the centre positions.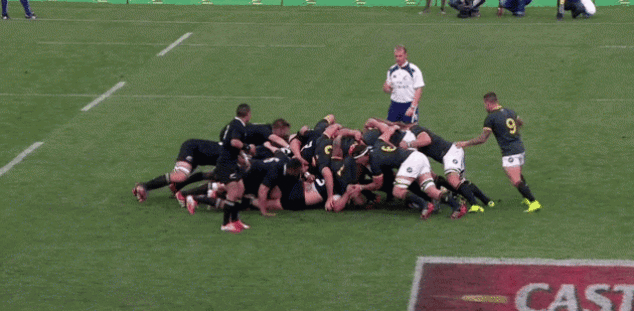 Even when Pollard is on his feet, as above from a scrum platform, the Boks aren't afraid to use le Roux at first receiver, and his passing game can open up the field for them. It's also worth pointing out that le Roux has a superb short kicking game, with his little chips over the top of the defence posing yet another threat.
Pollard: multi dimensional
In a sport in which place-kicking is of vital important, Morne Steyn has been a crucial player for the Springboks over the last number of years. The 30-year-old has been perhaps the leading practitioner in the world off the tee since 2009, while his tactical kicking has also been extremely strong.
There are limits to Steyn's abilities as an out-half, however, and 20-year-old sensation Handre Pollard offers exactly what the Stade Français man doesn't have.
"I think Pollard has given them a bit more reliability about how they get the ball into that second, third channel but he can also challenge that front line," says Kiss of the new Boks out-half.
He's more of a carrier as well, so you have to stay really bolted on in that front line."
It's a succinct summation from Kiss on what Pollard has brought to the party. While the 2014 IRB Junior Player of the Year can kick intelligently from hand, his passing and running threat is far greater than that of Steyn.
We've seen above how that allows the Boks to move the ball into the wider channels efficiently, while the knowledge of Pollard's running threat keeps the defence 'honest' in the tighter channels.
At 6ft 2ins and around 100kgs, the Bulls out-half is well-built for his position and puts that relative bulk and power to good use when he spots an opening in midfield, as below.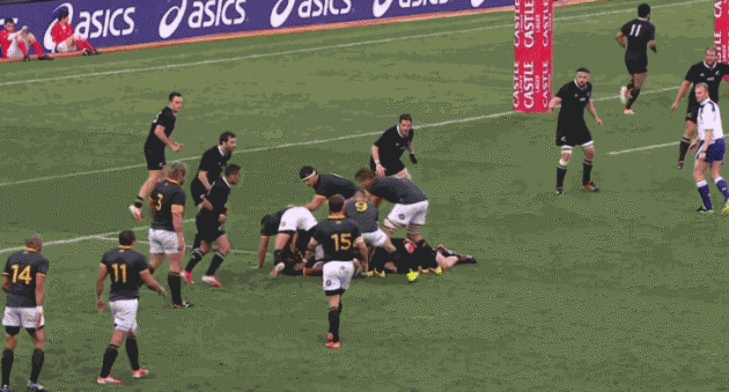 Pollard's size also means he is more than comfortable trucking the ball into contact under pressure, situations in which many out-halves cough up possession. South Africa can rely on Pollard to retain possession, with le Roux stepping in at first receiver.
The 20-year-old is also usually highly reliable from the tee, while his kicking game from hand is effective. Indeed, Pollard's rounded game is emblematic of the current Boks – a maintenance of the traditional strengths, with a handful of important flourishes added.
Options
It's worth stressing again that the Springboks are unlikely to play high-risk, free-flowing rugby and look to the wide channels at all times on Saturday. This is a team built on the domination of contact, the crushing of the opposition at scrum and maul, and a superb Victor Matfield-run line-out.
Winning the territorial battle remains important to their rugby philosophy.
However, as we have pointed out in this article, there are deeper attacking options for Meyer's men beyond direct ball carriers in the tight and bountiful kicking for territory.
The Boks will do plenty of both of those latter elements on Saturday, but the fact that they now have the systems and players in place to threaten in different ways makes Ireland's defensive task far, far more demanding.
Attack coach van Graan has provided South Africa with a wider range of attacking options, and will ask the players to make intelligent decisions on the pitch depending on how Ireland set up in defence.
Should Kiss have his charges fill the front-line, Pollard, le Roux and Hougaard will contentedly kick long into space, but should Ireland repeatedly drop their wings deep to cover that possibility, the Boks will look to strike ambitiously with ball in hand.