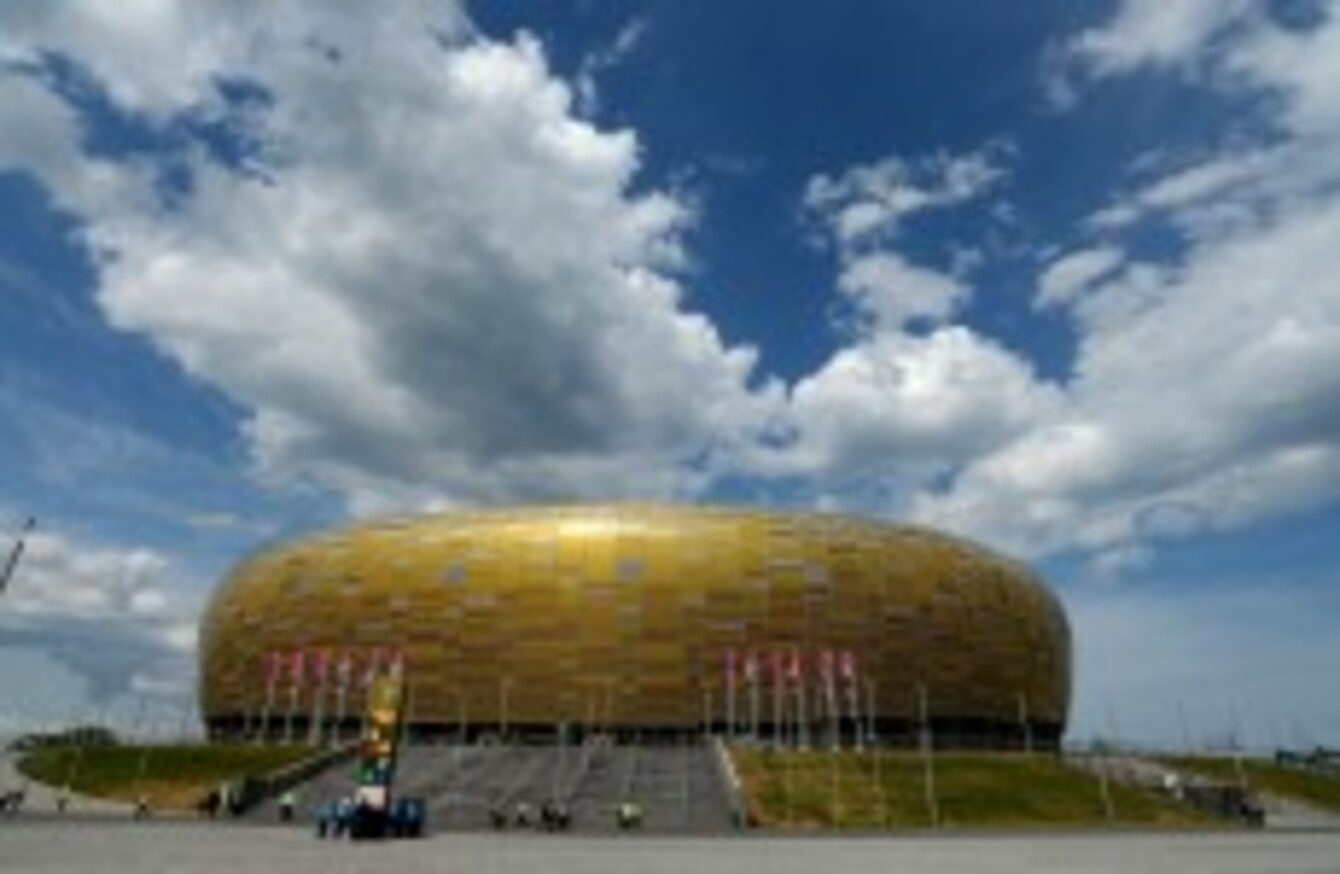 A view of the PGE Arena in Gdansk.
Image: Tony Marshall/EMPICS Sport
A view of the PGE Arena in Gdansk.
Image: Tony Marshall/EMPICS Sport
THE SPANISH FOOTBALL federation is to lodge a complaint with UEFA about the state of the pitch at the Gdansk Arena, after the European champions' opening 1-1 draw with Italy on Sunday.
A source close to the federation told AFP that they would be complaining to European football's governing body after a number of players, including Xavi Hernandez and Cesc Fabregas, complained about the condition of the grass.
La Roja still have to play two further Group C matches at the same ground against Ireland on Thursday, of course, and then Croatia on 18 June.
Barca striker Fabregas claimed the surface was "a disgrace" and bone dry. At a news conference after the match, coach Vicente Del Bosque backed his players.
"I simply find it a shame that the grass was so dry. That destroyed the quality of the entertainment," he told reporters.
The Spanish game's Polish counterparts yesterday hit back at the holders.
"The pitch was in a perfect state," said the head of the Polish football federation, Grzegorz Lato. "As for the dryness, normally the ground is watered before the match but for that you need the agreement of both teams. Spain wanted it done, Italy didn't."
UEFA said in a statement that "there was the clear intention to water the pitch as much as possible (to correspond the demand of the Spanish team) but certainly only up to the point before the additional watering could cause a damage to the pitch".
"This is why watering was stopped earlier than 75 minutes before kick-off, further to the advice of the greenkeeper," it added.
"The same procedure is used for all matches in the tournament with a view to find a balance between protecting the pitch and meeting demands of the participating teams."