TODAY IS A rare occasion when Marca and AS and every other Spanish newspaper we hear mentioned on our favourite weekly podcasts were in full agreement.
Or, at least it seemed that way on their front pages.
El Mundo Deportivo noted the date, Friday the thirteenth, and called the performance of Arjen Robben and Robin Van Persie 'a recital' as the Dutch delivered 'a slap' to avenge the 2010 final.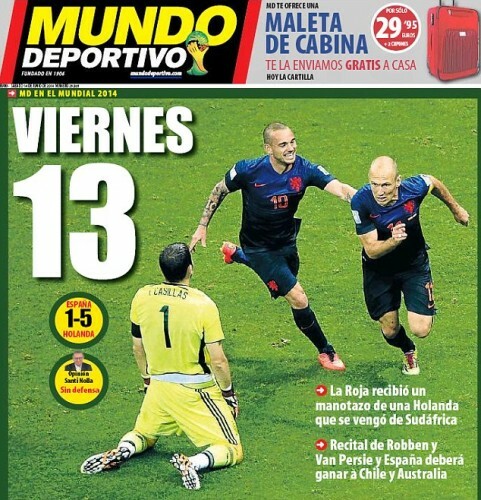 That image of Iker Casillas slumped to his knees like Boromir in Fellowship of the Ring after taking yet another arrow to his torso dominated the front pages.
AS went with 'Total Loss', with the headline above saying the 'Glorious generation have symptoms of exhaustion.'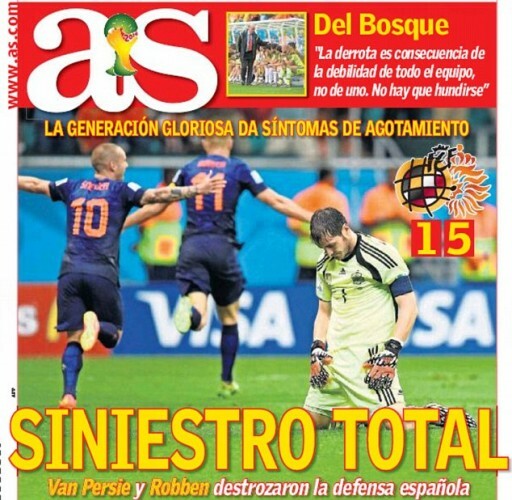 Marca were looking hopefully into the future, though they did so through a black veil.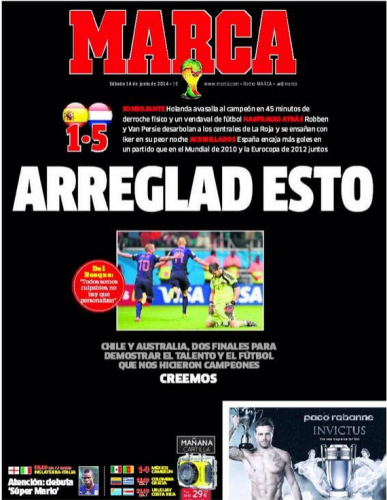 That big headline means 'Fix this' and with Casillas in the foreground there can be little doubt of the scapegoat for this one. The second largest font on the page is reserved for the word 'believe'.
El Periodico, had more than football to worry about, but that image of Robben delivering the Coup de Grace comes with the headline 'Red Shame'.
And, as Irish Gravy Train pointed out in the comments section, this De Telegraaf lead to preview the game yesterday was as prophetic as it was brilliant.