IRELAND CAME TOGETHER in the summer of 2003 to welcome the Special Olympics World Games to its shores.
Spectacular opening and closing ceremonies were held at Croke Park; U2, Colin Farrell, Westlife, Nelson Mandella and Jon Bon Jovi joined the party and events took place at host cities the length and breadth of the country.
Risteard Pierse wrote an inspirational feature, entitled She can be in the Special Olympics, for the Irish Independent, following the games, about his daughter Sophie, who was born with Down's Syndrome. 10 years on from that summer and the dream lives on for thousands of athletes across the country.
Starting from 7am, and running until 7pm this evening, volunteers for Special Olympics Ireland are shaking collection buckets in more than 200 towns across the country.
The money raised will be used to ensure that Special Olympics Ireland can continue to realise its promise of offering people with an intellectual disability the opportunity to participate in sport in their area.
Former Munster and Ireland rugby player David Wallace joined the Special Olympics board of directors last October, five months after injury forced him from the professional game earlier than he would have liked.
Having previously acted as an ambassador for Down's Syndrome Ireland, the Irish Rugby Union Players Association got him in touch with S.O Ireland and a working relationship was established. Wallace visited University of Limerick late last year, where one of the organisations 400 nationwide clubs operates, and spent some time discussing health and nutrition with the athletes.
Impressing a President
Wallace attended some of the squad's floorball matches during the Winter Special Olympics in South Korea. Last week, he had to honour of accompanying many of the athletes to an audience, at Áras an Uachtaráin, with President Michael D Higgins.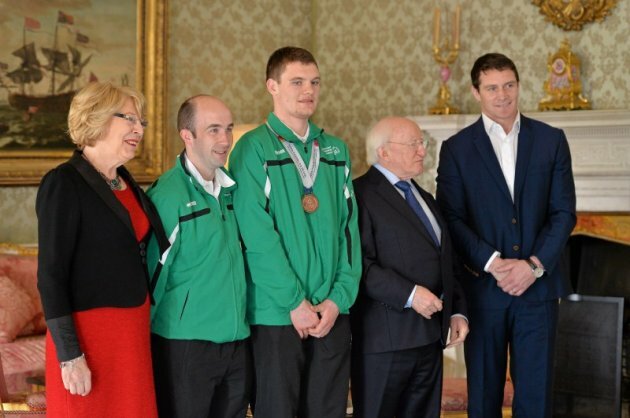 Michael D Higgins and his wife, Sabina, greet the Special Olympians and David Wallace.
"The squad had some great success over in South Korea," said Wallace, "and it was fantastic for them to get such a warm welcome back. The President told me how proud he was of their achievements and I couldn't have agreed with him more. They're a very inspiring bunch."
The next big event on the horizon is the Special Olympics Ireland Games, which take place in Limerick next year, followed by the 2015 Special Olympics World Summer Games in Los Angeles.
Today's nationwide bucket collections is the organisation's biggest fundraiser of the year, something that Wallace says will hopefully maintain the grassroots level of clubs, athletes, volunteers and aspiring competitors. He told TheScore.ie:
When I first came on board, I was surprised by how vast it is. There are 11,000 athletes and 25,000 volunteers at some 400 clubs in towns and villages across Ireland. The amount of work that goes on at local, provincial and national level is amazing.
"Sport brings them such a massive outlet and allows them a great way of expressing themselves. It is not just sport. There is a social aspect to it as well and so many gain a sense of confidence and purpose in the training and competitions."
You can support Special Olympics by donating to one of the on-street collectors or by texting the word SPECIAL to 50300 to donate €2 [100% of the donation will go to S.O Ireland].
For more information check the Facebook page or follow then on Twitter @SOIreland.